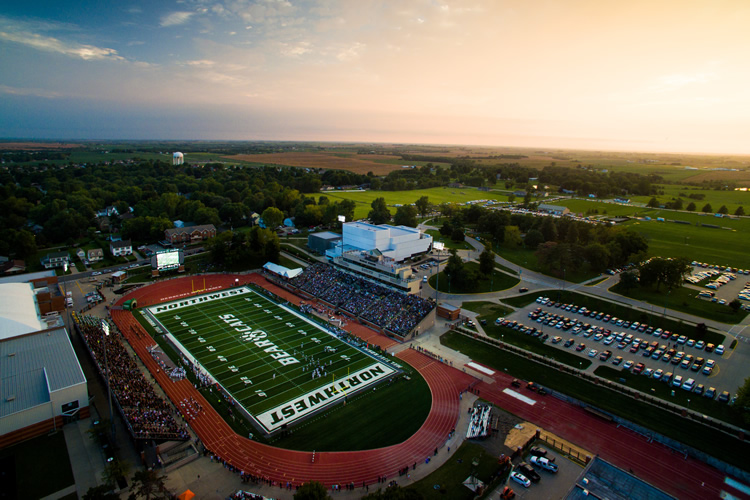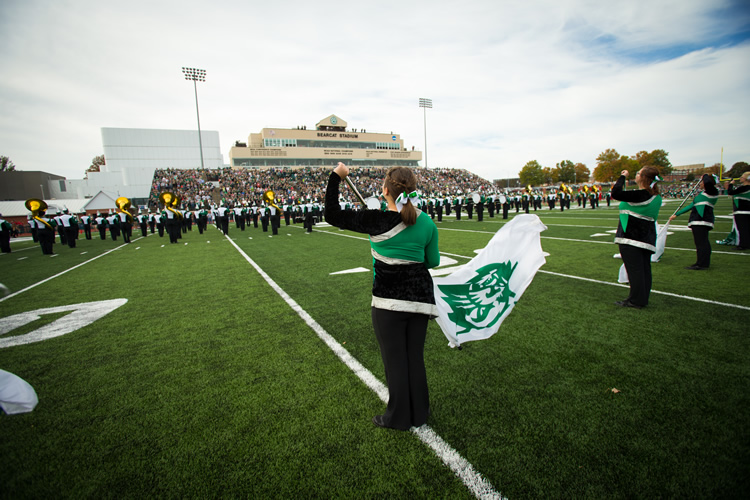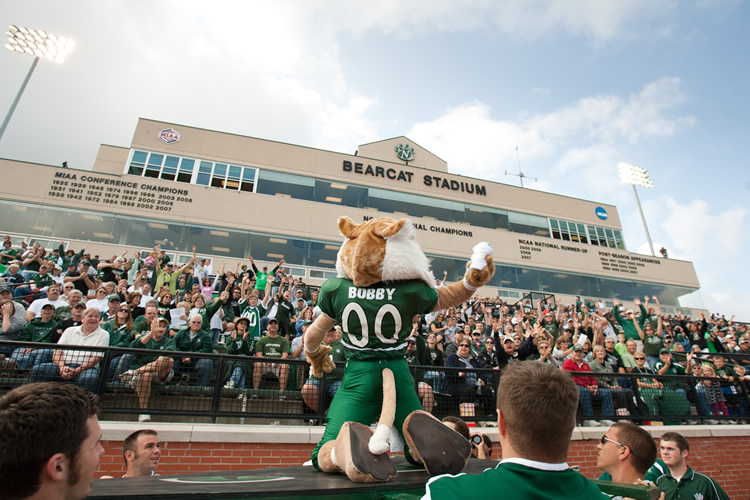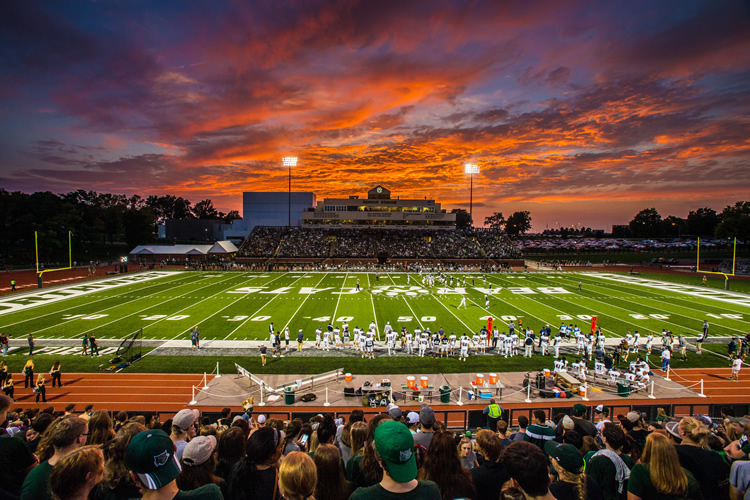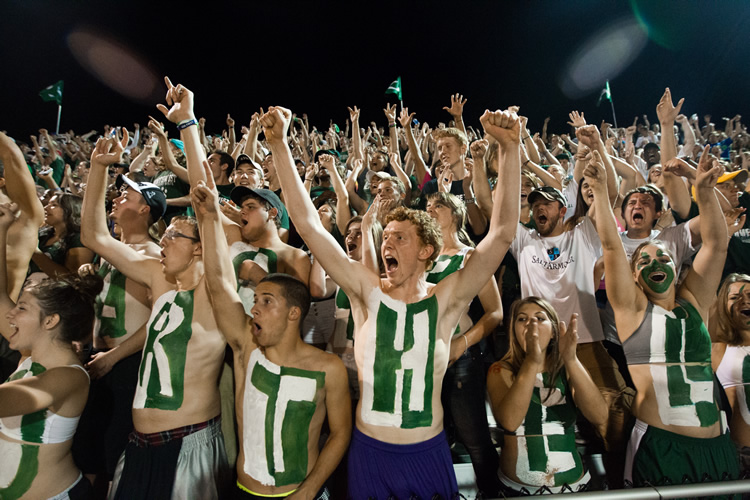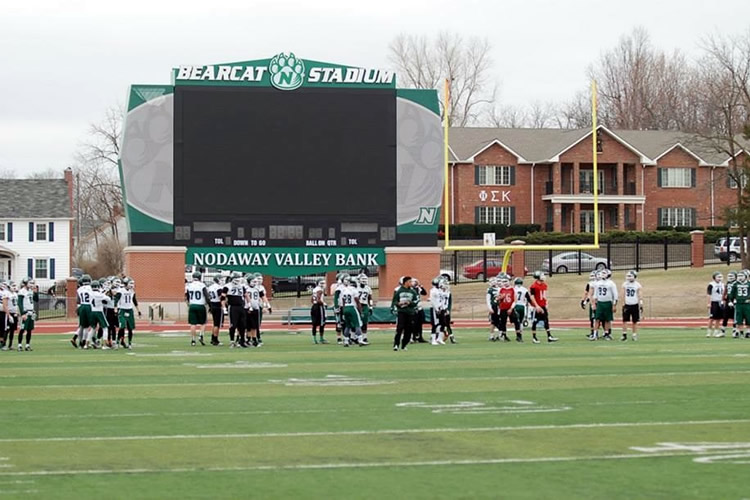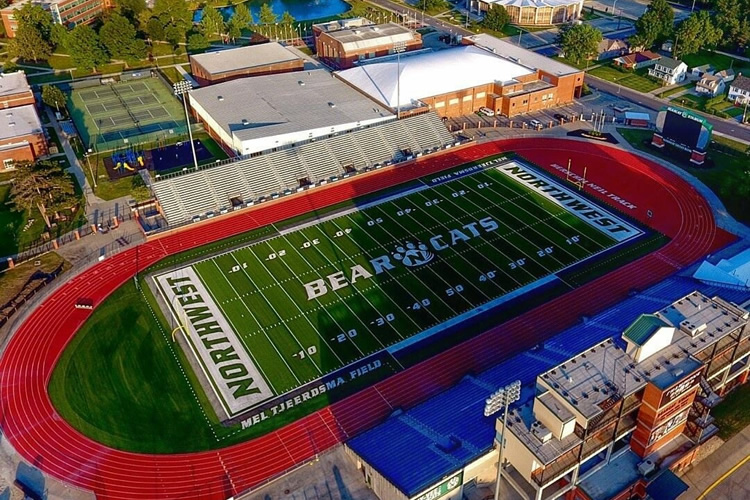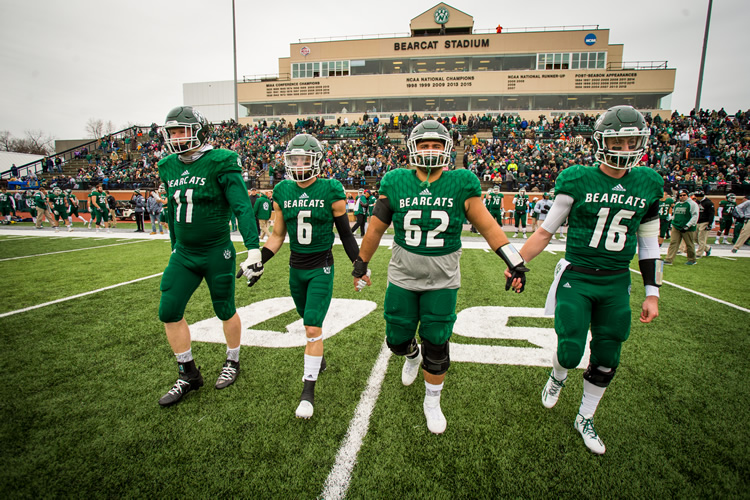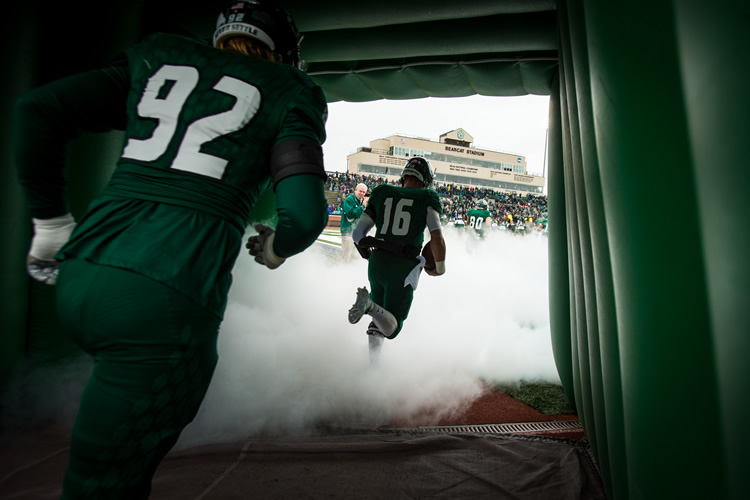 Northwest Missouri State University's football and track and field facility has been called Bearcat Stadium since 2004. This beautiful, state-of-the-art facility, called "the crown jewel of the MIAA" by the Kansas City Star, was formerly known as Rickenbrode Stadium.
Bearcat Stadium is the longest-running continuous site for football in all of NCAA Division II. No other stadium in Division II has played host to its team's game for as long.
The Bearcats' athletic field was first located behind the Administration Building. But in 1913, the team's games were moved to the field at the current site.
In 1917, construction was completed at the new field and it was named Memorial Stadium. The facility was renamed Rickenbrode Stadium in 1961 by University President J.W. Jones. It was named Rickenbrode Stadium in honor of long-time Northwest employee and Bearcat supporter William Rickenbrode. For nearly 44 years, the facility was named Rickenbrode.
In 2007, renovations began on the field for an upgrade to synthetic turf and lights. Switching to synthetic turf and adding lights will allow the University to open the field to a variety of activities year-round. On June 28, the Board of Regents gave unanimous approval to have the new field named "Mel Tjeerdsma Field."
In 2000, the first of a wave of major changes to the stadium took place. The east grandstand was completely rebuilt. This project was funded solely by Northwest students.
The renovations weren't finished, however. Following the 2001 season, demolition of the west grandstand and construction of the new west side had begun. The Bearcats played the 2002 season with temporary bleachers and a temporary press seating area.
In 2003, the new-and-improved stadium was unveiled. The new construction included an increased seating capacity on the west side, chairback and railback seating, 10 luxury suites, a spacious and functional press area and a new scoreboard, complete with a video board.
The most recent set of renovations was funded entirely by private funds. Some of these private funds were behind the re-naming of the stadium in 2004.
A small group of anonymous donors wished to give a generous donation to the stadium project. They did not want to be identified. Instead, their wish was that the stadium honors everyone who was involved with making the facility what it is today. Thus, Rickenbrode Stadium was renamed Bearcat Stadium.
The stadium has a seating capacity of 6,500, with room for thousands more near the end zones. The site was host of the 2006 NCAA Division II Semifinal Football game between Northwest and Bloomsburg (Pa.) on Dec. 10, marking the first night game since 1977 and the first nationally televised game featuring ESPNU. The game was the first national broadcast by an ESPN network from an MIAA site in conference history.