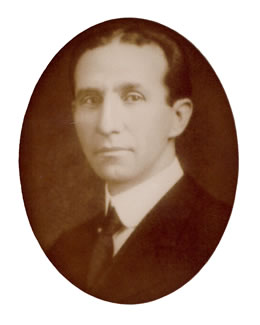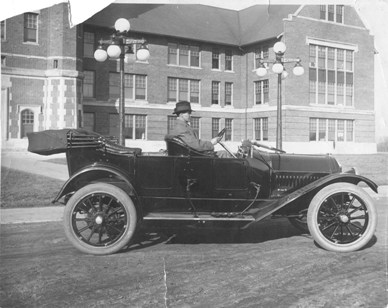 In the photo taken around 1915, Richardson sits in his automobile outside the Administration Building.
Ira Richardson joined the staff of the Fifth District Normal School as head of the education department and training school, where he proved to be an able administrator with an eye for promising faculty talent.
A native northern Missouri who graduated from Central College in Fayette, Richardson served as a public school superintendent before moving to New York and earning a pair of master's degrees from Columbia University.
During his presidency, he sought "picked men and women" capable of forging the academic core needed to transform Fifth District Normal into a true four-year undergraduate institution. It took time, but in 1919, the General Assembly passed legislation changing the school's name to Northwest Missouri State Teachers College. Additionally, he successfully lobbied the state for a $200,000 appropriation to build a women's residence hall, which is known today as Roberta Hall.

Richardson spent the remaining years of his presidency building programs that reflected the school's new status. Within three years after Northwest granted its first B.S.E. degrees, the American Association of Teachers Colleges ranked it among the top teacher training institutions in the United States.