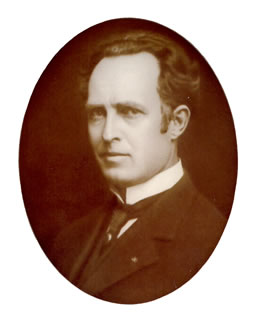 Homer Martien Cook graduated from LaGrange College in Missouri before going on to the University of Chicago and then graduating from the Columbia School of Expression. He pastored the Baptist Church in Maryville and taught physical culture and expression at the Normal School until shortly before becoming president.
A noted orator, Cook is said to have been popular with the student body, but he had a troubled presidency beset with conflict and fiscal difficulties. The chronic financial crisis deepened in 1908 when Missouri's auditor cut off funds for educational institutions statewide, forcing the Northwest faculty to work without pay.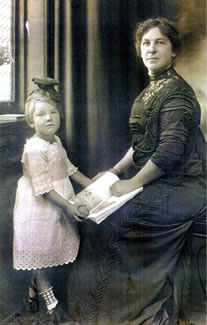 At left, Cook's wife, Arrietta Morrill Cook, and daughter, Catherine, pose for a picture inside the Gaunt House. Catherine is the only child known to have been born inside the presidential residence.
Cook quit in the summer of 1909, but there was a dispute over when his resignation took effect. The Board of Regents hired Henry Kirby Taylor as the school's new leader but allowed Cook to continue living in the Gaunt House until Jan. 1, 1910. In essence, during four months between Sept. 1, 1909, and Jan. 1, 1910, Northwest had two presidents.