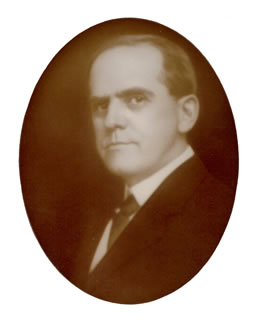 Henry Kirby Taylor was a seasoned education professional who was president of Wesleyan College in Kentucky before accepting the Fifth District Normal School's offer to come to Maryville. His first task was to staunch the flow of red ink and orchestrate a return to sound financial policy.
As soon as he could, Taylor began paying back salary owed to faculty, even though the president apparently went without pay himself for several months. He also worked to resolve fiscal squabbles that had delayed completion of the Administration Building.
Finally, after two years of struggle, salaries were fully restored with checks being issued through accounts tied to regular appropriations. In March 1912, Taylor told the Board of Regents the school was out of debt and meeting expenses. He then turned his attention to the academic program, reestablishing much of the rigor and organization originally instituted by President Frank Deerwester.
Taylor also demonstrated a knack for delegating authority and hiring gifted subordinates, such as George H. Colbert, the first dean of faculty, and Alice R. Perrin, who served many years as dean of women.
Illness forced Taylor to resign in 1913.