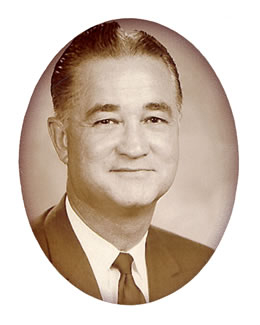 Dr. Robert P. Foster served Northwest in various capacities for 30 years and developed strong personal ties to both the University and the community. He managed a store in Maryville after World War II and then became registrar in 1948. Foster subsequently served as director of admissions and dean of administration before moving into the president's office.
His years in the presidency were marked by rapid growth, and he presided over numerous capital projects, including construction of the high-rise residential halls, the Valk Industrial Arts Building and the Garrett-Strong Mathematics and Science Building.
The Foster administration also worked to bring about the institution's name change to Northwest Missouri State University in 1972 and put a number of programs in place in keeping with its expanded mission. Another significant achievement was his leading role in securing funding for the establishment of KXCV, the University's 100,000-watt National Public Radio affiliate.
Perhaps most importantly, Foster organized the University's first true advancement effort, which resulted in construction of the Memorial Bell Tower as a lasting memorial to the men and women who served in World War II and created a development network that evolved into today's Northwest Foundation.