Dr. J.W. Jones, 1945-1964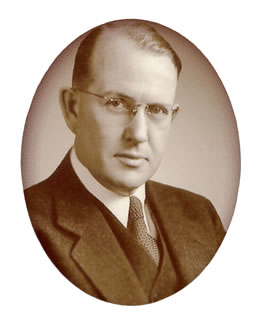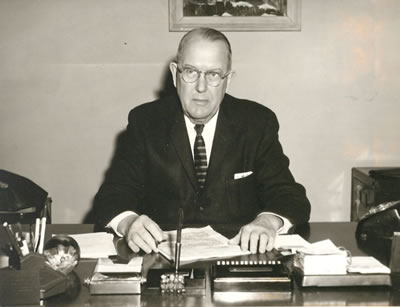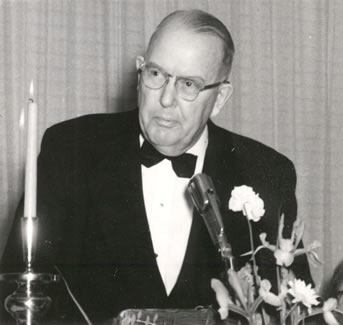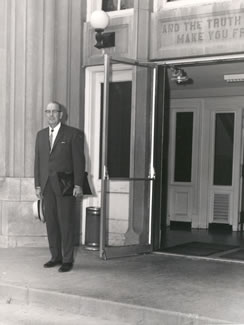 Dr. John W. Jones was the first Northwest president to hold a Ph.D. and came to Maryville in 1938 as dean of faculty after holding a similar post in Indiana. His term as president was marked by increasing demands on the physical campus created by a rapidly growing student population in the years following World War II.
The myriad of improvements made during this period comprised seven residence hall additions, the expansion of Wells Library and two additions to the old Industrial Arts Building. New construction included Lamkin Gymnasium, Colden Hall and Rickenbrode Field and Stadium. The DeLuce Fine Arts Building was under construction, but not yet finished, when Dr. Jones retired in 1964.
Of all his contributions to the physical plant, Dr. Jones was perhaps proudest of the student union, "the house that Jack built," which was dedicated in 1956 and named in his honor.
Beyond bricks and mortar, Jones - ever the scholar - was determined to improve Northwest academically. In addition to helping create the first administrative handbook and increasing faculty salaries, he reorganized the faculty into divisions and helped introduce Northwest's first graduate-level courses, which were established in 1955. Other accomplishments included the institution of the faculty rank system and tenure. His efforts led, in large measure, to an enhanced mission for Northwest, which was re-named Northwest Missouri State College in 1949.