Why Major in Business Management?
A major in Business Management at Northwest teaches students methods for managing and leading professional employees, motivating people on the job, producing quality products, scheduling maximum efficiency, and managing financial entanglements among companies. Students develop skills and knowledge in critical thinking, analyzing and effective communication techniques in a career. Hands-on approaches are utilized in preparation for a career in business while working in teams, learning negotiation skills, conflict resolution, operations of running a business, and presentation skills in upper level courses.
For transfer students completing a vocational or technical Associate of Applied Science or Associate of Science degree from a regionally accredited community college, a Bachelor of Applied Science with an emphasis in Marketing/Management is available. Please contact Chi Lo Lim (chilol@nwmissouri.edu or 660.562.1758) for more information.
Career Ready. Day One.
Northwest ensures students are career ready, day one through internships, field experiences and networking opportunities. Read Ashton's story »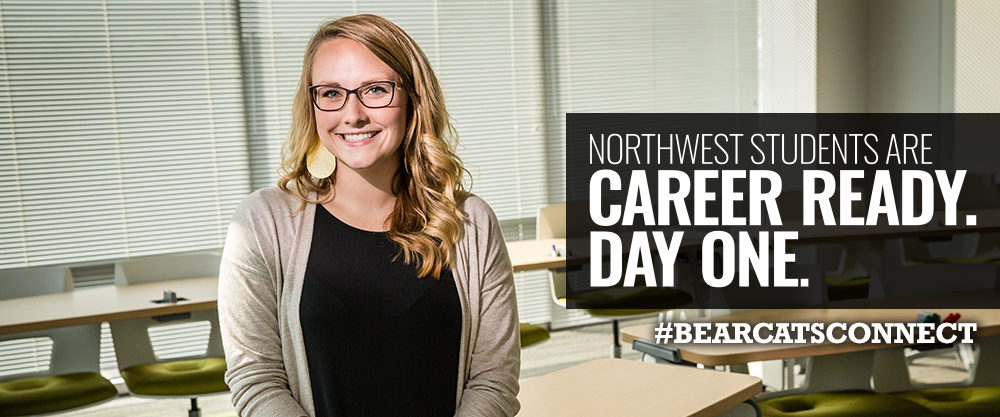 Career Opportunities
95%
placement rate
More than 95% of students graduating with a degree in business management either continued their education or found employment within six months after graduation.
The following is a listing of common positions for graduates with a business management major:
Public Administration
Financial Management
Healthcare Administration
Property and Real Estate Management
Retail Managers
Transportation Management
Insurance Administration
Non-Profit Organization Management
Facilities Management
*Based on self-reported data.
Profession-Based Learning Experiences
New Venture Pitch Competition is designed for ambitious students and aspiring entrepreneurs to present ideas to business professionals, small business owners and potential investors. Students present their ideas to judges who in the future could represent their boss or client.
Study Abroad is an opportunity for students to apply hands-on international experience to their own academic development. Faculty members supervise short-term study abroad programs that prepare students before, during and after the program. Two types of study abroad programs are available – faculty-led and traditional study abroad.
The traditional program may be a semester, summer or year-long program and is taught by Northwest's international partner institutions. Students from the business school have recently traveled and studied in China, Africa and Eastern Europe including Hungary, Austria and Czech Republic.
Internships
Although internships are not required in the business management major, they are highly encouraged to gain real-world experiences.

My field experience takes place with a milkshake company called, F'real Foods, LLC. Each fall, F'real attends the largest trade show in the convenient store industry, NACS. As the lead trade show coordinator, I planed all of the logistics for the show, coordinate and managed the team of 40 people and planned post-show entertainment and activities (which isn't hard to do since it's in Las Vegas). This kind of experience is priceless for me as I continue my education at Northwest. Hopefully one day, I will manage a trade show team who helps me execute all 110 shows each year!

Reagan Fraser

This past summer, I was given the opportunity to intern at the utility company, Kansas City Power & Light in the supplier diversity department. Reporting daily to the downtown location not only exposed me to the corporate world, but also to the exciting city. Through different networking events, projects and outings, I was able to meet passionate and hard-working businesspeople with so much pride for their city. It was contagious!

Molly Williams 
The Northwest Difference
Founded in 1905, Northwest is a traditional campus with more than 7,200 undergraduate and graduate students. Located in the middle of everywhere, Maryville is two hours from Omaha, Nebraska and Kansas City, Missouri and 2 ½ hours from Des Moines, Iowa.
Students organizations, internships and profession-based learning experiences ensure students are Career Ready, Day One.
Learn more
Graduation Rate: 89th percentile of Northwest's national peer group.