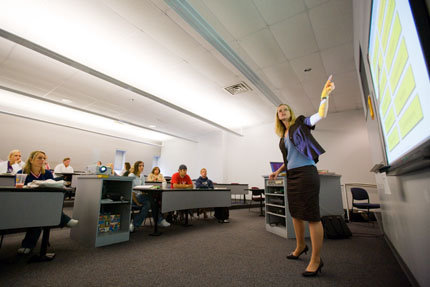 Welcome to the Melvin D. & Valorie G. Booth School of Business
The Melvin D. and Valorie G. Booth School of Business focuses on ensuring students have skills in critical thinking, written and oral communication, ethical decision-making, teamwork and problem-solving while embedding learning experiences throughout the curriculum.
Whether students are sitting in a classroom, networking with professionals in their area of study or participating in Knacktive, Northwest has quality faculty with rigorous curriculums that ensure career-readiness.
In addition the Higher Learning Commissions of the North Central Association of Colleges and Schools, the School of Business is also accredited by the Accreditation Council of Business Schools and Programs.
Students interested in enrolling in a thriving program that provides hands-on experiences, contact the School of Business at 660.562.1835 or submit a request for information online.