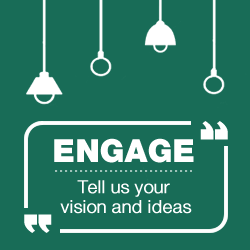 Your voice is important and we want to hear from you. Join the Northwest and Maryville communities on our interactive website. Provide feedback to questions and see what others are thinking.
Be engaged, be heard
Northwest Missouri State University is developing a master plan for its campus and needs your input to help make this plan successful. Please share your vision and ideas. Your ideas will be shared with the rest of the Northwest and Maryville communities. Great ideas can be contagious so let's start sharing.

You may be asking yourself, "What is a master plan?"

A master plan aims to realize the mission and vision of the University through its physical setting. It provides a coherent framework for decision-making for the future through a shared vision. A master plan for Northwest will guide short-term decisions about specific elements -- from building locations to streets and even the placement of a bench or sign -- so they contribute to and achieve the desired vision for a functional and beautiful campus.
See the Future
The following master plan documents are available for viewing as downloadable PDF files:
General Schedule
Initial Kickoff Meeting
March 3, 2015
Initial Focus Groups
April 8-9, 2015
Meeting with President
May 12, 2015
Meeting with Provost & Deans
July 9, 2015
Focus Group with Academic Affairs
July 15, 2015
Fall Focus Groups
October 21-22, 2015
Information Summary Presentations
November 12-13, 2015
Ideas Workshops
December 16-17, 2015
Draft Plan Presentations
January 27-29, 2016
Final Plan & Presentations
March / April 2016