Facilities Services has partnered with Golden Triangle Energy of Craig, Missouri to provide a sanitizing solution comprised of a denatured alcohol blend. The product has been proudly deemed "BEARCAT THUNDER" and will be available in classrooms and labs across campus for employee use.  This will help enhance current cleaning procedures.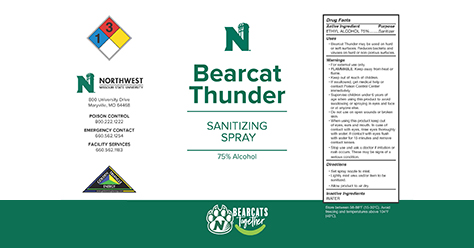 Sanitization process to be followed:
Chemical provided - spray bottle of "Bearcat Thunder"
This product will be used to mist the classroom desk/chair areas.
The product will air dry (approx. 2 to 3 minutes).
Safety Procedures:
Do not spray into eyes, if the product enters the eye flush for 15 minutes with water.
This product contains denatured alcohol and is flammable, avoid open flames.
And as always, follow recommended every day hand washing procedures for your own safety.
BEARCAT THUNDER SAFETY DATA SHEET