General Information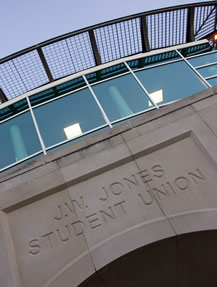 J.W. Jones Student Union is equipped with five meeting rooms, three dining rooms, the Boardroom, and the Ballroom for larger events. Under the policy section you will find more detailed information regarding the set-ups and capacities for each room. One room or all rooms may be reserved to accommodate your event.
The first floor of Student Union houses Bearcat Commons, our all-you-care-to-eat residential restaurant that offers a variety of options.
The Jones, located on the second floor of Student Union features retail locations such as Chick-fil-A, McAlister's Deli, Qdoba and MrBeast Burger and a Provisions on Demand (P.O.D.) mini-convenience store.
The Student Engagement Center, home of Auxiliary Services, ID Operations, Student Affairs, Residential Life, Office of Student Involvement, Service and Engagement and the International and Intercultural Center, is located on the Second floor. The Student Engagement Center is a welcoming area where students are encouraged and challenged to connect with the Northwest community including their peers, faculty, and staff. The Engagement Center Team will provide well informed services, information and resources. While the space is available to all campus community members, resources will be designed to support the goals of the offices and programs located in the Student Engagement space.
The Student Union is open 7 a.m. to 12 a.m., seven days a week when classes are in session.
Pictures and Diagrams
Below are a some of the various different Student Union Room layouts available.  For additional possible room set-ups please contact the Student Union Event Coordinator at mhendrix@nwmissouri.edu or 660.562.1420.
Ballroom Layouts
---
Boardroom Layouts
---
Tower View Layouts
---
Meeting/Dining Room Layouts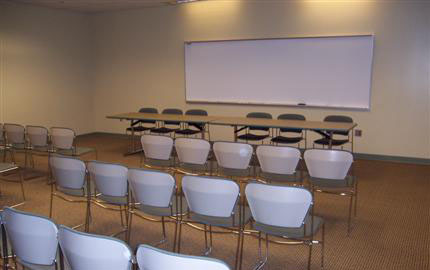 Reservation Rates
Room
Hourly Rate


(up to three hours)

Full Day Rate
Ballroom
$325
$1,100
Boardroom/Dining Rooms
$100
$400
Small Meeting Rooms
$50
$200
Exception to Rental Prices
| Association or Group | Adjusted Rate |
| --- | --- |
| University and Student Organizations | No charge |
| University and Student Organizations after hours | Half price |
| Groups from Community (Nodaway County) | Adjusted rate may vary |
| Personal Use (Current Student, Alumni, Employee, Military) | 25% discount of established rate |
General University Policies
Applicable to all university facilities:
Shirts and shoes are required.
No skateboards, bikes, inline skates, or pets.
Classes have priority in academic buildings.
Classroom use may be scheduled after the class schedule has been finalized on the first day of the semester.
Classrooms can be scheduled for exams, meetings, classes, etc.
Northwest Missouri State University is a smoke free campus
Alcohol products are allowed in university facilities with approval from the University President.
Due to the university's dining policy, health licensing restrictions, and exclusive contract with the university food service contractor, all foods/beverages utilized in university facilities should be arranged through Northwest Catering at 660.562.1275.If seeking outside vendor approval please contact Auxiliary Services at 660.562.1430.
Due to fire regulations, use of open candles are not allowed in any campus facility; however, enclosed candles for catered events may be used.
All events are subject to a security audit prior to final confirmation. Any and all large events that are requesting a large venue space should use the Special Events Request Form, and will be shared with University Police for an audit to best determine how to serve the event and protect the entire Northwest community. As a result of this audit University Police/Security may be required at the event. If security is required a fee may be assessed. It may be determined that the event will not be approved. Not all events are appropriate for a campus community and those requiring personnel must work within the scheduling limits of that staff and other campus needs. If you have any questions please feel free to contact the Auxiliary Services Office or University Police at any time.
Additional Student Union Policies
Hours of Operation
| Semester | Days | Time |
| --- | --- | --- |
| Fall and Spring | Monday - Friday | 7 a.m. - midnight |
| Fall and Spring | Saturday and Sunday | 10 a.m. - midnight |
| Summer Hours and Breaks | Monday - Friday | 7 a.m. - 5 p.m. |
| Summer Hours and Breaks | Saturday and Sunday | Closed |
The Bearcat Commons is open from 7 a.m. to 11 p.m. 7 days a week during Fall and Spring Semesters.
J.W. Jones Student Union is open for most holidays with the exception of Thanksgiving and July 4th. The Student Union is closed for two weeks over Christmas and New Year's.
Room Request and Information
For Both On and Off Campus Users
Check the availability of your room(s) by viewing the calendar.
Request a room using Astra Schedule.*
Requests are taken on a first come first serve basis when rooms, equipment, and furnishings are available. Every effort to accommodate requests will be made. This may mean moving requested events to different rooms or substituting/adjusting furnishings needs to accommodate the event.
All requests are to be done using Astra Schedule. For questions on using Astra please contact the Student Union Event Coordinator at mhendrix@nwmissouri.edu.
All requests made using Astra Schedule online will be approved in the order requested using Astra Schedule.
*For events occurring in the Student Union requiring special set-ups, or any event in the Ballroom, please contact the University Event scheduling Coordinator one week prior to the event. Contact the University Event scheduling Coordinator with any questions regarding an event in the Student Union.
** For events occurring outdoors, (except at athletic fields and facilities) send requests to the University Event scheduling Coordinator .