The Station Conference Center
General Information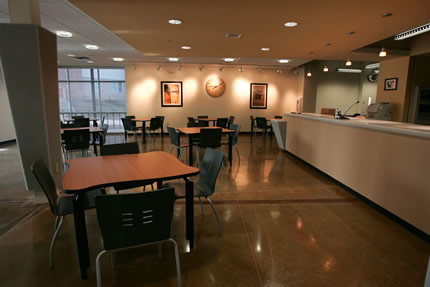 The Station Conference Center contains three meeting rooms and one multipurpose room, which can be used as a dining room or a meeting room. Two meeting rooms and the multipurpose room may be "opened" up to make one large room. One room or all may be reserved to accommodate your event.
While classes are in session the Station is open 7 a.m. – 2 a.m. hours and may accommodate late night and early morning activities.
The Station is home to Mooyah Burger, the C-3 store for convenience shopping, Textbook Services, The Career Closet and other student services.
The Station Center and East Rooms are currently unavailable from 7 a.m. - 5 p.m. Monday - Friday for classes.
Pictures and Diagrams
Center Meeting Room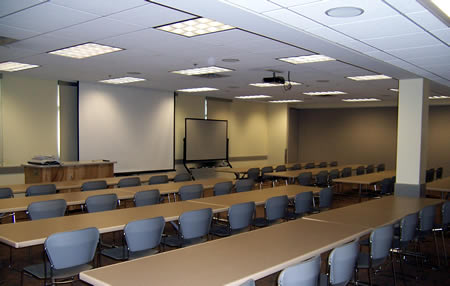 West Meeting Room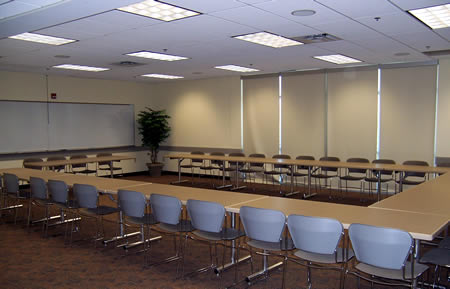 East Meeting Room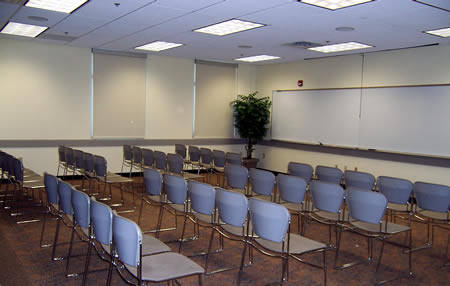 Executive Meeting Room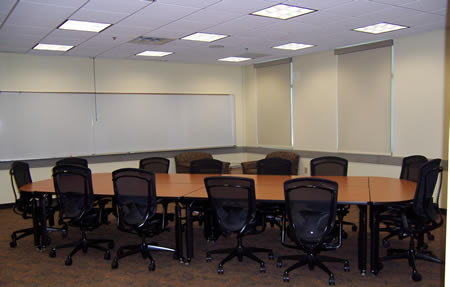 Reservation Rates
Room
Hourly Rate


(up to three hours)

Full Day Rate
East Room
$25
$75
West Room
$25
$75
Center Room
$25
$75
All Three Rooms
$100
$400
Executive Room
$25
$75
Fees (for Student Union and Station)
| Reason | Fee |
| --- | --- |
| Late Reservation | $25 |
| Late Cancellation | $25 |
| Room Reset | $25 |
| Excessive Cleaning or Damage | Cost of cleaning or replacement |
Exception to Rental Prices
| Association or Group | Adjusted Rate |
| --- | --- |
| University Organization | No charge |
| University Organization After Hours | Half price |
| Groups from Community (Nodaway County) | Half price |
| Personal Use (with University Affiliation) | Half price |
| Community Service | No charge |
General University Policies
Applicable to all university facilities:
Shirts and shoes are required.
No skateboards, bikes, inline skates, or pets.
Classes have priority in academic buildings.
Classroom use may be scheduled after the class schedule has been finalized on the first day of the semester.
Classrooms can be scheduled for exams, meetings, classes, etc.
No tobacco or alcohol products are allowed in any university facility.
Due to the university's policy, health licensing restrictions, and exclusive contract with the university food service contractor, all foods/beverages utilized in university facilities must be arranged through Northwest Catering at 660.562.1275.
Due to fire regulations, use of open candles are not allowed in any campus facility; however, enclosed candles for catered events may be used.
All events are subject to a security audit prior to final confirmation. Any and all large events that are requesting a large venue space will be shared with University Police for an audit to best determine how to serve the event and protect the entire Northwest community. As a result of this audit University Police/Security may be required at the event. If security is required a fee may be assessed. It may be determined that the event will not be approved. Not all events are appropriate for a campus community and those requiring personnel must work within the scheduling limits of that staff and other campus needs. If you have any questions please feel free to contact the Auxiliary Services Office or University Police at any time.
Additional Station Policies
Hours of Operation
Semester
Days
Time
Fall and Spring
Monday - Sunday
7 a.m. – 2 a.m.
Summer Hours*
Monday - Friday
Saturday and Sunday
8 a.m. - 11 p.m.
noon - 11 p.m.
The Station closes at 5 p.m. when the Residence Halls close for Thanksgiving, Semester, and Spring Breaks. The Station will reopen at noon the day the Residence Halls reopen.
Room Request and Information
Both on AND off campus users can now use Astra Schedule!
 
For Both On and Off Campus Users
Check the availability of your room(s) by viewing the calendar.
Request a room using Astra Schedule.*
Requests are taken on a first come first serve basis when rooms, equipment, and furnishings are available. Every effort to accommodate requests will be made. This may mean moving requested events to different rooms or substituting/adjusting furnishings needs to accommodate the event.
All requests should be done using Astra Schedule.
* For events occurring in the Union or the Station requiring special set-ups, please contact the University Event scheduling Coordinator one week prior to the event.