Forest Village Apartments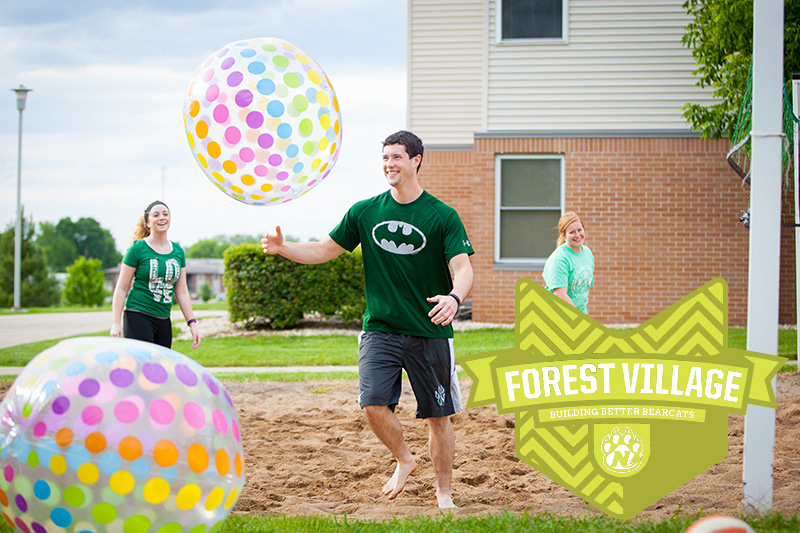 The Forest Village Apartments complex consists of three buildings and each apartment is designed to accommodate two-person or four-person configurations. The apartments are fully-furnished and contain a washer, dryer, refrigerator, dishwasher, garbage disposal, microwave, stove and wireless internet. This is the perfect option for upperclassmen who want the convenience of living on-campus and the independence of an apartment.
Location: Near the Dean L. Hubbard Center for Innovation. North of the Garrett-Strong Science Building, The Station and B.D. Owens Library.
Traditional Apartments + Apartment Food Plan
*Starting at
$4,185
per semester
Based on $737 per month per bed. Utilities (electric and gas) included.
Available Options
10 Swipes/Week Food Plan
+ $1,160
14 Swipes/Week Food Plan
+ $1,268
Residential Unlimited Food Plan
+ $1,676
Upper-class, Gender Neutral

Private bathroom, kitchen and washer/dryer in apartment
Meal membership not required with housing contract

Ready to move in?
Submit your prepayment and housing application to be first in line to select housing in April.
Live minutes from everything
We keep it 100 with most campus buildings a 10-minute walk away. Check out our res life virtual tour to see where the res halls are in proximity to other academic and activity buildings.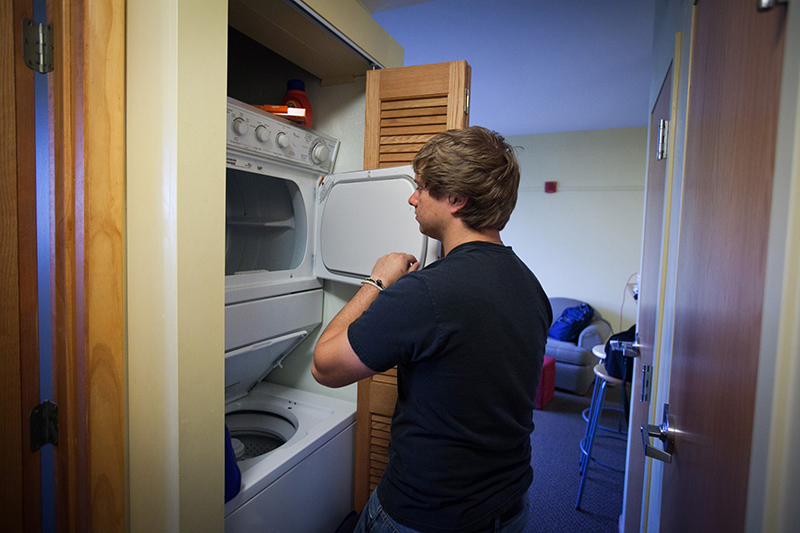 Features
own bathroom
washer and dryer in apartments
kitchen in apartment
mixed coed apartments
in-room + in-hall living space
study and social lounge
rec room + sand volleyball
movable furniture
patio
What I love about living in Forest Village
"What I love about living in Forest Village Apartments is the feeling of living on my own but still having the community aspect of Northwest!"
Tristan Smith
Forest Village Resident
Room Types and Rates
Forest Village Apartments rental rate is $737 per month per bed. Utilities (electric and gas) included.
Based on the rental rate, here is what you can expect to pay per semester or year.
*Housing + Food
Cost Breakdown
Per Semester
Yearly Total

Bed + Apartment Food Plan (base rate)

$3,685 + $500

$4,185

$8,370

Bed + 10 Swipes/Week Food Plan

$3,685 + $1,660

$5,345

$10,690

Bed + 14 Swipes/Week Food Plan

$3,685 + $1,768

$5,453

$10,906

Bed + Residential Unlimited Food Plan

$3,685 + $2,176

$5,861

$11,722
The More You Know
Private bathroom shared by one or two bedrooms within the apartment.
Air conditioning available.
Free use of laundry facilities in apartment.
Each apartment includes sink, dishwasher, microwave, garbage disposal, stovetop oven and refrigerator.
Halls are secured 24/7 with an electronic access system.
Free Wi-Fi access in building and apartment.
Students living in the same apartment have choice of roommates, otherwise students will be placed in an apartment of the same gender.
Approved pets include cats, dogs, small birds, hedgehogs, hamsters, gerbils, guinea pigs, rabbits, turtles and fish. View pet policy »
In-room living area with couch, chair and table. Lounge/study space in FVA Community Building.
Recreation area consisting of pool/ping pong table, lounge, TV and nearby sand volleyball court.
Provided furniture included single beds, movable desk, chair, under bed drawers and wardrobe.
No elevators in building. If you require an accommodation, the office of Accessibility & Accommodations can help.
Access to networked laser printer located in the FVA Community Building.
Measurements and Floor Plans
Room configuration may vary based on location (ex: corner room). Click on the image for a larger view.
Room specifications:
Bedroom: 9' 4" by 12' 4"
Windows:3' 2" (W) by 4' 10" (H)
Ceiling: 9' high
Door: 36" (W) by 80" (H)
Mattress: 80" long (extra-long twin sheets recommended)
Note: These are measurements of typical rooms. Rooms vary slightly. All furniture must remain in the room. There is no additional space for storage.
Contact and Mailing Information
Hall Director
Vacant
Forest Village Apartments & Roberta
660.562.1214
reslife@nwmissouri.edu
How to address mail to this hall
First and last name
### Hawthorn OR Sycamore OR Willow
Forest Village Apartments
917 Centennial Dr.
Maryville, MO 64468-6062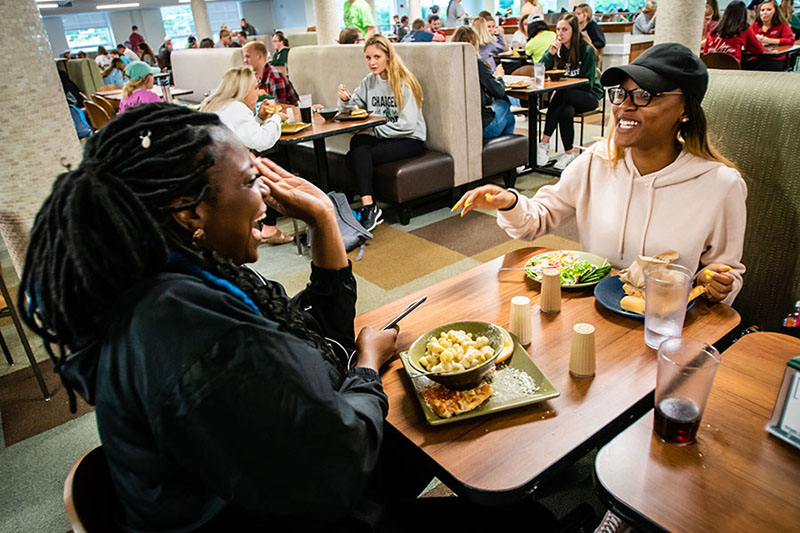 Dining on campus
Whether you're craving a late-night snack or a delicious meal on campus, we've got you covered. The J.W. Jones Student Union houses several stations to fit your nutritional needs. This is also the perfect place to catch up and grab a bite to eat with friends!
Beginning fall 2023, we're welcoming Chick-fil-A, McAlister's Deli, Qdoba and MrBeast Burger in the J.W. Jones Student Union, Starbucks in the B.D. Owens Library and Buffalo Wild Wings in The Station (in 2024). 
Whoever said college food isn't good clearly hasn't visited Northwest!
You may also be interested in