What are Northwest Living Learning Communities?
Living Learning Communities (LLCs) offer students with similar interests the opportunity to connect and learn with one another in a living and learning environment. The communities are designed to ease the transition to college life and provide support for personal and academic growth that encourages our mission of student success.
Beginning Nov. 1, you can apply for a Living Learning Community at the same time you complete your housing application in CatPAWS.
Ready to Move In?
Submit your prepayment and housing application to be first in line to select housing in January.
Seven Reasons To Join An LLC
1
LLC students enroll in similar courses
3
Network with employers early
4
Socialize with people who have similar interests and goals
5
Learn about career opportunities early
6
Accessibility to peer mentors in your major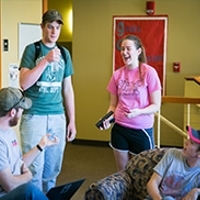 Who can be in a Northwest LLC?
Students enrolled in participating academic programs.
Which LLC is right for you?