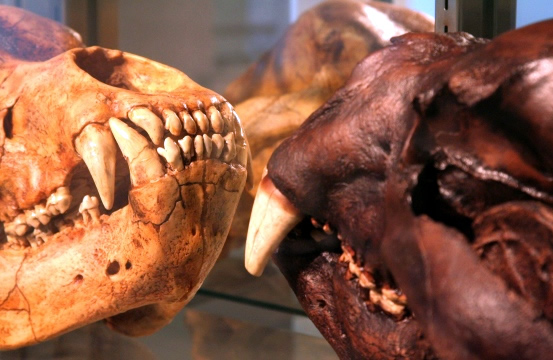 Northwest Science Museum
The Northwest Science Museum, which features the Geoscience Museum and Troutman Collection, are located in the Garrett-Strong Science building.
The Geoscience Museum is located on the first floor of Garrett-Strong and features a full-scale reproduction of a fossilized Tyrannosaurus Rex skull, a meteorite display and geological specimens collected in various parts of the United States, including northern Missouri.
The Walter M. and Velma C. Troutman Collection, which is located on the second floor of Garrett-Strong, features an impressive display of North American Mammals, which the Troutman's collected during big-game hunting trips at home and abroad between 1966 and 1982. In addition to gray wolf, elk, pronghorn and Kodiak brown bear, the Troutman Collection includes the four varieties of bighorn sheep found in North America: desert bighorn, mountain bighorn and two types of Dall or "thinhorn" sheep, white and Stone.
The museums are open Tuesdays, from 9-11 a.m. For more information about the collections or to schedule a tour, contact museums@nwmissouri.edu.