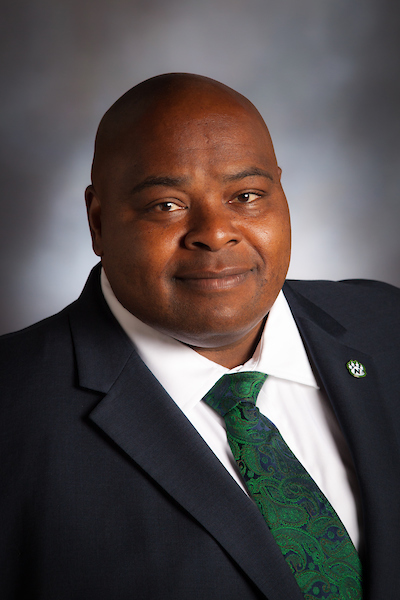 Dr. Clarence Green served as Northwest's interim president during the 2022-23 academic year.
Having served the University in numerous capacities since joining it in 1996, Green was appointed in 2019 as vice president of culture, with oversight of the Office of Human Resources, the Office of Institutional Research and Effectiveness, and the University Police Department, for which he had served as chief since 1997.
While leading Northwest teams responsible for strategic planning and crisis management, he also has served on implementation teams for student success, inclusive excellence and behavioral intervention, in addition to leading efforts to establish a multidisciplinary team focused on intervention strategies for students in crisis.
He served at Northwest previously as interim vice president of diversity, equity and inclusion and as the interim vice president of human resources.
Green has worked in law enforcement for more than 25 years. He served on the United States Attorney General Law Enforcement Coordinating Committee and is a Malcom Baldrige fellow. He has led presentations and trainings on topics of leadership, diversity and inclusion, ethics, crisis management, threat assessment, community policing and balanced scorecards.
He serves in Maryville Ten Squared Men, the local NAACP Chapter and numerous law enforcement organizations. In 2016, he was named among Ingram's Magazine's "Top 50 Missourians You Should Know."
He has a bachelor's degree in sociology and a master's degree in higher education leadership, both from Northwest, as well as a doctorate in educational leadership and policy analysis from the University of Missouri-Columbia.