Why Major in Finance?
Finance majors at Northwest focus on four areas: financial services, financial computing, corporate finance and finance management.
Financial Services concentrates on the design and delivery of advice and financial products to individuals, business and government;
Financial Computing combines information from finance and computer science while focusing on the decision-making models constructed and manipulated with computer technology;
Corporate Finance requires additional focus in accounting and prepares students for exams like the CFA (certified financial analyst), CPA (certified public accountant) and CMA (certified manufacturing analyst); and
Financial Management combines the knowledge of finance and management to make managerial decisions with an understanding of finance.
Career Ready. Day One.
Northwest ensures students are career ready, day one through internships, field experiences and networking opportunities. Read Ashton's story »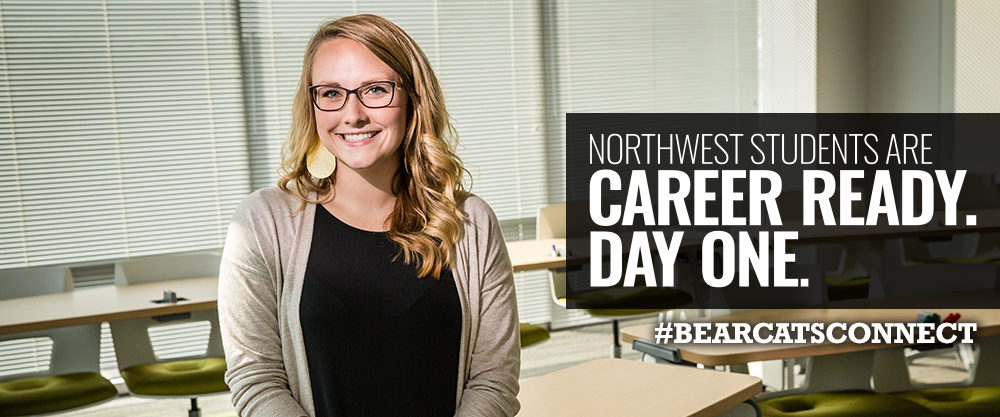 Career Opportunities
95%
placement rate
More than 95% of students who graduated with a degree in finance obtained employment or continued their education within six months after graduation.
The following is a listing of common positions for graduates with a finance major:
Loan Officer
Asset Management
Business Consultant
Financial Representative
Accountant
Financial Advisory
Financial Analyst
Settlements Processor
Property Manager
Stockbroker
Real Estate Agent
Real Estate Appraiser
Financial Planner
*Based on self-reported data in recent years.
Profession-Based Learning Experiences
New Venture Pitch Competition is designed for ambitious students and aspiring entrepreneurs to present ideas to business professionals, small business owners and potential investors. Students present their ideas to judges who in the future could represent their boss or client.
Study Abroad is an opportunity for students to apply hands-on international experience to their own academic development. Faculty members supervise short-term study abroad programs that prepare students before, during and after the program. Two types of study abroad programs are available – faculty-led and traditional study abroad.
The traditional program may be a semester, summer or year-long program and is taught by Northwest's international partner institutions. Students from the business school have recently traveled and studied in China, Africa and Eastern Europe including Hungary, Austria and Czech Republic.
Internships
Although internships are not required in the finance major, they are highly encouraged to gain real-world experiences.

I had the opportunity to work for the largest steel manufacturing corporation in our great nation. I was an inside sales Intern at Nucor-LMP in Maryville. It was one of my duties to design and produce ideas for a 'No Texting and Driving' campaign. My ideas will be seen by Maryville, the Northwest community, and Nodaway County schools.

Ryan Haas '13

This summer, I had the opportunity to work for the Cerner Corporation in their 10-week velocity internship program at Cerner's world headquarters in Kansas City. As a business consultant intern, I worked on many real projects that enabled my department to better handle client and associate IT issues and problems.

Donald Porter '12
The Northwest Difference
Founded in 1905, Northwest is a traditional campus with more than 7,200 undergraduate and graduate students. Located in the middle of everywhere, Maryville is two hours from Omaha, Nebraska and Kansas City, Missouri and 2 ½ hours from Des Moines, Iowa.
Students organizations, internships and profession-based learning experiences ensure students are Career Ready, Day One.
Learn more
Graduation Rate: 89th percentile of Northwest's national peer group.