Oct. 6, 2023
As a new academic year begins, Northwest Missouri State University is reinforcing its focus on providing new students a more affordable path toward degree completion by enhancing merit-based scholarships, assisting out-of-state students through its Bearcat Advantage and supporting students with identified financial need.
The Bearcat Advantage saves students as much as $30,000 during a four-year degree program by offering in-state tuition rates to out-of-state students. To qualify, students must be first-time freshmen or transfer students, live outside Missouri and have a 2.75 GPA or higher.
Northwest core courses and profession-based experiences, combined with a variety of resources and services at the University, help students successfully obtain degrees and pursue careers of their choice. (Photo by Lauren Adams/Northwest Missouri State University)
In addition to stacking it with merit-based scholarships, students may qualify for renewal of the Bearcat Advantage by completing 24 credit hours per year and earning at least a 3.00 GPA annually at the University.
"Northwest is committed to attracting students who have the ability to be highly successful at Northwest and ensuring our Maryville campus is the destination of choice for new students," Dr. Allison Hoffmann, Northwest's assistant vice president of admissions and student success, said. "Northwest offers students a high-quality educational experience that includes profession-based learning opportunities, dedicated faculty and staff, support resources to aid in success, and a focus on graduation and job placement all at an affordable price. There has never been a better time to join the Bearcat family."
Click here to learn more about scholarships available at Northwest.
Merit-based and test-optional scholarships
As students consider attending Northwest next fall, the University also is enhancing its freshmen scholarship awards to hard-working students by offering a variety of merit-based scholarships.
Northwest's expanded merit-based scholarship model offers scholarship tiers that could save students as much as $6,000 annually. Merit-based scholarships are automatically awarded based on the student's admission to Northwest.
New freshmen scholarship tiers for 2024-2025 include the Dean's Scholarship, which awards $5,000, and the Provost Scholarship, which awards $6,000, making Northwest an attractive choice for high-achieving students. The scholarships also qualify them to attend the University's President's Scholar Day to compete for a limited number of Presidential Scholarships.
Further expanding its scholarship offerings, Northwest will award scholarships next fall – ranging from $1,000 to $4,000 – to qualifying high school students who have demonstrated academic success.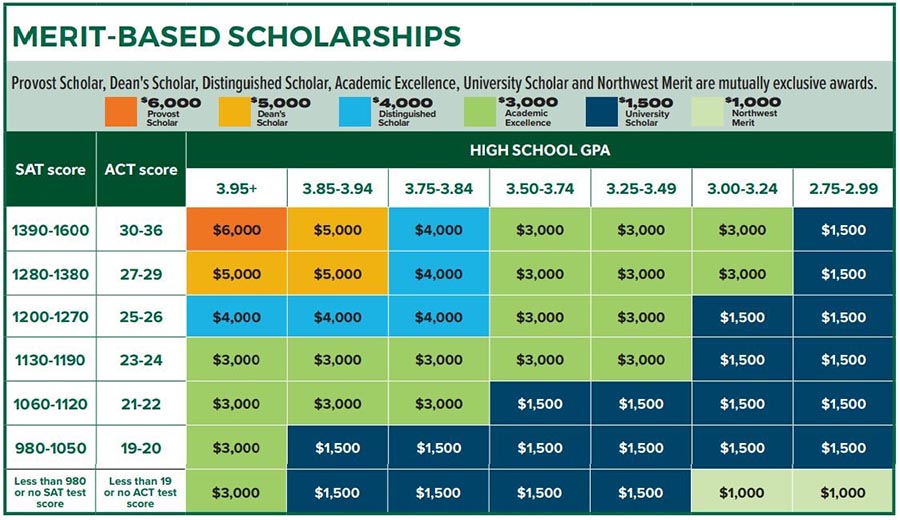 Merit-based scholarships at Northwest
Northwest Promise
Prospective students also can receive a helping hand toward achieving their educational goals and desired career paths through the Northwest Promise, which covers 100 percent of tuition and standard fees for qualifying students who meet the institution's moderately selective admissions criteria and come from a family with an income of $65,000 or less.
Students who receive a federal Pell Grant also are eligible, regardless of family income. The Northwest Promise, which is renewable for three additional years, is applied in conjunction with federal, state, and institutional grants and scholarships. 
Since Northwest pioneered the program in 2004, more than 5,000 students have benefited from it. Today, about 500 freshmen meet the criteria to receive the Northwest Promise.
To qualify, students must complete the Free Application for Federal Student Aid (FAFSA). Eligible Missouri residents must have a high school GPA of 2.50 or higher with an ACT score between 18 and 36; eligible Missouri residents with no ACT test score or a score of less than 18 must have a high school GPA of 2.75 or higher. Non-Missouri residents must have a high school GPA of 2.75 or higher to qualify for the Northwest Promise.
Students walk across the Northwest campus, which also is designated as the Missouri Arboretum. (Photo by Chandu Ravi Krishna/Northwest Missouri State University)
Northwest focuses on affordability
Northwest consistently ranks among the most affordable higher education institutions in Missouri and in the United States while boasting a net price in the lower one-third of its peers, including for families with incomes between $30,000 and $110,000. The University, in fact, awards nearly $25 million in scholarships and tuition grants annually.
Setting Northwest further apart is its laptop and textbook rental program, which provides a full set of primary textbooks and a fully loaded laptop to all full-time undergraduate and graduate students at the Maryville and Kansas City campuses. Students benefit by saving an estimated $6,800 during four years at Northwest compared to their peers at other institutions.
A recent affordability analysis conducted by the National College Attainment Network (NCAN) – a nonprofit organization whose mission commits to closing equity gaps in postsecondary attainment for all students – found the number of affordable public postsecondary options is dwindling and affordability gaps are rising. While NCAN reported that only 23 percent of 490 public four-year institutions are considered affordable, it listed Northwest as one of only five four-year schools in Missouri that are affordable, based on its most recent data.
Northwest offers a broad range of undergraduate and selected graduate programs while placing a high emphasis on profession-based learning to help graduates get a jump start on their careers. (Photo by Todd Weddle/Northwest Missouri State University)
About Northwest
With an enrollment of about 10,000 students, Northwest is a coeducational, primarily residential four-year university that offers a broad range of undergraduate and selected graduate programs on its Maryville campus as well as its Northwest-Kansas City location and through Northwest Online.
Coursework, student organizations and internships at Northwest help students build professional skills and their résumés during their time on the campus. (Photo by Lauren Adams/Northwest Missouri State University)
Founded in 1905 and ranked by U.S. News and World Report among the top public regional universities in the Midwest, Northwest boasts a high retention rate and a graduation rate in the 95th percentile among its peers. Additionally, results of the 2021 Ruffalo Noel Levitz Student Satisfaction Inventory show Northwest students are more satisfied than students at national peers, and 80 percent of Northwest students report they would repeat their University experience, compared to 77 percent of students surveyed nationally at their respective institutions.
While Northwest places a high emphasis on profession-based learning to help graduates get a jump start on their careers in nearly every area of study, the University's internationally benchmarked student employment program also offers opportunities for students to build professional skills and their résumés on campus.
Furthermore, 97 percent of Northwest bachelor's degree earners and 99 percent of master's degree earners secure employment or continue their education within six months of graduation, according to the most recent data. 
For more information about Northwest and its performance, visit www.nwmissouri.edu/facts/.