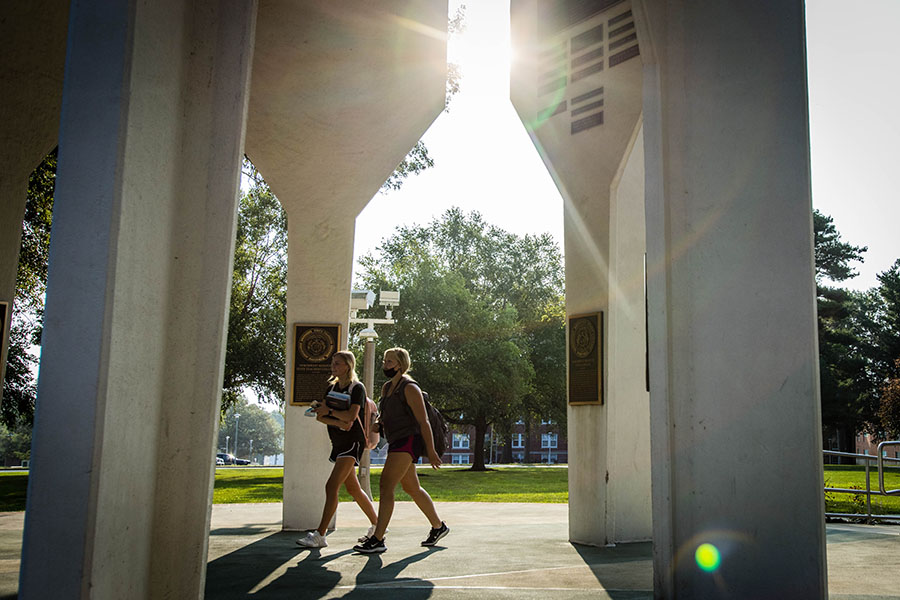 A pair of Northwest students walk under the Memorial Bell Tower on the University's Maryville campus last fall. (Photo by Todd Weddle/Northwest Missouri State University)
Feb. 15, 2022
As high school students, community college students and adult learners returning to college to earn a credential make decisions about where to pursue their degree, those who choose Northwest Missouri State University can be sure they are enrolling in one of the most affordable four-year public universities in Missouri as well as the United States.
Northwest consistently ranks among the most affordable higher education institutions in Missouri and in the United States while boasting a net price in the lower one-third of its peers, including for families with incomes between $30,000 and $110,000. The University, in fact, awards nearly $25 million in scholarships and tuition grants annually.
Northwest's American Dream Grant, a tuition promise program covers 100 percent of tuition and fees for Pell-eligible students. It ensures any remaining tuition and standard student fees are covered once Federal, state, and institutional scholarship and grant funds are provided. 
Meanwhile, Northwest's Bearcat Advantage allows qualifying students to receive in-state tuition rates, a savings of more than $7,500 annually, or the Green and White Advantage program allows other qualifying out-of-state first-year students to save $3,792. Northwest's average out-of-state undergraduate award is $9,804.
Setting Northwest further apart is its laptop and textbook rental program, which provides a full set of primary textbooks and a fully-loaded laptop to all full-time undergraduate and graduate students at the Maryville and Kansas City campuses. Students benefit by saving an estimated $6,800 during four years at Northwest compared to their peers at other institutions.
"All we do at Northwest Missouri State is connected to our ongoing focus on access to higher education, a high-quality product and an unending pursuit of student success," Northwest President Dr. John Jasinski said. "The evidence is in our record-breaking enrollment, peer-leading retention and career placement rates. We are focused on affordability and degree attainment for our learners."
A recent affordability analysis conducted by the National College Attainment Network (NCAN) – a nonprofit organization whose mission commits to closing equity gaps in postsecondary attainment for all students – found the number of affordable public postsecondary options is dwindling and affordability gaps are rising. While NCAN reports that only 23 percent of 490 public four-years are considered affordable, it lists Northwest as one of only five four-year institutions in Missouri that are affordable institutions, based on its most recent data. In fact, Northwest is listed as affordable in each of the years reviewed by NCAN since 2014-15.
"Northwest continues to provide a high-quality educational experience at an affordable price and shows its focus on affordability by prioritizing the funding of additional scholarship dollars for students," Dr. Allison Hoffmann, Northwest's assistant vice president of admissions and student success, said. "We remain committed to affordability. We also understand the role that the cost of higher education plays in enrollment, student success and degree attainment."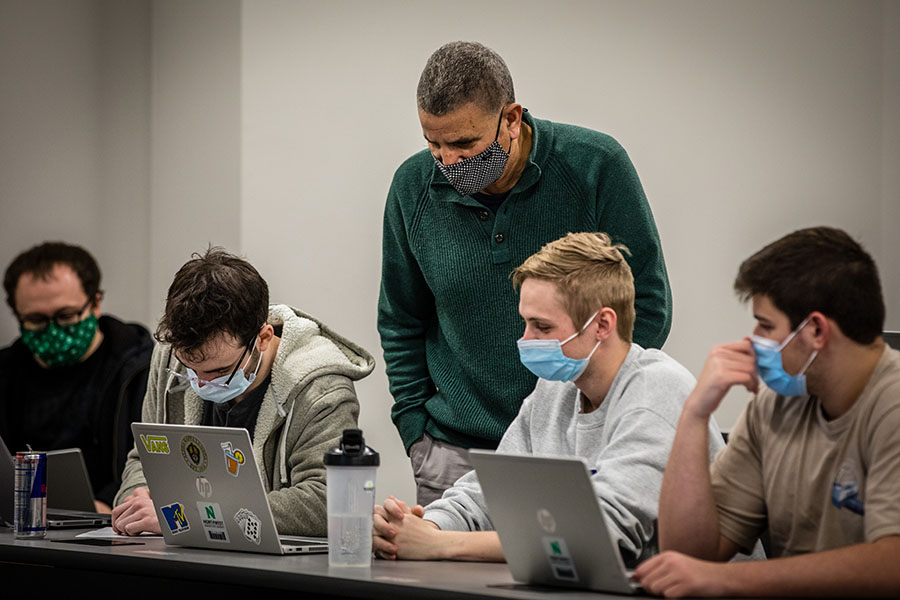 Northwest's laptop rental program, when combined with its textbook rental program, saves students an estimated $6,800 during a four-year degree program and provides the tools they need to be successful in the classroom. (Photo by Lauren Adams/Northwest Missouri State University)
About Northwest
With an enrollment of more than 7,200 students, Northwest is a coeducational, primarily residential four-year university that offers a broad range of undergraduate and selected graduate programs on its Maryville campus as well as its Northwest-Kansas City location at the Northland Innovation Center and through Northwest Online.
Founded in 1905, Northwest boasts a freshman retention rate of 76 percent and a graduation rate in the 89th percentile among its peers. Results of a 2019-20 satisfaction survey show Northwest students are more satisfied than students at national peers while 82 percent of all Northwest students report they would repeat their University experience, compared to 75 percent of students surveyed nationally at their respective institutions.
Northwest also places a high emphasis on profession-based learning to help graduates get a jumpstart on their careers. The University integrates students into operations through its internationally benchmarked student employment program, which offers about 1,200 opportunities for students to build professional skills and their résumés on the campus. Furthermore, 96 percent of Northwest undergraduate degree earners and 99 percent of graduate degree earners find employment or continue their education within six months of graduation, a state-leading placement rate that led to Zippia, a career website, naming Northwest the best college in Missouri for getting a job.
Northwest's affordability and an array of academic resources help students graduate with limited debt and secure employment to help them pay any remaining balances. Northwest's loan default rate is lower than state and national averages.
For more information about Northwest and its performance, visit www.nwmissouri.edu/facts/.