Aug. 22, 2023
Northwest Missouri State University began its 2023-24 academic year Monday with a 4.6-percent rise in its total enrollment from a year ago, marking a sixth consecutive year of overall growth.
Northwest started its fall semester with a total headcount of 8,071 students, compared to 7,715 on the first day of the 2022-23 academic year. Northwest also reports 75 percent of its 2022 freshman class returned to the University for a second year.
Northwest students cross the University campus during the first day of fall classes on Monday. (Photo by Lauren Adams/Northwest Missouri State University)
Northwest welcomed its first-year students during its annual convocation and "March to the Tower" event on Aug. 18. (Photo by Chandu Ravi Krishna/Northwest Missouri State University)
Northwest students participated in a Back-to-School Bingo event Aug. 19 in the University's J.W. Jones Student Union. (Photo by Lauren Adams/Northwest Missouri State University)
The University's graduate student enrollment increased by 23 percent from a year ago to 3,159, while its first-time graduate headcount is 843, a nearly 16 percent increase. Among all graduate students, 890 come from 11 other countries, setting a new high in the University's history for international graduate students.
In fact, Northwest's overall international headcount of 1,032 students also set a record on the first day of classes. That headcount is a 23 percent increase from a year ago and surpassed the University's previous high of 855 international students recorded during its fall 2022 census.
Additionally, enrollment for Northwest online programs totals 2,793 students, which is up about 23 percent compared to fall 2022.  
"I'm proud of how we have balanced our enrollment portfolios online, and our international enrollment continues to be a strength," Northwest President Dr. Lance Tatum said. "The fact that overall enrollment numbers at Northwest are trending in a positive direction is encouraging, but we know there is still work ahead of us as we continue to grow our campus populations."
Dr. Allison Hoffmann, Northwest's assistant vice president of admissions and student success, added, "We are excited to see continued enrollment growth in the international student segment. Day one numbers indicate growth in both new undergraduate and graduate international student segments as well as strong persistence rates for continuing international students. Achieving record-high international enrollment is a testament to our campus-wide support and recognition of the importance of international education."      
All enrollment numbers are preliminary until Northwest's official census occurs Monday, Sept. 18. Northwest's fall 2022 census provided the University with a record-setting enrollment of 8,505 students, though its multiple start dates each semester helped the institution grow post-census, and the University ended the 2022 fall semester with a record-breaking enrollment of 8,805 students.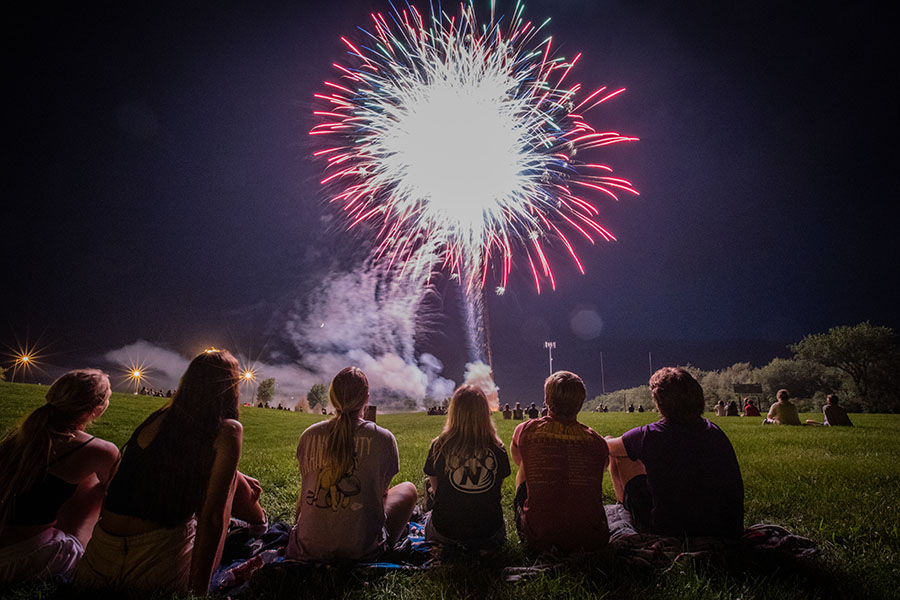 Northwest students enjoy a fireworks show on Aug. 20 to mark the start of the fall semester at the University. (Photo by Chandu Ravi Krishna/Northwest Missouri State University)
About Northwest Missouri State University
Northwest is a coeducational, primarily residential four-year university that offers a broad range of undergraduate and selected graduate programs on its Maryville campus as well as its Northwest-Kansas City location and through Northwest Online.
Founded in 1905, Northwest boasts a high retention rate and a graduation rate in the 95th percentile among its peers. Additionally, results of the 2021 Ruffalo Noel Levitz Student Satisfaction Inventory show Northwest students are more satisfied than students at national peers, and 80 percent of Northwest students report they would repeat their University experience, compared to 77 percent of students surveyed nationally at their respective institutions.
Furthermore, 97 percent of Northwest bachelor's degree earners and 99 percent of master's degree earners secure employment or continue their education within six months of graduation, according to the most recent data. 
Northwest places a high emphasis on profession-based learning to help graduates get a jumpstart on their careers. Students have opportunities to build their résumés with experiences on campus in nearly every area of study, including the Horace Mann Laboratory School, National Public Radio affiliate KXCV, the R.T. Wright Farm, Mozingo Outdoor Education Recreation Area or Knacktive, a student-driven integrated digital marketing communications agency. In conjunction with its emergency and disaster management program, Northwest organizes and hosts Missouri Hope, an annual mass casualty training exercise that attracts first responders and emergency workers from throughout the nation and provides hands-on training in preparation for a natural disaster.
The University's vibrant and diverse learning community also offers more than 150 student organizations, and textbooks and a laptop are included in tuition, which is among the lowest in the nation, saving students an estimated $6,800 over four years. Northwest offers 1,200 student employment positions, allowing students to build professional skills through its internationally benchmarked student employment program. 
For more information about Northwest and its performance, visit www.nwmissouri.edu/aboutus/facts/.