May 26, 2023
Viqtory, a media entity for military personnel transitioning into civilian life, has named Northwest Missouri State University a Military Friendly School for 2023-2024 in recognition of the University's commitment to embracing military service members, veterans and their family members and ensuring their success on campus.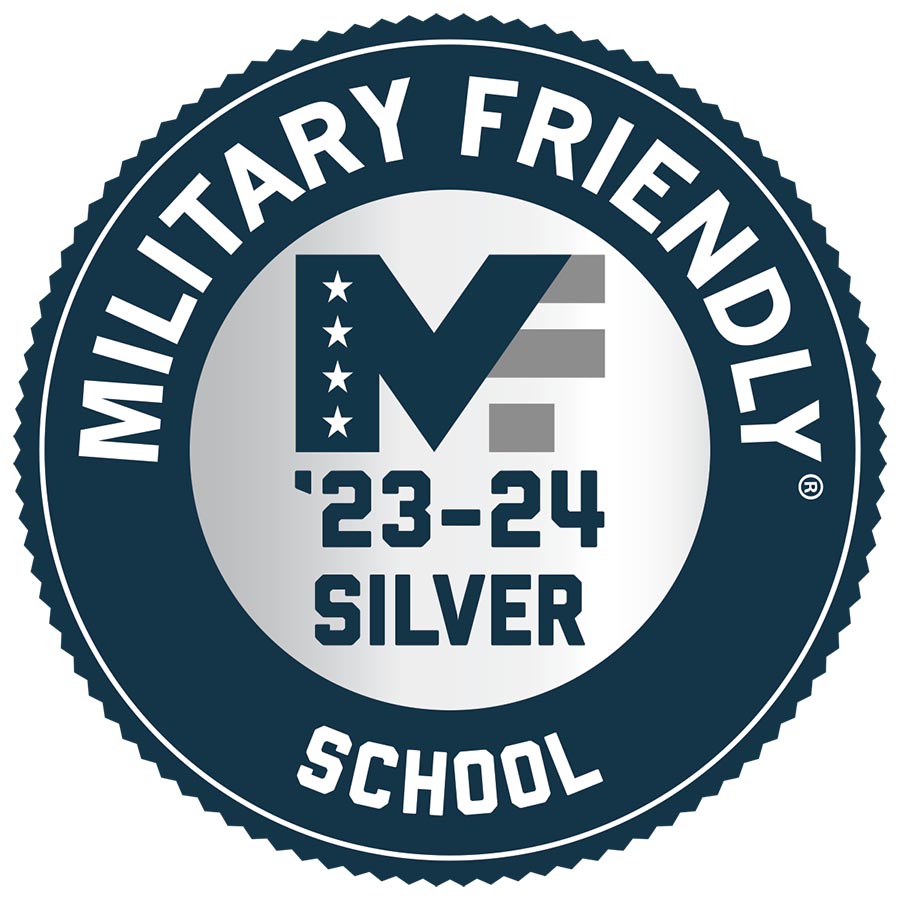 Northwest received a Silver designation on Viqtory's list of 2023-2024 Military Friendly Schools.
This marks the 12th consecutive year Northwest appears on the list, which honors colleges, universities and trade schools that deliver the best experience for military students.
More than 1,800 schools participated in the 2023-2024 survey, and 530 schools earned award-level designations of Gold, Silver or Bronze, with Northwest receiving a Silver designation. The 2023-­2024 Military Friendly Schools list is published in G.I. Jobs magazine's May and October issues and can be found at www.militaryfriendly.com.
"We are fortunate to have great faculty, staff and a community that values military service members, veterans and their families," Dr. Clarence Green, who served as Northwest's interim president during the 2022-23 academic year, said.
In its profile of the University, Viqtory cites Northwest's high graduation and career placement rates as well as its 21-to-1 student-to-teacher ratio and opportunities for student employment and profession-based learning experiences. "Many resources, including the Student Success Center, Writing Center, Math Lab, Career Services and faculty advisors, are available to help students be successful throughout their time at Northwest and after," the report states.
Northwest, which is accredited by the Higher Learning Commission, is approved for certification of students eligible to receive educational assistance from the Department of Veterans Affairs. The University also offers a range of degree and certification programs that benefit military students in addition to giving credit for the College-Level Examination Program (CLEP) and DANTES Subject Standardized Tests (DSST). Northwest also follows American Council on Education (ACE) recommendations when granting credit for military experience or from other regionally accredited institutions as transcripts are evaluated by the Office of Admissions.
Further enhancing its services for veterans, Northwest partners with multiple veterans organizations and regularly hosts a veterans service officer to assist with filing for VA benefits. Northwest participates in several federal and Missouri state programs such as the GI Bill and Missouri Returning Heroes and offers a variety of scholarships for military personnel and veterans, including a National Guard Scholarship to assist military students with housing. For more information about resources available to veterans at Northwest, visit www.nwmissouri.edu/veterans/.
In partnership with the Missouri Army National Guard, Northwest also offers the Guard Officer Leadership Development (GOLD) program to develop qualified Missouri citizens into commissioned officers through classroom instruction, leadership laboratories and a physical conditioning program.
Launched in 2003 as an advocacy vehicle to encourage civilian organizations to invest in programs to recruit, retain and advance veterans as employees, entrepreneurs and students, the Military Friendly Schools list annually provides a comprehensive guide for veterans and their families, based on extensive research using public data sources for schools nationwide, input from student veterans, and responses to the proprietary, data-driven Military Friendly Schools survey from participating institutions. The survey questions, methodology, criteria and weighting are developed with the assistance of an independent research firm and an advisory council of educators and employers. The survey is administered for free and is open to all post-secondary schools that wish to participate.
Veterans Commons in Valk Center on the Northwest campus pays tribute to the University's military history. (Photo by Todd Weddle/Northwest Missouri State University)
About Northwest Missouri State University
With an enrollment of about 8,500 students, Northwest is a coeducational, primarily residential four-year university that offers a broad range of undergraduate and selected graduate programs on its Maryville campus as well as its Northwest-Kansas City location and through Northwest Online.
Founded in 1905, Northwest boasts a high retention rate, and results of 2021 Ruffalo Noel Levitz Student Satisfaction Inventory show Northwest students are more satisfied than students at national peers and 80 percent of Northwest students report they would repeat their University experience, compared to 77 percent of students surveyed nationally at their respective institutions. Additionally, Northwest's graduation rate is in the 95th percentile among its peers.
Furthermore, 98 percent of Northwest bachelor's degree earners and nearly 100 percent of master's degree earners secure employment or continue their education within six months of graduation, according to the most recent data. 
Northwest places a high emphasis on profession-based learning to help graduates get a jumpstart on their careers. Students have opportunities to build their résumés with experiences on campus in nearly every area of study, including the Horace Mann Laboratory School, National Public Radio affiliate KXCV, the R.T. Wright Farm, Mozingo Outdoor Education Recreation Area or Knacktive, a student-driven integrated digital marketing communications agency. In conjunction with its emergency and disaster management program, Northwest organizes and hosts Missouri Hope, an annual mass casualty training exercise that attracts first responders and emergency workers from throughout the nation and provides hands-on training in preparation for a natural disaster.
Furthermore, its vibrant and diverse learning community offers more than 150 student organizations, and textbooks and a laptop are included in tuition, which is among the lowest in the nation, saving students an estimated $6,800 over four years. Northwest also offers 1,200 student employment positions, allowing students to build professional skills through its internationally benchmarked student employment program. 
For more information about Northwest and its performance, visit www.nwmissouri.edu/aboutus/facts/.
About Viqtory
Founded in 2001, Viqtory is a service-disabled, veteran-owned small business that connects the military community to civilian employment, educational and entrepreneurial opportunities through its G.I. Jobs and Military Friendly brands. Viqtory and its brands are not a part of or endorsed by the U.S. Dept of Defense or any federal government entity. Learn more about Viqtory at www.viqtory.com.