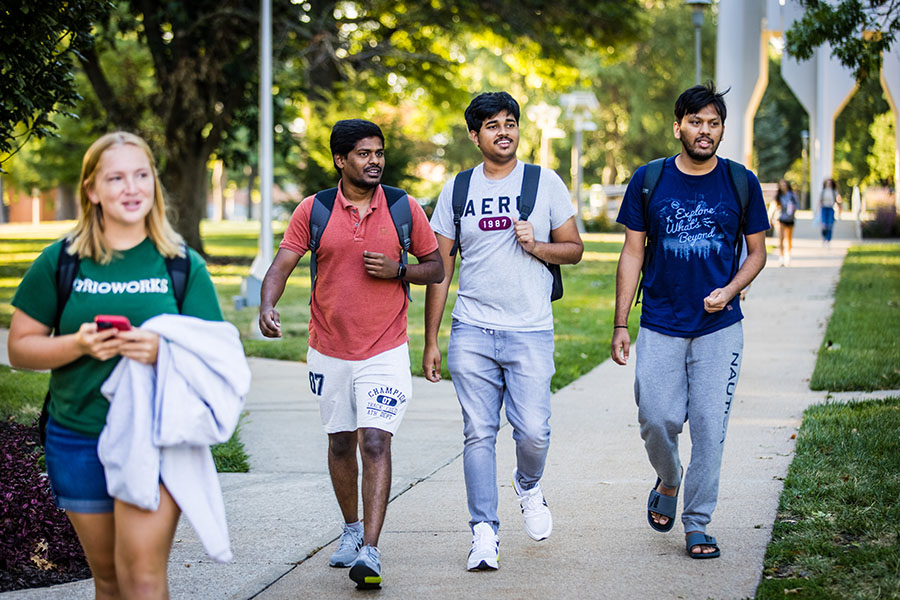 Northwest students cross the University's Maryville campus on the first day of fall classes Wednesday. (Photo by Lauren Adams | Northwest Missouri State University)
Aug. 18, 2022
Northwest Missouri State University began its 2022-23 academic year Wednesday with a 5.4-percent rise in its total enrollment from a year ago, marking a fifth consecutive year of growth while projecting its highest-ever retention rate.
Northwest began its fall semester with a total headcount of 7,715, compared to 7,319 students on the first day of the 2021-22 academic year. A record 80 percent of Northwest's 2021 freshman class returned to the University for a second year.
"Our enrollment growth is a reflection of the work of every employee, student, alumnus and stakeholder," Dr. Clarence Green, the University's interim president said. "To say that I am proud is an understatement. Northwest is a special place that produces special people who care deeply and are invested in learning, connecting, practicing civility and showing their pride."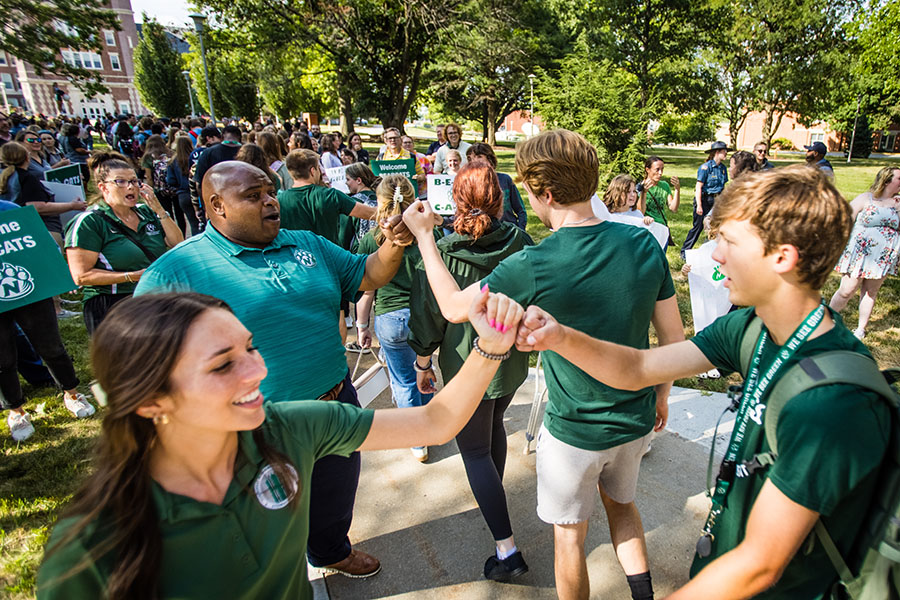 Northwest Interim President Dr. Clarence Green and Student Senate President Elizabeth Motazedi greeted first-year students as they passed through the Memorial Bell Tower on Tuesday afternoon, a University tradition that helps welcome first-year students into the Bearcat family. (Photo by Lauren Adams | Northwest Missouri State University)
Northwest's freshman headcount this fall is 1,115, which is a 13 percent increase. Of those students, 36 percent identify as first-generation college students, and they represent 17 states and 10 other countries.
The University's enrollment total also includes 2,800 graduate students, a 19 percent increase from a year ago. Of those students, 723 come from four other countries, setting a new high in the University's history for international graduate students.
In fact, Northwest's overall international headcount of 840 students also set a record on the first day of classes. That headcount is a 34 percent increase from a year ago and surpassed the University's previous high of 775 international students recorded during its fall 2015 census.
"This accomplishment is a reflection of a campus that supports international education and would not have been possible without the contribution of many people," Thomas Merlot, the director of Northwest's International Involvement Center, said. "The passion at Northwest for our international students is contagious, and the International Involvement Center is committed to continuing its work, hand in hand, with other offices at Northwest to serve and support our students in the best way possible."
Additionally, enrollment for Northwest's online programs totals 2,426 students, which is up 25 percent compared to fall 2021.  
All enrollment numbers are preliminary until Northwest's official census occurs Wednesday, Sept. 14. Northwest's fall 2021 census provided the University with a record-setting enrollment of 7,870 students, though its multiple start dates each semester helped the institution grow post-census, and the University ended 2021 with a record-breaking enrollment of 8,022.
"The collective Northwest community plays an integral role in our recruitment and student success efforts," Dr. Allison Hoffmann, Northwest's assistant vice president of admissions and student success, said. "We are encouraged that our first-time freshman numbers are trending positively and excited to reach the 80 percent retention threshold for the first time in the institution's history. Northwest's supportive campus environment, profession-based learning opportunities and focus on affordability are key to reaching our enrollment and student success goals today and in the future."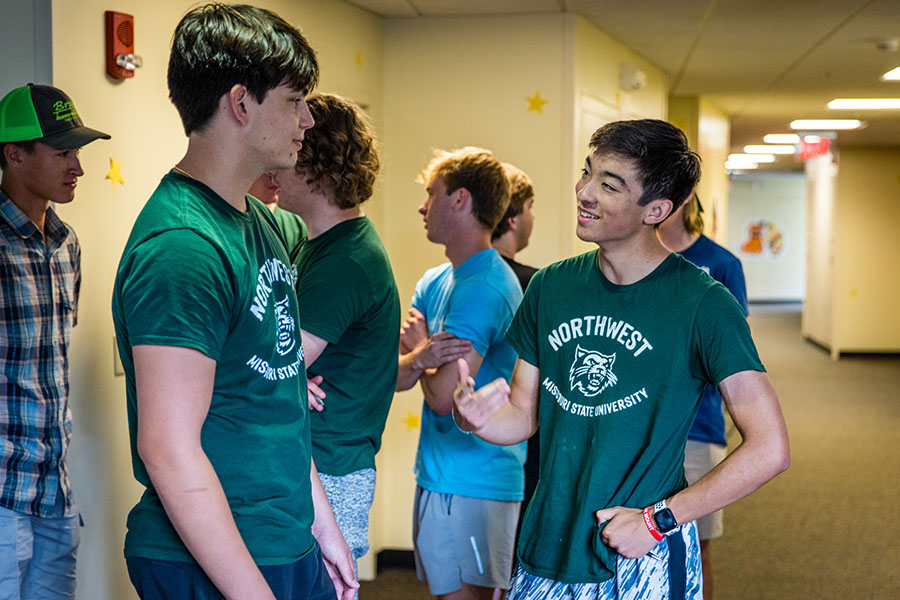 First-year students got to know each other after moving into residence halls Saturday. (Photo by Lauren Adams | Northwest Missouri State University)
About Northwest Missouri State University
Northwest is a coeducational, primarily residential four-year university that offers a broad range of undergraduate and selected graduate programs on its Maryville campus as well as its Northwest-Kansas City location and through Northwest Online.
Founded in 1905, the University boasts high retention rates, and results of 2021 Ruffalo Noel Levitz Student Satisfaction Inventory show Northwest students are more satisfied than students at national peers while 80 percent of Northwest students report they would repeat their University experience, compared to 77 percent of students surveyed nationally at their respective institutions. Additionally, Northwest's graduation rate is in the 95th percentile among its peers.
Furthermore, 98 percent of Northwest bachelor's degree earners and nearly 100 percent of master's degree earners secure employment or continue their education within six months of graduation, according to the most recent data. 
Northwest places a high emphasis on profession-based learning to help graduates get a jumpstart on their careers. Students have opportunities to build their résumés with experiences on campus in nearly every area of study, including the Horace Mann Laboratory School, National Public Radio affiliate KXCV, the R.T. Wright Farm, Mozingo Outdoor Education Recreation Area or Knacktive, a student-driven integrated digital marketing communications agency.
In relation to value, the National College Attainment Network places Northwest among the top 23 percent most affordable institutions in the nation and lists the University as one of only five four-year institutions in Missouri that are considered affordable.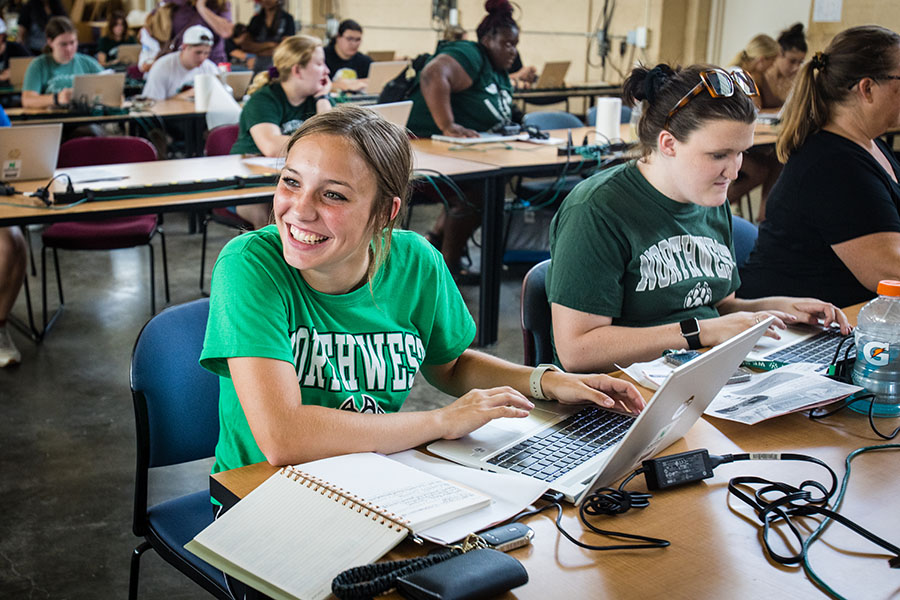 Students received their laptops and took time to get to know their features after moving onto campus Saturday. (Photo by Lauren Adams | Northwest Missouri State University)
Northwest includes textbooks and a laptop in its tuition costs, saving students an estimated $6,800 over four years. The University also offers 1,200 student employment positions, allowing students to earn money while building professional skills through the internationally benchmarked program.
Ninety percent of first-year students receive an institutional scholarship or grant, which includes Northwest's innovative Bearcat Advantage and American Dream Grant programs. The University also offers low-cost housing and a rate structure for graduate students that is based on market demand and program offerings rather than a traditional residency-based model.
To help undergraduate students complete their degree in four years or less and accrue less debt, Northwest's "Complete 30" initiative encourages students to take a personalized approach to meeting their academic goals and complete 30 credit hours during the course of an academic year.
For more information about Northwest and its performance, visit www.nwmissouri.edu/aboutus/facts/.