First-time Freshman

ACT/SAT test optional
Through fall 2024, Northwest is not requiring an ACT or SAT test score for admission.
Admission criteria for students who do not submit an ACT or SAT test score:
Minimum 3.00 cumulative grade-point average
Complete high school college-preparatory curriculum
Students who have completed the GED or HiSET are eligible with a minimum score of 660 on the GED or a minimum score of 75 on the HiSET.
* Students who must submit an ACT or SAT score for admission:
Home-schooled
Unaccredited high school graduate
For students with less than a 3.00 cumulative GPA and/or not on track to complete the high school college-preparatory curriculum
For questions about this option, contact the Admissions Office at admissions@nwmissouri.edu or 800.633.1175.
---
Northwest also offers two additional categories for consideration of admission:
Category I 
21 ACT composite or higher (or the SAT equivalent: SAT-980 or 1060*); and
Minimum 2.00 cumulative GPA or above (on 4.00 scale)
* Per 2016 SAT redesign
Category II 
Admissions index score (see here) that equals or exceeds 100 points; and
Minimum 2.00 cumulative GPA or above (on 4.00 scale)

Northwest does not require the writing component of the ACT.
The SAT score used for admission is a combination of SAT Critical Reading and SAT Mathematics scores. 
Graduating students are encouraged to complete the college-preparatory curriculum.
Anyone who is 24 years of age or older at the time of application will be considered an Adult Student. If they have not attended another regionally-accredited institution following completion of their high school career or equivalency, these Adult Students will be considered freshmen and admission will be based on their high school GPA or GED/HiSET score, and a personal essay. If available, ACT/SAT scores will be used for scholarship purposes and for course placement. If the Adult Student applicant has completed some coursework at a regionally-accredited institution but fewer than 24 transferable hours, admission will be based on their high school GPA or GED/HiSET score, a personal essay and review of their college coursework.
Superscoring Test Results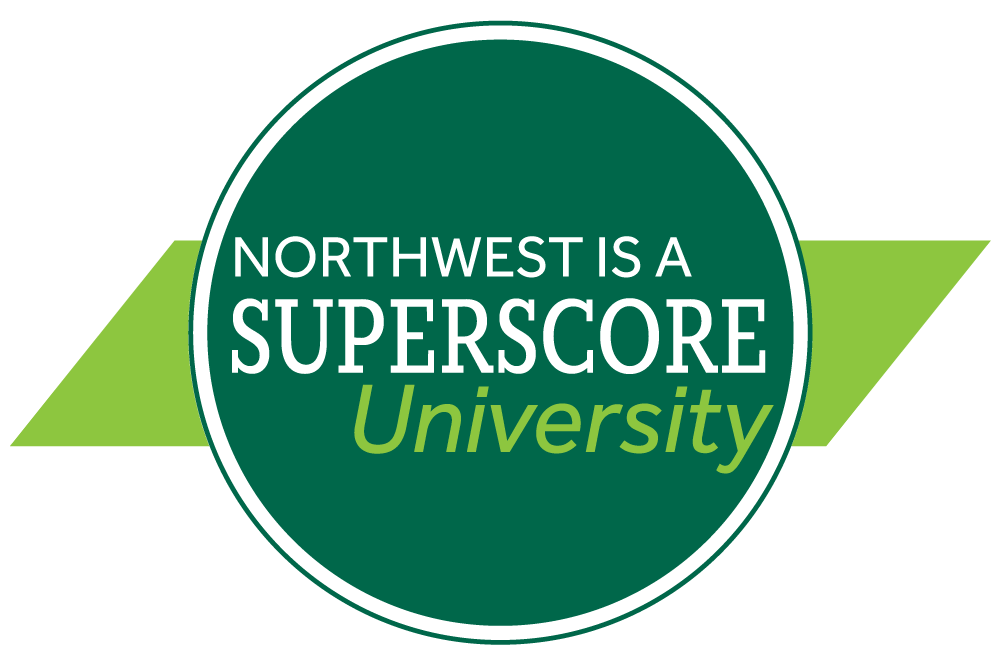 If you have taken the ACT/SAT more than once, you can benefit from the superscore. Northwest will evaluate the ACT and SAT according to your "superscore" which is a composite of your best subscores in each subject area, regardless of the test date. Be sure to send in all your test scores for consideration. Your highest subscores will be used for admissions decisions, automatic scholarships and course placement.
Academic Success Coaching Program
The Academic Success Coaching Program at Northwest was designed for the first-time freshman who, after thorough and thoughtful review of academic records and transcripts, is believed to have the potential to be successful at Northwest given the proper support. Students selected for participation in this program have identified areas of weakness and must participate in this program in order to enroll as a student at Northwest.
View more information on the Academic Success Coaching Program »