What is SARA?
What is State Authorization?
The State Authorization Reciprocity Agreement (SARA) is an agreement among member states, districts and territories that establishes comparable national standards for interstate offering of postsecondary distance education courses and programs. It is intended to make it easier for students to take online courses offered by postsecondary institutions based in another state. Practical Experiences (including internships and student teaching) are also included. Northwest Missouri State University is a member of both the national (NC SARA) and regional (MHEC) chapters of SARA.
Why is SARA important to Northwest students and faculty?
Northwest Online

Northwest needs permission to educate students (online) located outside the state of Missouri.

Practical Experiences

Northwest students need permission to participate in practical learning experiences (internships, work experience, student teaching, etc.) outside the state of Missouri.
How should Northwest students and faculty use SARA to ensure compliance?
Northwest Online

If students living in another state wish to enroll in an online program through Northwest Online they must first check to see if their state of residence is listed as a member of SARA or that Northwest Missouri State University has approval to work with a student from non-SARA member state.

Practical Experiences

If a Northwest student wishes to complete an internship, work experience, or student teaching they must first check to see if their target state is listed as a member of SARA or that Northwest Missouri State University has approval to work with students from non-SARA member states.
What is the Institution's Process For Handling Student Complaints?
View Northwest's Complaint Resolution
---
The comment card system is the systematic mechanism for managing complaints and extending positive feedback. Northwest also provides students or prospective students with contact information.
Students and stakeholders are encouraged by faculty and staff to use comment cards to share their thoughts and ideas, positive feedback or to register complaints. The system dates back to 1995, and the current system provides online access to comment cards.
Letters, emails and phone calls may also be documented through the comment card process.
Comment cards are sent directly to the President's office where they are recorded and forwarded to the appropriate Northwest Leadership Team (NLT) member for investigation and further response. Action will be initiated within five business days of receiving the complaint.
Telephone calls, email and/or letters are the means used to respond to complaints and to recognize positive work. On-campus service partners receive feedback through the comment card system as well, and in certain cases partners seek out additional information from targeted market segments.
After a complaint has been addressed at the NLT and/or departmental level, the NLT member provides the response and action taken to the President's staff.
In addition to comment cards, employees are empowered to respond, as appropriate, to complaints.
When possible, employees resolve complaints on the spot; when beyond their capacities to do so, employees report the problem to the appropriate departmental leader to address for corrective actions as appropriate. Sexual harassment complaints, academic dishonesty and disciplinary complaints are handled through processes delineated in our various student and employee handbooks. These complaint mechanisms provide avenues of appeal for the accused and are reviewed annually to ensure fair and legal practices.
Online Courses through Northwest Online
States require that Northwest Missouri State University be authorized to deliver university-level distance/online education to their residents. Each state handles this process differently and Northwest is seeking authorization in most states.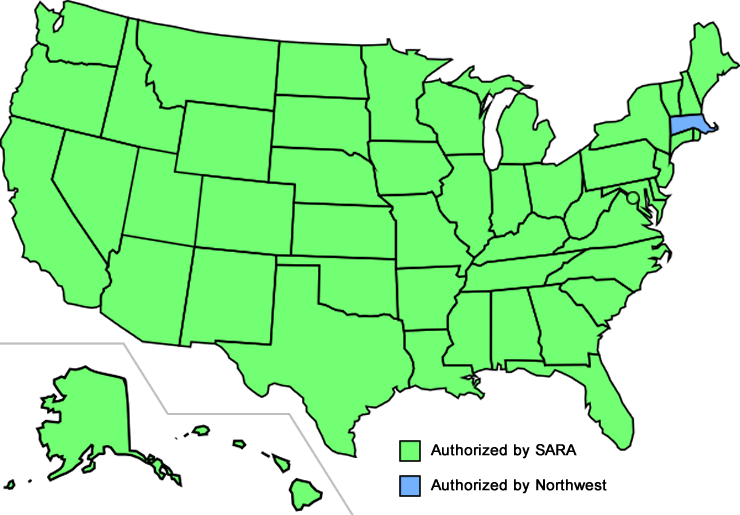 Questions on State Authorization for Online Courses may be directed to 660.562.1532.
---
Comments or concerns? Please submit an online Comment Card »
Action will be initiated within five business days of receiving the complaint.