To learn more or schedule a program at MOERA, contact Campus Recreation at crec@nwmissouri.edu or 660.562.1606.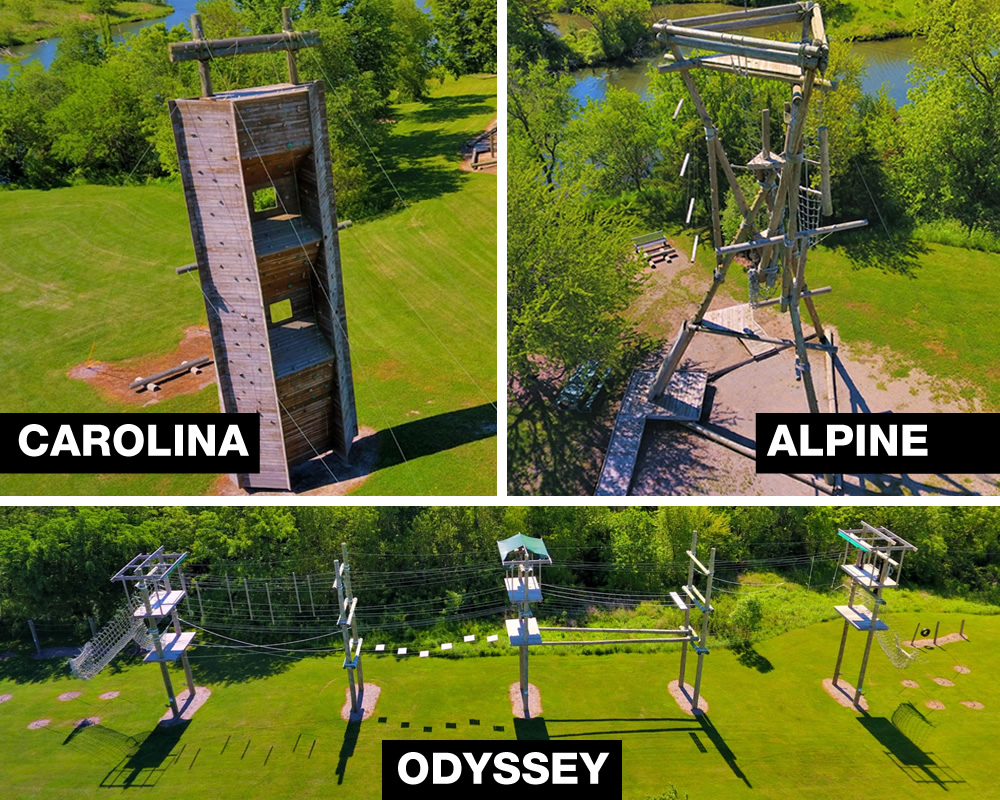 The Climbing Course at MOERA is comprised of a low elements course (Team Development Course, groundwork), Carolina Climbing Wall, Alpine Tower, and Odyssey III high ropes course. We are dedicated to providing a safe, fun, and productive challenge environment. We are happy to design a custom challenge course program that will meet your specific needs.
A typical program includes:
Icebreakers
Energizers
Safety Instruction
Low and/or high element challenges
Debrief
---
Climbing Course Programming includes:
Debrief
Develop climbing skills in our for credit climbing class
Team building
Character development
Goal accomplishment
Trust building

Communication skills
Problem solving
Building compassion and confidence
Stretching personal limits
Having fun
---
Who can benefit from a MOERA Climbing Course program?
University organizations and departments
Student organizations
Leadership groups
Community organizations

Sports teams
Business and corporate groups
Youth groups
Church groups
---
Fees
$60 deposit required to confirm your program. Prices for Groups of 8-16 participants. Please email for smaller/larger groups.
*Northwest students can use MOERA ropes programs free of charge.  Additional fees may apply.  Must make a reservation.
Ropes Program, Non-Northwest Students

Length

University and Non




Profit Groups

Corporate Groups

Challenge Course, Team Building (Odyssey)
3 Hours
$30/person
$40/person
Challenge Course, Team Building (Odyssey)
6 Hours
$40/person
$50/person
Climbing Structures (Alpine Tower, Carolina Wall)
3 Hours
$30/person
$40/person
Climbing Structures (Alpine Tower, Carolina Wall)
6 Hours
$50/person
$60/person