Safe Ride Home
Overview
The Safe Ride Home program is a safe and timely transportation service within the city limits of Maryville, MO, offered by students, for students at Northwest Missouri State University. Safe Ride Home provides a shuttle system so students can travel to various retail stores in Maryville throughout the week. We also offer a taxi service for late night transportation when students are in situations they feel are unsafe.
The Safe Ride program provides an important link between the University and City Community. It provides a means for students to engage in off-campus venues, shopping and eating destinations while saving them gas and wear on their vehicles.
It also benefits the Maryville community by providing a bridge for students to engage in opportunities that the City community provides.
The Safe Ride program is sponsored by Northwest Cell.
Summer 2022 Hours
Shuttle Hours (for retail stops)
| Day | Hours |
| --- | --- |
| Monday - Saturday | not available |
| Sunday | 12 p.m. - 4 p.m. |
Late Night Taxi Hours (
no

retail stops)

Sorry, the late night taxi service is not available during the summer. We will return in the fall.
---
Updates will be posted on the UPD social media platforms – Twitter, Facebook and Instagram.
Contact the UPD at 660.562.1254 or police@nwmissouri.edu for questions or concerns.
TapRide App for Your Phone
Students can request a safe ride using the TapRide app. Drivers are instantly notify of your ride request and you will receive a push notification when the driver arrive.
Made specifically for Apple or Android (legacy app) devices. Download for free!
User Guide

Etiquette & Culture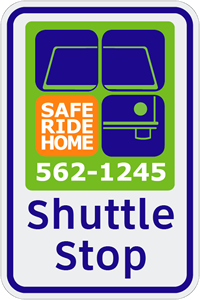 The Safe Ride program is a student-run program with peers serving peers. Please be mindful of others and courteous while using the program. Be on time at your pick up destination so that we can keep wait times to a minimum. The shuttle will not be waiting for students at stops.  The students must wait for the shuttle at set times.  The times and stops are listed above.
We welcome your feedback about the Safe Ride Home program and would like to hear from you!
Please email comments to University Police at police@nwmissouri.edu.
Safe Ride Shuttle
Safe Ride Shuttle will drive a continuous route (see below) throughout the campus and city communities with stops placed in the areas of highest usage for pick up and drop off requests. This will be similar to the way a city bus operates. Shuttle drivers will not wait at the stops. 
Safe Ride Route
Route Stops
Stop
Location
Shuttle Stop A - Horizon's West (Lot 29)
Lot 29 bus shelter on Centennial Drive
Shuttle Stop B - Station (Lot 39)
Lot 39 (between Dieterich and Millikan)
Shuttle Stop C (Lot 10)
Lot 10 (behind Hudson) on West 7th Street
Shuttle Stop D (Lot 1)
Lot 1  (between Fine Arts and Fire Arts)
Shuttle Stop E (Town Square)
Corner of North Market and East 4th Street
University Police Department
College Park Drive
Wal-Mart
1605 S. Main, 

Maryville

,

 

MO

Dollar Tree
Mary Mart shops, S

. Main Street

Hy-Vee

1217 S. Main, 

Maryville

,

 

MO
Safe Ride Late Night Taxi
Safe Ride Late Night Taxi is to get students home safely after hours. The Taxi is not intended for shopping or retail use. To schedule a ride, use the TapRide app on your phone or alternatively, call us at 660.562.1245.
Make sure to have your Bearcat ID on you at the time of your ride. When using the service, your ID will be scanned into the computer logbook via a card reader. 
Guests may ride only when escorted by a current student
Before scheduling a ride, know the following information:
Name
Northwest username/password (if by app) or 919# (if by phone)
Contact phone number, preferably a cell phone
Location to be picked up
Destination to be dropped off
Number of passengers riding