Oct. 15, 2023
A team of six first responders hiked down a hill Friday afternoon and into a chaotic scene overrun with people shouting calls for help or screaming in shock as others walked with dazed looks and severe injuries. The setting was Northwest Missouri State University's annual Missouri Hope emergency response field training exercise.
Leah Trumble, a senior parks and recreation management major from Springfield, Nebraska, was among those first responders who entered the scene and took on the task of searching buildings and tending to victims at the direction of her team's incident commander.
After about an hour, the simulation paused to reset and Trumble was out of breath. Trumble, who said she participated in the disaster exercise to learn about responding to rescues and other stressful situations, said communication to support the response team's success and assist as many victims as possible was a key component within the simulation.
"I learned that it's really hard," she said. "It was fun though. I like working under pressure."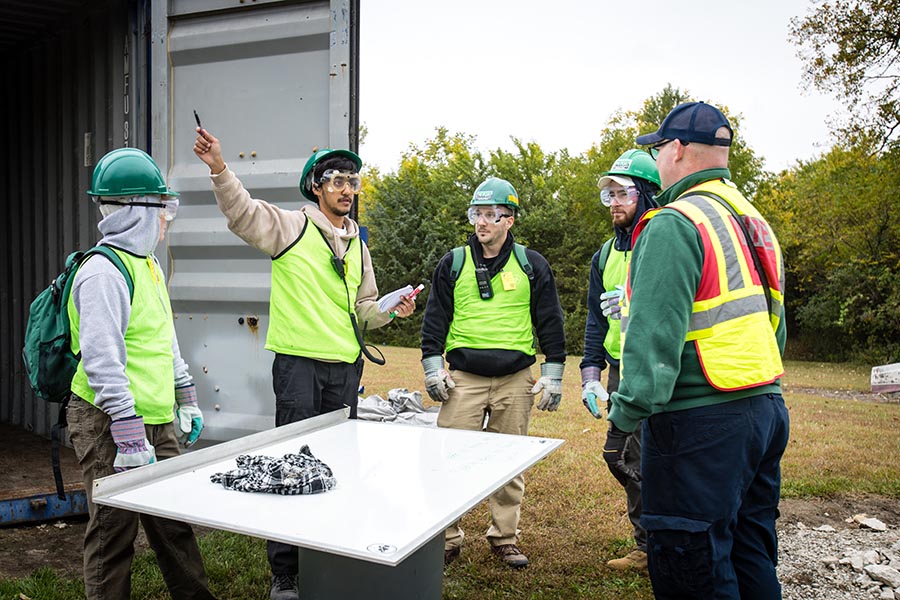 A team of first responders discuss their plan for helping and treating victims during Missouri Hope. (Photo by Lauren Adams/Northwest Missouri State University)
Within the framework of the simulation, an overnight severe weather system produced tornadic weather that impacted several northwest Missouri towns and townships. The state emergency management agency confirmed severe damage to homes, blocked roadways and debris, power outages and an unconfirmed number of individuals needing medical attention.
While the three-day simulation played out Friday, Saturday and Sunday at Mozingo Outdoor Education Recreation Area (MOERA), the fictional town of Redden Village served as the epicenter of response efforts. There, Trumble and her team had to tend to 41 role-playing victims with cuts, broken limbs and more severe injuries leading to death.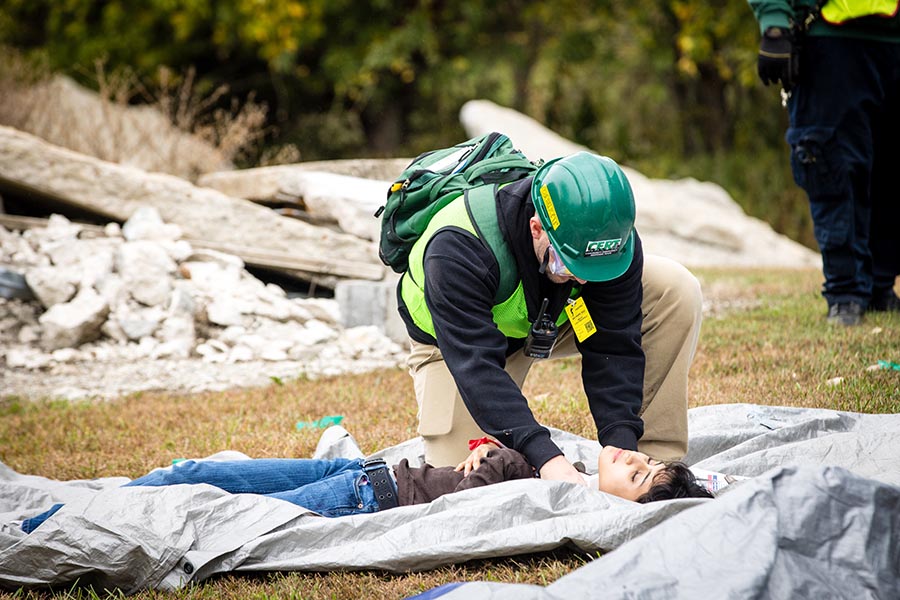 A first responder assists a victim during Friday's annual Missouri Hope emergency response field training exercise. (Photo by Lauren Adams/Northwest Missouri State University)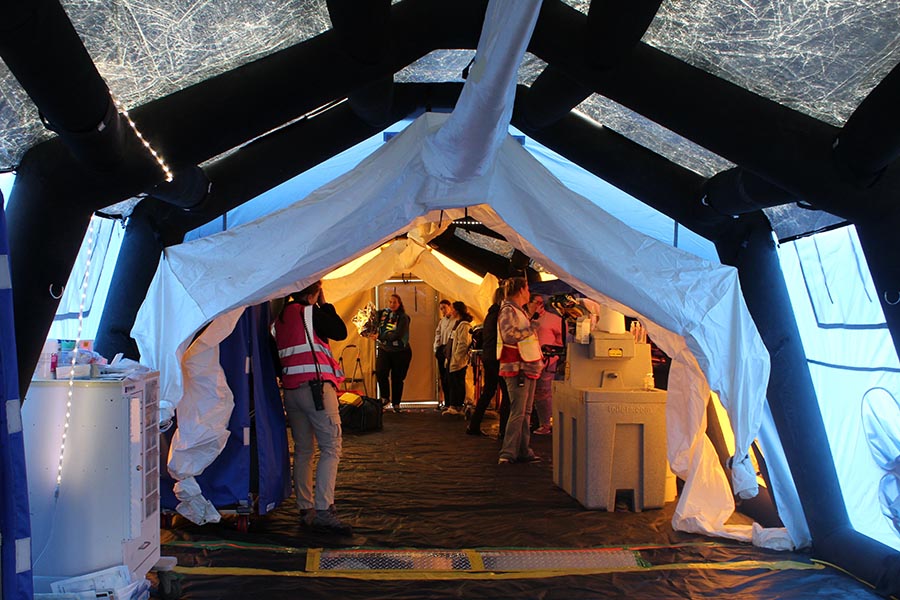 Medical and military personnel staffed a field hospital, where victims were brought for treatment during Missouri Hope. (Submitted photo)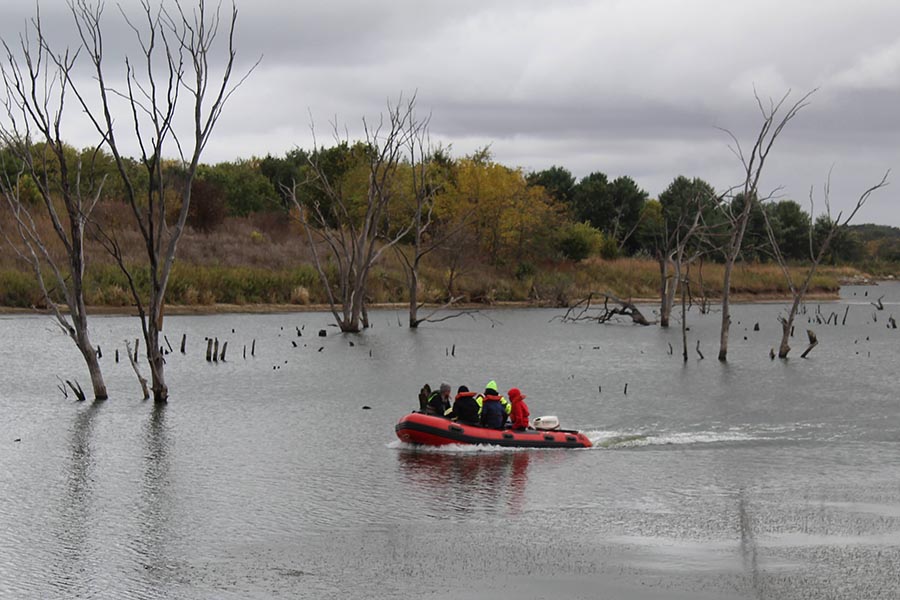 Among other tasks during Missouri Hope, teams were challenged with a water rescue at Mozingo Lake. (Submitted photo)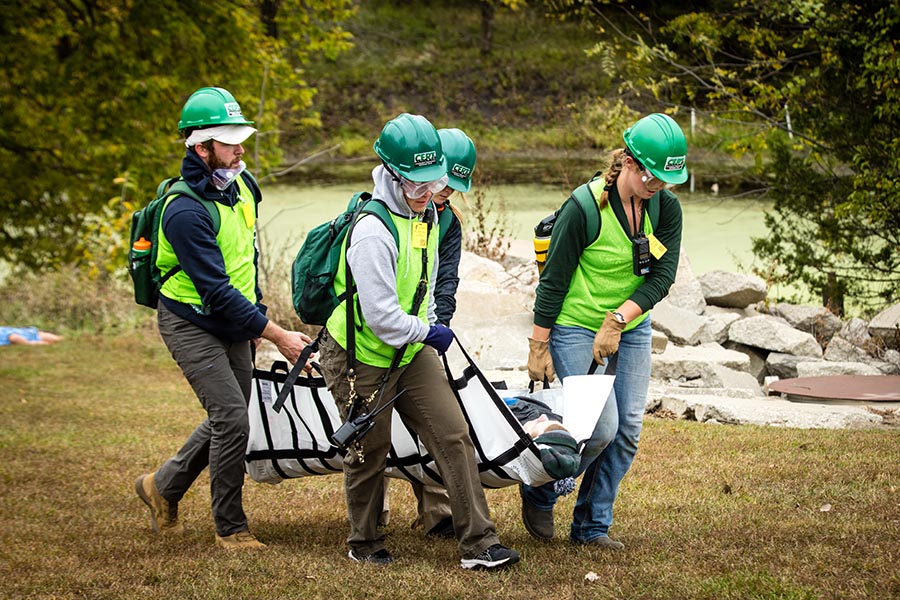 A team of first responders transports a victim to a treatment center during Missouri Hope. (Photo by Lauren Adams/Northwest Missouri State University)
Elsewhere, at MOERA's ropes challenge course, a team navigated the Odyssey to simulate a high-angle rescue of a small child over a washed-out bridge. At a Mozingo Lake cove, another team was tasked with a water rescue, which coincided with searching for a missing child. At the top of the hill near Redden Village, medical and military personnel staffed a field hospital, where victims were brought for treatment.
While the disaster simulation teaches participants about task-related skills – such as search and rescue, first aid and incident command systems – they also build process skills related to leadership, active followership and building highly effective teams.
At the ropes challenge course, Dale Shaeffer, a sophomore emergency and disaster management major from Mountain Grove, Missouri, and Alissa Hays, a junior emergency and disaster management major from Creston, Iowa, honed their team-building skills and communication to successfully complete their rescue. Both want to enter law enforcement careers. 
"We all have our own kind of expertise and niches that we've brought into it," Hays said. "So getting to mesh and make connections with new people – and then along with obviously doing the scenarios – it's great."
Shaeffer added, "It definitely is a really good time to come out here and learn new things –  things that you aren't so comfortable with and knowing what your strengths and weaknesses are as a team member."
Freshman emergency and disaster management major Sarah Wray was part of the team working the water rescue Friday afternoon. Wray, who already works as a firefighter in Hopkins, Missouri, hoped to deepen her knowledge by participating in Missouri Hope.
"If you learn with more hands-on than lecture, this is definitely something I'm grateful Northwest does," Wray said.
Since its first year in 2013, Missouri Hope has evolved and expanded into a three-day multidisciplinary mass casualty training experience that is required for Northwest students studying majors or minors in emergency and disaster management (EDM). 
The event includes a rotation of distinct training exercises for students as well as emergency personnel in medical, police, fire and armed forces. Scenarios include search-and-rescue, assessment of traumatic injuries and evacuation from difficult terrains, such as cliffs and rivers.
In addition to the dozens of students participating in the exercise and volunteers who worked throughout the weekend as staff members, 172 volunteers of all ages played the roles of victims and brought a sense of reality to the training. The role players are made up to resemble victims with an assortment of physical injuries typically sustained during floods and tornados.
Missouri Hope is sponsored each fall by Northwest's Consortium for Humanitarian Service and Education, a non-profit organization that coordinates full immersion experiences for individuals in the fields of disaster response and humanitarian relief. Partner agencies include Maryville Public Safety, Nodaway and Buchanan County Emergency Management, Nodaway County Ambulance District, LifeFlight and LifeNet Air Ambulances, SEMA Region H Marine Hazmat Team, the 129th Field Artillery Battalion Missouri Army National Guard and the 139th Airlift Wing of the Missouri National Guard.
The exercise also attracts students from colleges and universities throughout the country, including students this year from the University of Missouri—Kansas City, Northern Oklahoma College, The Citadel in South Carolina and the University at Albany in New York. Faculty representing the attending institutions also provided their expertise to the training exercise, including instructors from The Citadel who presented about developing high-performing teams.
"We've got a lot of talent that's coming from these places, and it's the partnership between the schools that makes that possible," said John Carr, who is executive director of the Consortium for Humanitarian Service and Education and previously was the coordinator of Northwest's emergency and disaster management program.
MOERA is a 320-acre parcel of land at Mozingo Lake Recreation Park, located east of Maryville on Highway 46. MOERA is operated by Northwest's School of Health Science and Wellness and provides a variety of outdoor education and recreation opportunities, including a challenge course, trap shooting and archery, canoes and kayaks, and outdoor research areas.