April 1, 2023
Students preparing for careers in disaster and crisis response traveled this weekend to the fictional country of Atlantica, where they provided humanitarian aid to citizens reeling from the effects of an earthquake and the region's tenuous political climate.
Northwest Missouri State University hosted the multidisciplinary training experience – called Atlantic Hope – March 30 through April 2 at Mozingo Outdoor Education Recreation Area (MOERA) and the Mozingo Youth Camp.
In contrast with Missouri Hope, which Northwest annually hosts in the fall, Atlantic Hope is a high-intensity simulation of an earthquake disaster that strikes a small, overseas country on the brink of civil war.
At Northwest's pellet plant Saturday morning, the crisis had escalated as first responders worked to assess earthquake victims and treat their injuries while members of the Atlantica MNS, an extremist group, hovered and barked their grievances.
Inside the building, Eli Fox, a Northwest junior emergency and disaster management major from Smithville, Missouri, and Sarah Gisinger, a University of Missouri-Kansas City senior nursing major from Los Angeles, triaged victims as representatives of a humanitarian medical organization, Hospitals Without Walls. Fox and Gisinger repeatedly requested members of the Atlantica MNS to keep their distance.
"There is – all over the world – conflict like that, so dealing with them is different because we have to not only worry about how we're going to treat everybody, but we also have to worry about making sure that we're not getting into the drama of everything," Fox said.
Added Gisinger, "I kind of just gave them a blank look, let them do their thing, and I didn't engage just because it would cause more issues. I kept focused on 'I'm here for the patients.'"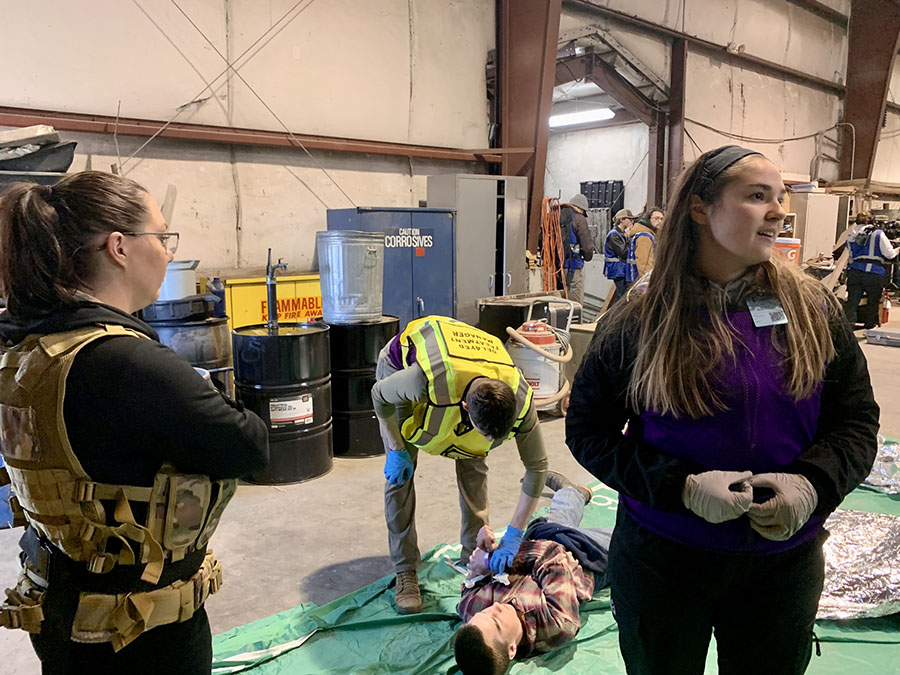 Sarah Gisinger (right), a University of Missouri-Kansas City nursing student, asks members of the Atlantica MNS to stay back during the Atlantic Hope crisis simulation as Eli Fox, a Northwest emergency and disaster management major, assists a victim in the background. (Northwest Missouri State University photos)
With volunteers participating as role players and victims during the exercise, Fox, Gisinger and their medical team tended to injuries that included head wounds, impairments, paralysis, a gunshot wound and shock.
Dr. Brian Hesse, a Northwest professor of political science, observed nearby as a controller and evaluator throughout the simulation. Hesse, who specializes in international affairs, commended the participants for admitting when they didn't possess a skill set they needed for a situation and working within their groups to determine who did have the skills necessary.
The simulation, he said, stirs "pocket learning moments" when participants show their vulnerabilities and realize their capabilities.
"Short of being all in and going halfway around the world somewhere, this is a good, initial putting-your-toe-into-it," Hesse said. "People get the confidence to go out into the world and help other people. You hear that a lot – 'I want to help people.' I don't often hear people say, 'I want to help people who I don't know who are half-a-planet away,' and that's a very rewarding career or pursuit if you're inclined."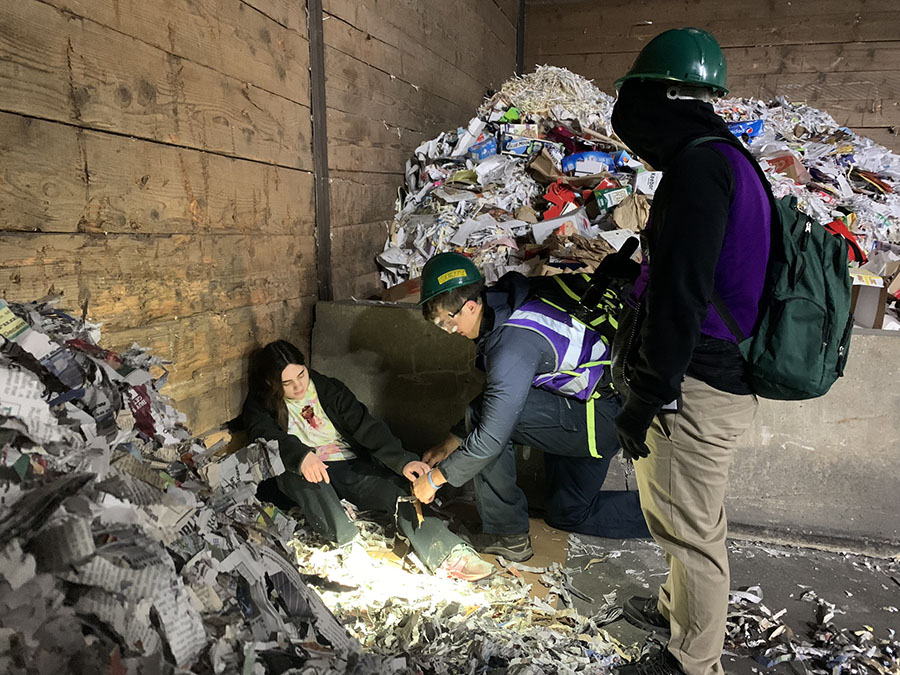 First responders help an earthquake victim during the Atlantic Hope disaster simulation at Northwest.
The scenario began Thursday with the participants leaving from a domestic airport – better known at Northwest as Valk Center – with their passports, documents and other items they expected to need for international travel. From there, they traveled to an international airport – Northwest's Agricultural Learning Center – and then to Atlantica, where they found themselves negotiating humanitarian access to the disaster zone on Friday.
The training exercise, which is designed to provide profession-based experience for students studying majors or minors in emergency and disaster management, included 12 distinct training exercises related to search-and-rescue operations, assessment of traumatic injuries in the field, evacuation from difficult terrain and communication.
It incorporated true-to-life elements that occurred during crises in Rwanda, Kosovo and Serbia as well as situations humanitarian workers are experiencing now as a result of the Feb. 6 earthquake in Turkey. Additionally, Atlantic Hope staff provided expertise from their own experiences working with international non-profit organizations and as delegates of the United States Department of State.
"There's lessons like how to negotiate and work with armed groups, work with different military groups, how to build peace between groups," said John Carr, a former Northwest faculty member who now serves as executive director of the Consortium for Humanitarian Service and Education. "It could be politically or militarily that we need to build peace in order to ensure safety for the residents and citizens of that area."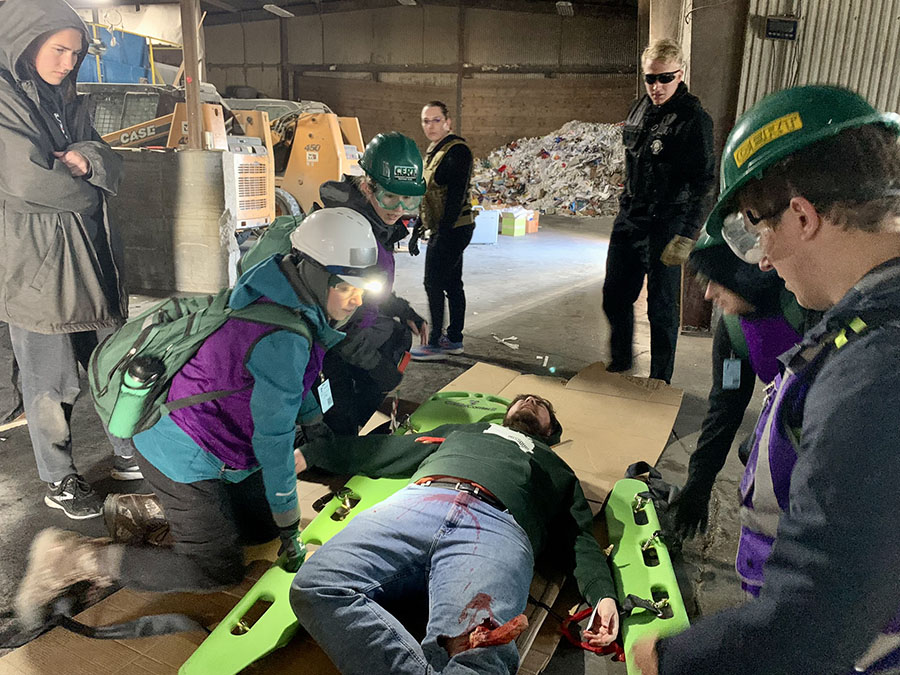 First responders assess an earthquake victim's injuries during the Atlantic Hope disaster simulation while members of the Atlantica MNS extremist group watch over them.
For the participating students from Northwest, University of Missouri-Kansas City, The Citadel and State University of New York at Albany, the exercise also provided a networking opportunity.
"This is getting them a step closer, not just with the experiences they're having but also with the people that they're meeting and learning about new career fields, building relationships to say, 'Hey, can you be my letter of reference when I apply for this nonprofit?'"
Maddie Lagenmach has been on both sides now, first as a Northwest emergency and disaster management major. This weekend, the 2018 graduate was serving as a staff development officer for Atlantic Hope and lending her professional experience as a disaster response specialist with Heart to Heart International.
Through her work with Heart to Heart, she knows firsthand how politics and power can play into the distribution of aid and resources in the wake of a disaster. In her role, she leads logistics for emergency medical teams, ensuring support for needs such as electrical power and fuel, communications and water management.
"When we're in the field, we have to be self-sufficient as an emergency medical team, so we're not depleting the resources in the area and taking away from the locals," Lagenmach said. "It's my job to make sure we have everything that we need to respond and that we can see up to 50 patients a day. A lot of the experience that I do there, I learned from leading teams (at Northwest). So when I lead volunteers of doctors and nurses, I can look back on my Missouri Hope experience or my time at Northwest."