Dec. 9, 2022
Northwest Missouri State University honored its winter graduates during three commencement ceremonies Friday, celebrating a culminating chapter in their lives and a beginning of what the University anticipates they will accomplish in subsequent years.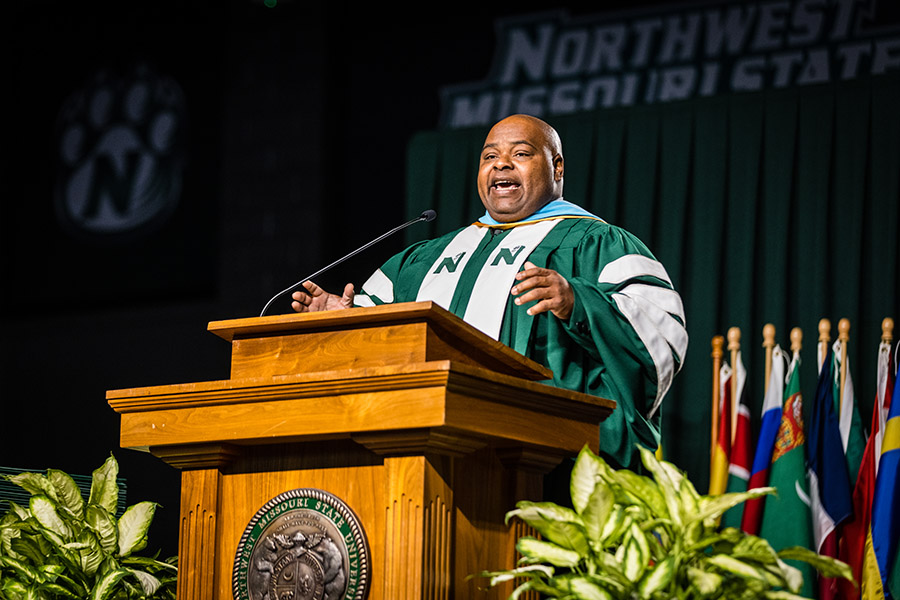 Dr. Clarence Green (Photos by Lauren Adams/Northwest Missouri State University)
"Every day is a great day to be a Bearcat, and I know our degree candidates will fondly remember this day in particular – the day in which we honor the completion of your degree, your perseverance and success at achieving something so few accomplish," Dr. Clarence Green, the University's interim president, said during his opening remarks.
He added, telling the graduates, "Not only have you completed your degree – you were in the thick of it during a global pandemic, unprecedented division in our county and the creation of Tik Tok."
Green emphasized what it means to be a Bearcat at Northwest, highlighting the University's tenets of learning, connecting, caring, practicing civility and showing pride.   
"Bearcats go into the workforce and their communities with the mission of bettering the places that they work and live," he said. "Bearcats also lean on each other and seek help when needed." 
During concluding remarks, Green encouraged the graduates to celebrate their past experiences at Northwest but be future-focused. He urged graduates to be solution-oriented, active citizens.
"This ceremony is called a 'commencement' because we celebrate not only a chapter in your life that culminates today but also what is beginning today and what you will accomplish in the years ahead."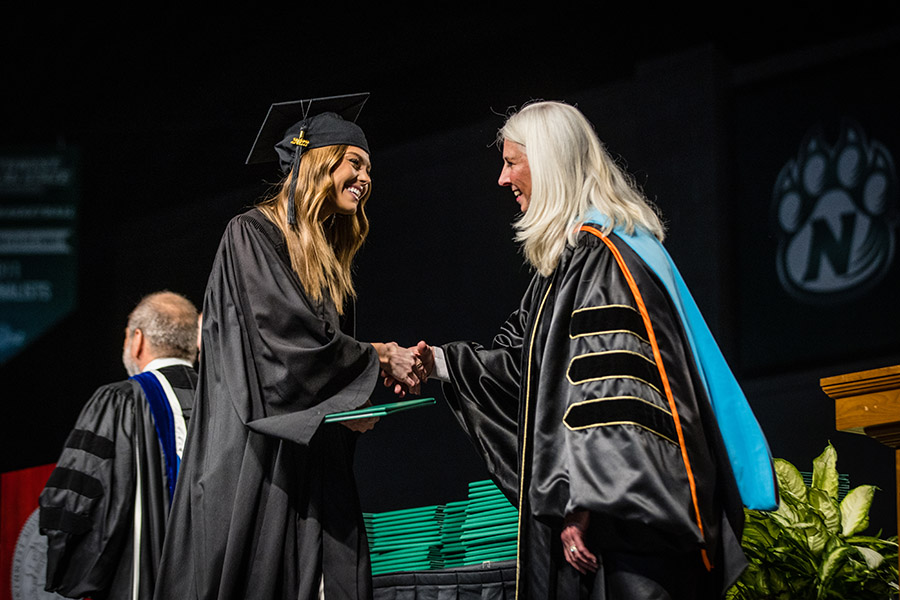 A graduating student receives a handshake from Northwest Provost Dr. Jamie Hooyman during one of the University's winter commencement ceremonies.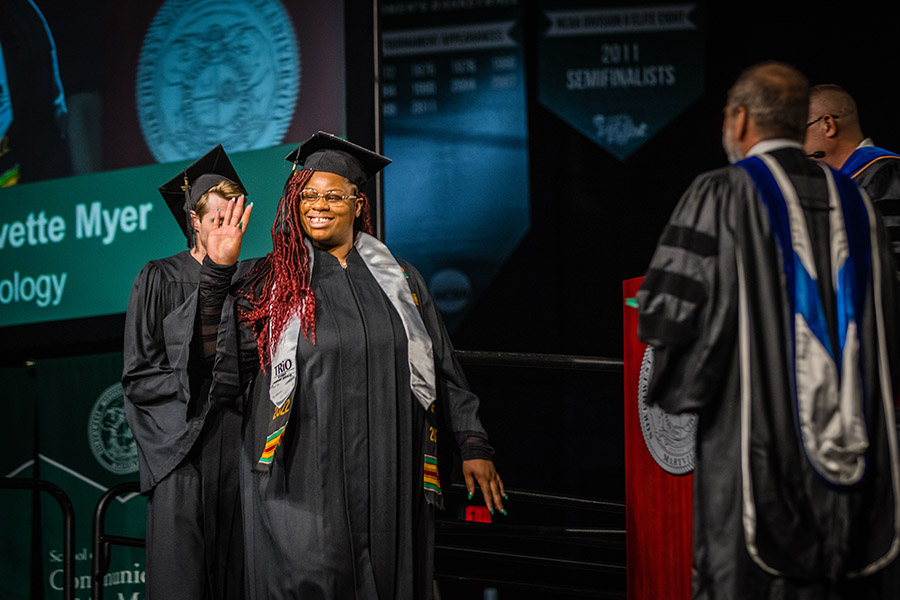 A graduating student waves to the crowd as she crosses Northwest's commencement stage.
The commencement ceremonies celebrated 1,496 students, ranging in age from 20 through 69, who completed degrees at Northwest during the summer and fall semesters. Northwest awarded 454 bachelor's degrees, 891 master's degrees and 151 education specialist degrees.
Business management was the most common bachelor's degree among the graduates, and applied computer science was the most common master's degree.
Geographically, the graduates represented 42 states with 69 percent of them hailing from locations throughout Missouri; another 16 percent were from the surrounding states of Iowa, Kansas and Nebraska. The graduates also represented 12 countries other than the United States.
About Northwest Missouri State University
With an enrollment of about 8,500 students, Northwest is a coeducational, primarily residential four-year university that offers a broad range of undergraduate and selected graduate programs on its Maryville campus as well as its Northwest-Kansas City location and through Northwest Online.
Founded in 1905, Northwest boasts a high retention rate, and results of 2021 Ruffalo Noel Levitz Student Satisfaction Inventory show Northwest students are more satisfied than students at national peers and 80 percent of Northwest students report they would repeat their University experience, compared to 77 percent of students surveyed nationally at their respective institutions. Additionally, Northwest's graduation rate is in the 95th percentile among its peers.
Furthermore, 98 percent of Northwest bachelor's degree earners and nearly 100 percent of master's degree earners secure employment or continue their education within six months of graduation, according to the most recent data. 
Northwest places a high emphasis on profession-based learning to help graduates get a jumpstart on their careers. Students have opportunities to build their résumés with experiences on campus in nearly every area of study, including the Horace Mann Laboratory School, National Public Radio affiliate KXCV, the R.T. Wright Farm, Mozingo Outdoor Education Recreation Area or Knacktive, a student-driven integrated digital marketing communications agency. In conjunction with its emergency and disaster management program, Northwest organizes and hosts Missouri Hope, an annual mass casualty training exercise that attracts first responders and emergency workers from throughout the nation and provides hands-on training in preparation for a natural disaster.
Furthermore, its vibrant and diverse learning community offers more than 150 student organizations, and textbooks and a laptop are included in tuition, which is among the lowest in the nation, saving students an estimated $6,800 over four years. Northwest also offers 1,200 student employment positions, allowing students to build professional skills through its internationally benchmarked student employment program. 
For more information about Northwest and its performance, visit www.nwmissouri.edu/aboutus/facts/.