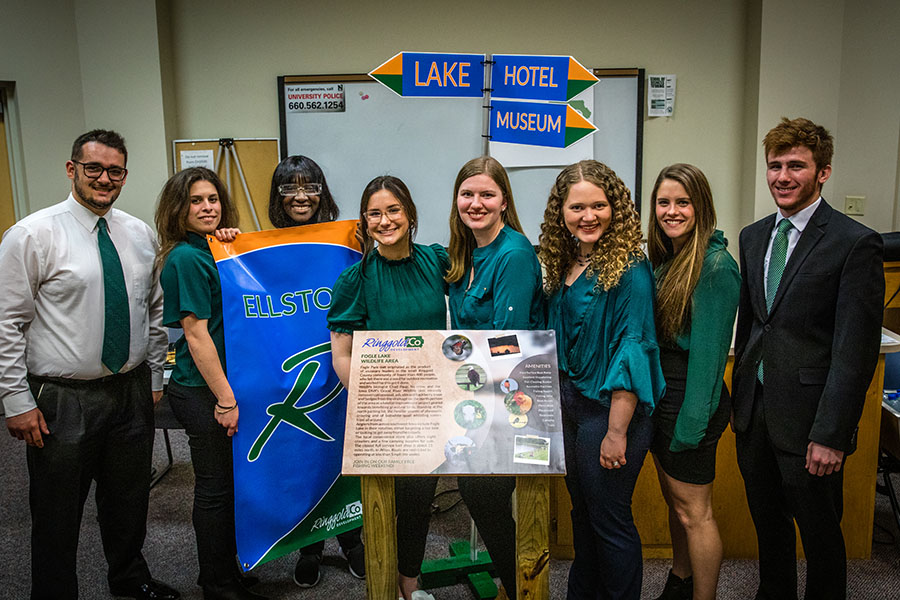 The Knacktive team comprising The Magic Beanstalk was named the winning team of this spring's task to create a comprehensive marketing campaign for Ringgold County, Iowa. (Photos by Lauren Adams/Northwest Missouri State University)
May 13, 2022
Fifteen weeks of intense collaboration and late nights debating how to best promote a neighboring Iowa county culminated April 29 with the announcement of the Knacktive team that best met the needs of their client.
Knacktive, the Northwest Missouri State University program that places advanced undergraduate students in an environment mimicking a digital media marketing agency, partnered this spring with Ringgold County, Iowa, to devise a comprehensive marketing campaign aimed at growing opportunities for business, residents and tourism.
After an afternoon during which three Knacktive teams pitched their ideas to a group of Ringgold County representatives, the client concluded The Magic Beanstalk – a team comprised of Alexandria Benton, Kelby Dressler, Jessica Vogt, Silvia Alberti, Uhoman April Moltok, Joey Dixon, Lacy Feldhacker and Dalton Sterbenz – gave the best presentation.
Molly Murphy, a resident of the county who has worked with major companies in the corporate communication field and volunteers with the Ringgold County Development Corporation, said the team of Ringgold County representatives appreciated the way The Magic Beanstalk exhibited professionalism and connected with its audience to build trust and champion their proposals while taking some risks.
Murphy also said they appreciated that Knacktive students didn't view their assignment as just class project.
"Every team had ideas that we want to implement," she said. "They were impressive. They make a difference, and it's something that's tangible for us. It's not just things that can happen in theory. It's things that we can really bring to practice that will make our community better."
Among their recommendations, The Magic Beanstalk proposed an extensive social media plan aimed at generating interest in the county among young adults, particularly young couples interested in starting families and living in the rural area. The team developed its name as a representation of each bean – or student – growing to better themselves for a successful future.
"It's extremely exciting, and it feels like our hard work paid off," Feldhacker, Team Beanstalk's project manager and a senior business management and marketing major from Republic, Missouri, said. "It gives us a lot of real-world experience, and I love all the things that we were able to make."
Sterbenz, Team Beanstalk's multiplatform content creator and a senior public relations major from Lee's Summit, Missouri, said the interdisciplinary experience that Knacktive offers helped him develop more versatile skills and knowledge as he prepares to enter the communication field.
"There's a lot of skills that I've gotten to brush up on and even learn from my team members that I would've never gotten the chance to learn in a classroom or from a professor – just because it's a little bit different of an environment whenever you're working in a professional setting versus working with a one-on-one instructor," he said.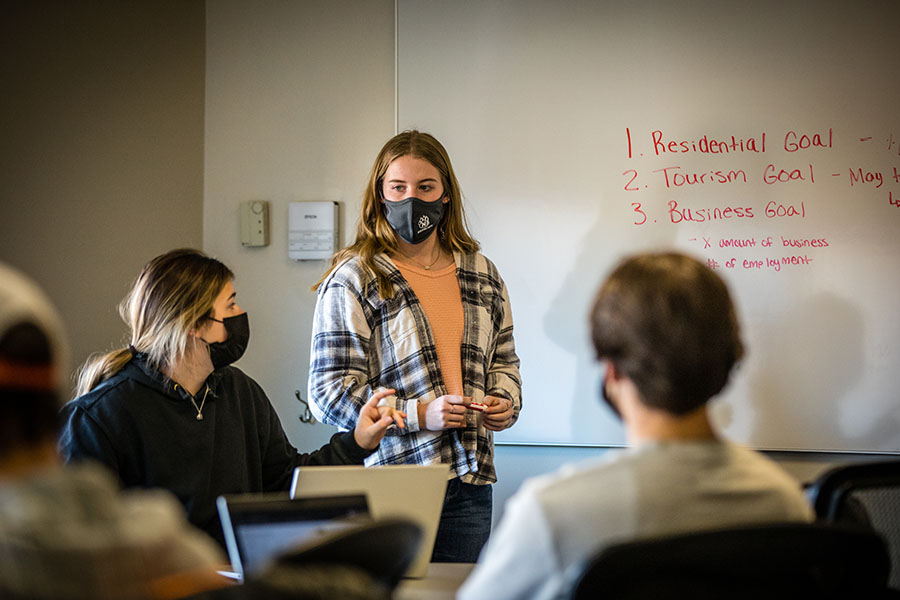 A team of Knacktive students, pictured in February, discusses its ideas to build a comprehensive marketing campaign for Ringgold County, Iowa.
About Knacktive
Knacktive is an elective course designed to replicate the creative demands and intense teamwork atmosphere of a technology-oriented, professional marketing and communication agency. Students are selected for the experience and actively refine their creative abilities, collaborative skills and academic knowledge with the objective of improved competitiveness in the professional marketplace after graduation.
Throughout the course, students experience a realistic, agency-like atmosphere as they work in teams on a comprehensive campaign plan for a real client with real issues to address. The competing teams conduct research, analyze the data, devise a strategy, formulate tactics and ultimately make a formal presentation to the client.
Knacktive incorporates principles, strategies and tactics of design, marketing and public relations through a melting pot of majors from Northwest's schools and departments of Communication and Mass Media; Language, Literature and Writing; Fine and Performing Arts; Business; and Computer Science and Information Systems. Interested students must apply for the course and selected students earn three hours of academic credit by successfully completing the course.
The inaugural Knacktive class in 2011 designed a comprehensive marketing campaign for Cincinnati-based LasikPlus Vision, and the winning team's "Eyes Save Lives" campaign was spun off nationally within three months.
Subsequent Knacktive classes have tackled rebranding projects and marketing campaigns for Science City at Kansas City's Union Station; Tri-State Ford auto dealership in Maryville; Northwest's Horace Mann Laboratory School; Hy-Vee's Market Grille; Velociti Inc., a technology deployment company in Kansas City; American Royal, the City of Maryville's Tourism Board and Farmer's Mutual Insurance of Nodaway County. Knacktive alumni, meanwhile, have gone on to obtain jobs at some of the region's top advertising and marketing agencies.
Business owners interested in learning more about working with Knacktive should contact the Northwest Foundation at 660.562.1248. To learn more about Knacktive, visit www.knacktive.com.