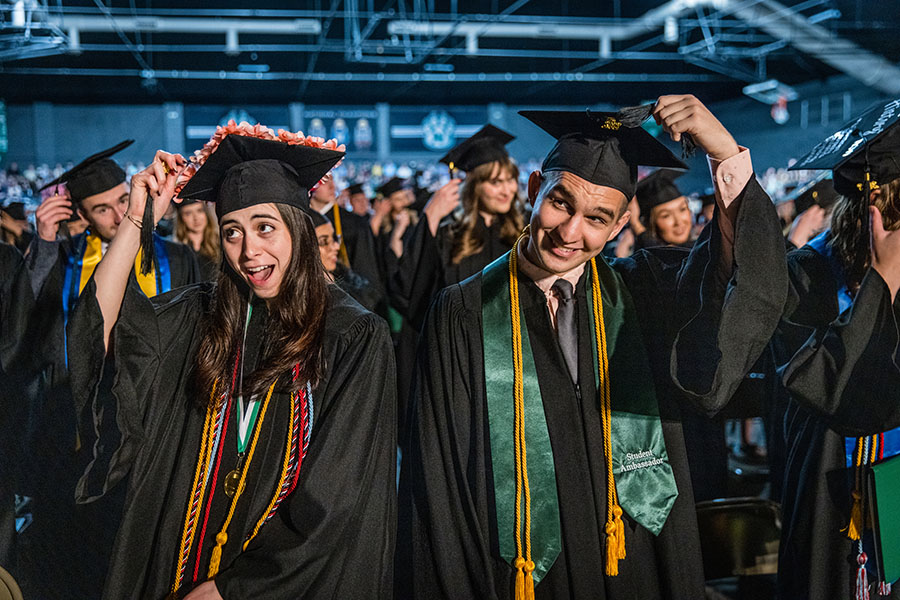 Northwest graduates turn their tassels in recognition of their degree conferrals during one of the University's four commencement ceremonies Friday and Saturday in Bearcat Arena. (Photo by Todd Weddle/Northwest Missouri State University)
May 7, 2022
Northwest Missouri State University honored its most recent graduates during four spring commencement ceremonies Friday and Saturday, celebrating a culminating chapter in their lives and a beginning of what the University anticipates they will accomplish in subsequent years.
The ceremonies recognized more than 1,470 students, ranging in age from 19 to 70, who completed degrees this spring or plan to do so this summer. The conferrals totaled 755 undergraduate degrees and 718 graduate degrees, consisting of 567 master's degrees and 151 education specialist degrees. Among those, the University reports, 1,162 students graduated this spring, which sets a new Northwest record to go with its record fall and spring enrollments.
"The culture of Northwest Missouri State University is special," University President Dr. John Jasinski told graduates during his remarks as he recounted the institution's successes, including its recent run of NCAA Division II national championships in men's basketball. "You create the culture. Our faculty and staff create that culture. We're so very, very thankful."
Each of the ceremonies provided lighthearted and crowd-pleasing moments, including Friday afternoon when Jasinski called on men's basketball players Trevor Hudgins and Luke Waters, who received bachelor's degrees, for a shooting contest. After staff brought a Little Tikes basketball goal onto the Bearcat Arena floor, Jasinski and the graduating basketball players took turns taking shots at the hoop with a mini basketball. Hudgins swished his first try, but Jasinski nailed two of his three tries to claim the win.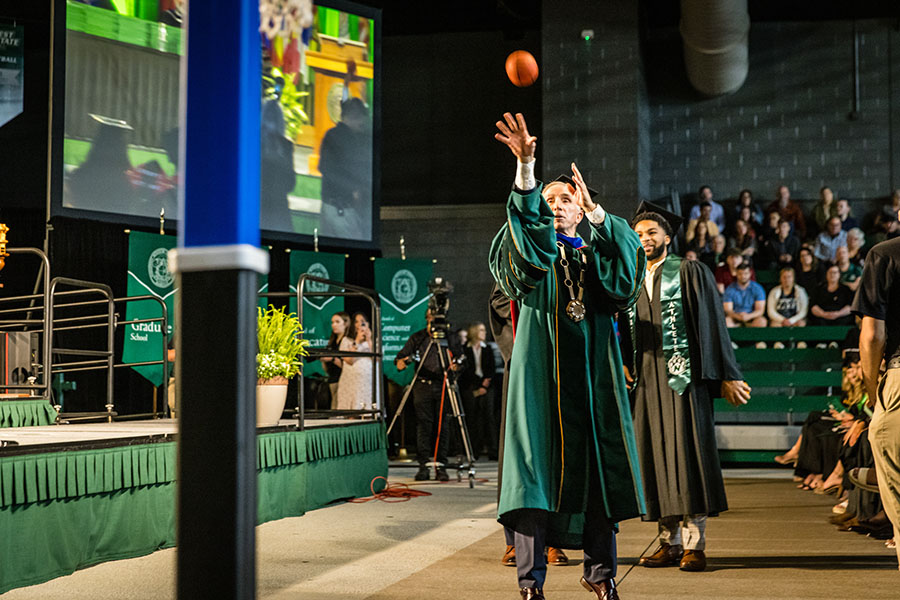 President Jasinski attempts a basketball shot Friday afternoon after he challenged men's basketball players Trevor Hudgins and Luke Waters to a shooting contest. (Photo by Todd Weddle/Northwest Missouri State University)
Friday afternoon's graduates also included Stephanie House, the daughter of Gov. Mike Parson and first lady Teresa Parson, who attended the ceremony with House's husband, Jonathan. House completed her master's degree in educational leadership with a K-12 emphasis at Northwest.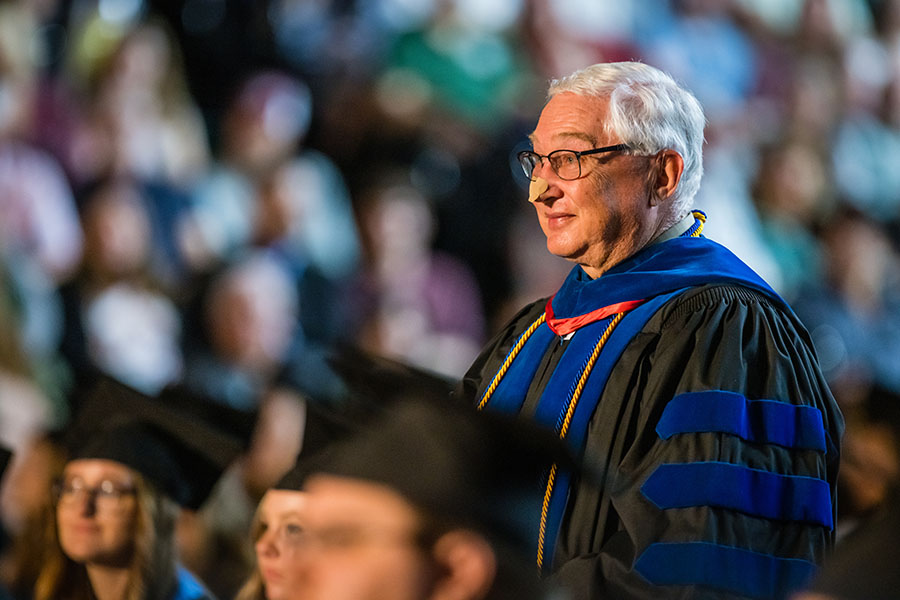 Dr. Mike Wilson, a retired Northwest faculty member, returned Saturday to the University for commencement as he completed a bachelor's degree in theatre performance. (Photo by Todd Weddle/Northwest Missouri State University)
Jasinski also called out individual graduates for achievements during their time at Northwest and their post-graduate plans. Among those was Dr. Mike Wilson, who taught accounting, economics and finance at Northwest for 25 years until retiring in 2011 and on Saturday afternoon, at age 70, walked the commencement stage to receive a bachelor's degree in theatre performance.
Jasinski delivered remarks, titled "Ruby's Journey" that centered on the life of the Jasinski family dog and "campus guardian" who died two weeks prior. Jasinski described how her arrival as a puppy on the Northwest campus in 2012 and growth paralleled that of the University's graduates.
"She was trying to get her legs," Jasinski said. "As you guys came into college – whatever degree you were seeking – you were getting your legs, trying to understand the college thing, trying to understand, 'Oh man, it's a tough course.' 'How do I get involved with extracurriculars?' But then over time you got a little moxie, right? Ruby did, too."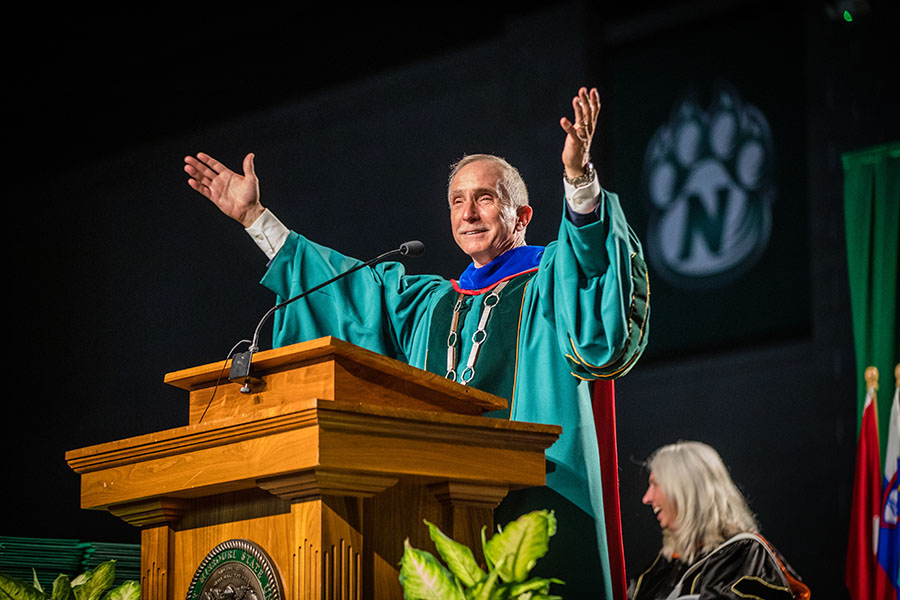 President Jasinski delivers his remarks during commencement ceremonies. (Photo by Lauren Adams/Northwest Missouri State University)
Throughout their higher education journeys, Jasinski said, the graduates persevered – particularly through the COVID-19 pandemic, he noted – contributed to the campus culture, celebrated differences and uplifted each other, engaged in and out of the classroom, and connected with members of the Northwest community. Such building blocks form the University's "Being a Bearcat" mantra.  
In addition to showing Bearcat pride, Jasinski encouraged graduates to open doors for others. As he did, video screens in Bearcat Arena showed a video of Ruby opening a door at the Thomas Gaunt House, the president's historic residence on the Northwest campus.
"That brings the journey back to you – being reflective, being proud and being raring to go," Jasinski told graduates. "I would ask you, Bearcats, to open your doors wide. Open them with love. Keep them open for one and for all. Keep the doorway back to your alma mater wide open, forever green and, just like Ruby did for us multiple times, open that door many times daily."
During concluding remarks, Jasinski encouraged the graduates to be solution-oriented, active citizens as the sounds of cheers and Prince's "Let's go Crazy" filled Bearcat Arena.
"You're part of a celebrated, unbelievably supportive Bearcat network," he said. "Your diploma is testament to your decision to live and work as an educated citizen, and our society needs you now more than ever. Go forward. Make Northwest proud as you contribute the societal good. Be Bearcat stewards, stewards of yourself and of those around you in the communities in which you live, work and play."
Northwest's most common undergraduate degree among the graduating class is the Bachelor of Science in elementary education, and the most common graduate degree is the Master of Science in educational leadership with a K-12 emphasis.
Geographically, the graduates represented 38 states and 22 countries with 65 percent of the graduates hailing from locations throughout Missouri; another 11 percent were from Iowa, 8 percent are from Nebraska and 4 percent are from Kansas.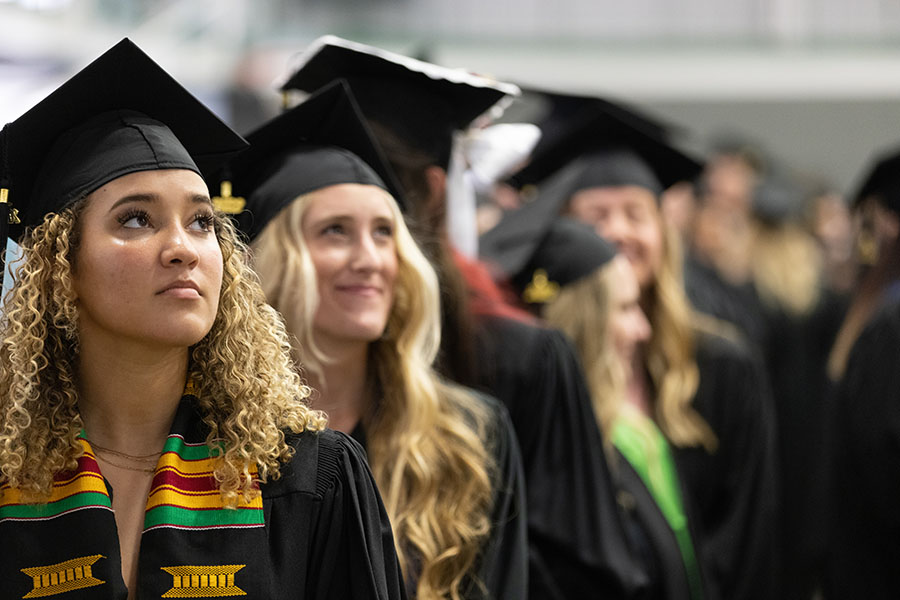 Northwest graduates looked on as they processed into Bearcat Arena for commencement ceremonies. (Photo by Todd Weddle/Northwest Missouri State University)
About Northwest
With an enrollment of more than 7,800 students, Northwest is a coeducational, primarily residential four-year university that offers a broad range of undergraduate and selected graduate programs on its Maryville campus as well as its Northwest-Kansas City location and through Northwest Online.
The University places emphasis on profession-based learning to help graduates get a jumpstart on their careers. Students have opportunities to build their résumés with experiences on campus in nearly every area of study, including the Horace Mann Laboratory School, National Public Radio affiliate KXCV, the R.T. Wright Farm, Mozingo Outdoor Education Recreation Area or Knacktive, a student-driven integrated digital marketing communication agency.
Northwest's graduation rate is in the 90th percentile among its peers, and 96 percent of Northwest bachelor's degree earners and 99 percent of master's degree earners secure employment or continue their education within six months of graduation. Zippia, a career website, names Northwest the best college in Missouri for getting a job.
Furthermore, Northwest's vibrant and diverse learning community offers more than 150 student organizations, and textbooks and a laptop are included in tuition, which is among the lowest in the nation, saving students an estimated $6,800 over four years. Northwest also offers 1,200 student employment positions, allowing students to build professional skills through its internationally benchmarked student employment program. 
For more information about Northwest and its performance, visit www.nwmissouri.edu/facts/.