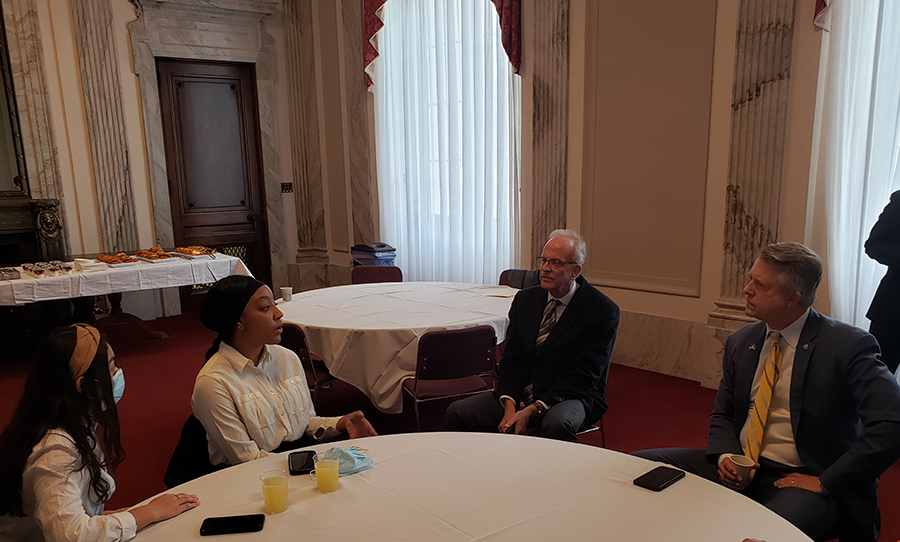 Northwest TRIO students and staff recently traveled to Washington, D.C., where they met with congressional leaders and office liaisons to share their experiences and advocate for funding that supports TRIO programming. (Submitted photos)
April 21, 2022
By Patrick Glenn, communication assistant
Northwest Missouri State University students and staff members traveled recently to Washington, D.C., to advocate for funding that supports TRIO programming.
The trip, which spanned March 21-24, consisted of both professional and cultural experiences. It provided students with the opportunity to share with congressional leaders and office liaisons their testimonies and the impact TRIO has had on them.
"These programs are helping these students," Robertson, who serves as assistant director of Northwest's Upward Bound Math and Science program, said. "When they go and they talk to the legislators about what they have gained, what their personal experience has been from being in this program, what opportunities they've gained, what exposure they've had, what they've experienced, what's changed for their lives or their families' lives because of what they've been exposed to in these programs, that makes a much bigger impact on the legislators."
In addition to Robertson and TRIO staff members Jacque Loghry, Gene Westbrook and Angela Zarybnicky, the travel contingent included Northwest students Ireland Palmer, Darren Ross, Al Snodderly and Jordyn Thiessen as well as four high school students in the Upward Bound Math and Science program.
Zarybnicky also attended the Council for Opportunity in Education Policy Seminar, which discussed how TRIO programs may interact with congressional leaders and how they can better advocate for funding.
"The main experience I hope the students took away was that they do have a voice in matters that affect them and that they need to speak up and stand up for themselves and others," Zarybnicky said.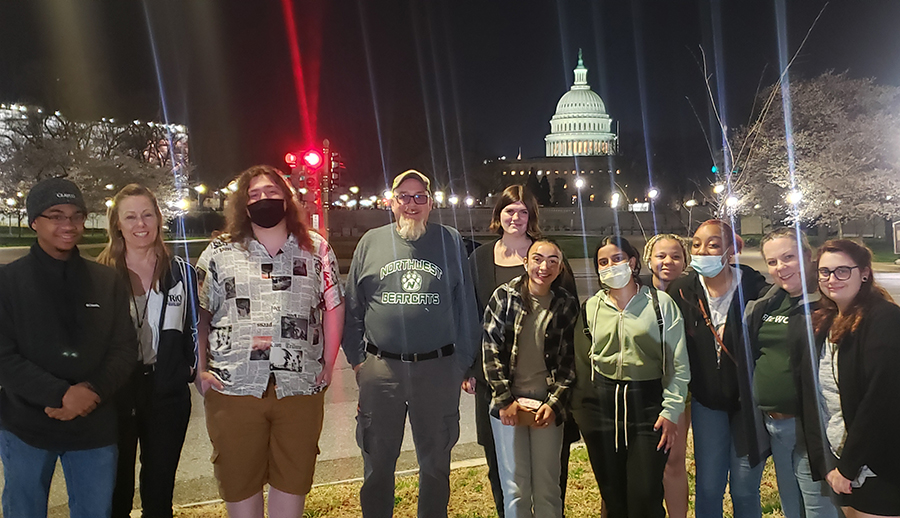 The contingent of Northwest TRIO staff and students traveling to Washington, D.C., included, left to right, Daren Ross, Student Support Services Assistant Director and Academic Success Coach Jacque Loghry, Al Snodderly, Upward Bound Math and Science Counselor Gene Westbrook, Ireland Palmer, Adriana Loya, Ponzee Pulikkal, E'miya Hill, Kaelyn Washam, Upward Bound Math and Science Assistant Director Julie Robertson and Jordyn Thiessen.
The experience also included cultural components for the students. The group visited museums and memorials, including the Capitol, White House, Jefferson Memorial and Martin Luther King Jr. Memorial, in addition to dining at varied restaurants. For some of the students, the trip was their first time flying on a plane and navigating public transportation systems.
"To watch someone else have those experiences and that realization of what they're seeing is really incredible," Robertson said.
Thiessen, a senior interactive digital media major from Kansas City, has participated in TRIO since fall of 2018. She said she appreciated the opportunity to connect with history and congressional liaisons through TRIO.
"I would do it again," Thiessen said. "Talking to people like that was really impactful. I don't know how many times you're going to have the opportunity to do that in your life, so I'm going to do it, even if it's out of my comfort zone."
About TRIO at Northwest
TRIO is a federally recognized educational outreach program designed for students with disadvantaged backgrounds. It offers a comprehensive set of services through three different programs – Student Support Services, Upward Bound, and Upward Bound Math and Science.
Unlike student financial aid programs that help students overcome financial barriers to higher education, TRIO programs provide valuable, supportive services to students from poor and working families to successfully enter college and earn degrees.
Since 1986, Northwest TRIO programs have promoted educational opportunities while assisting students in their personal journey of earning a higher education degree. TRIO's partnership with Northwest addresses the unique needs of academically capable individuals who are first-generation students and who come from families with limited income.
Northwest TRIO programs create environments that inspire engaged learning, motivate continuing education and support lifelong learning. TRIO's comprehensive set of services and activities – each designed for a specific group of individuals from ninth grade through adulthood – include academic tutoring, cultural enrichment, financial assistance counseling, summer on-campus residential programs, admissions counseling, instructional assistance and student mentoring.
For more information about TRIO programs at Northwest, visit www.nwmissouri.edu/trio/, or contact 660.562.1862 or ssswebp@nwmissouri.edu.