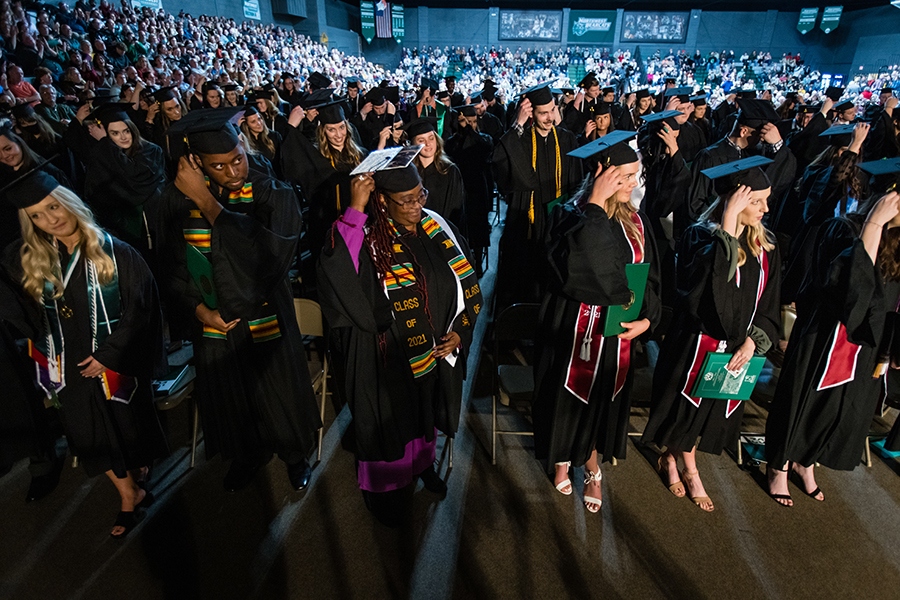 Northwest graduates move their tassels after the conferral of their degrees during one of the University's three winter commencement ceremonies. (Photos by Todd Weddle/Northwest Missouri State University)
Dec. 10, 2021
Northwest Missouri State University honored its winter graduates during three commencement ceremonies Friday, celebrating a culminating chapter in their lives and a beginning of what the University anticipates they will accomplish in subsequent years.
"Today's celebration is the culmination of all that you've accomplished at Northwest Missouri State," University President Dr. John Jasinski told graduates during opening remarks. "You've entered a distinguished population of people who have persisted and reached the ultimate goal of obtaining a higher education degree."
Jasinski outlined several ways Northwest graduates are prepared for a successful future, beginning with the ways they persevered in pursuit of their academic degrees. Just about one-third of the U.S. population completes a bachelor's degree or higher, he noted, and only four in 10 Americans hold a post-secondary degree or credential of any kind.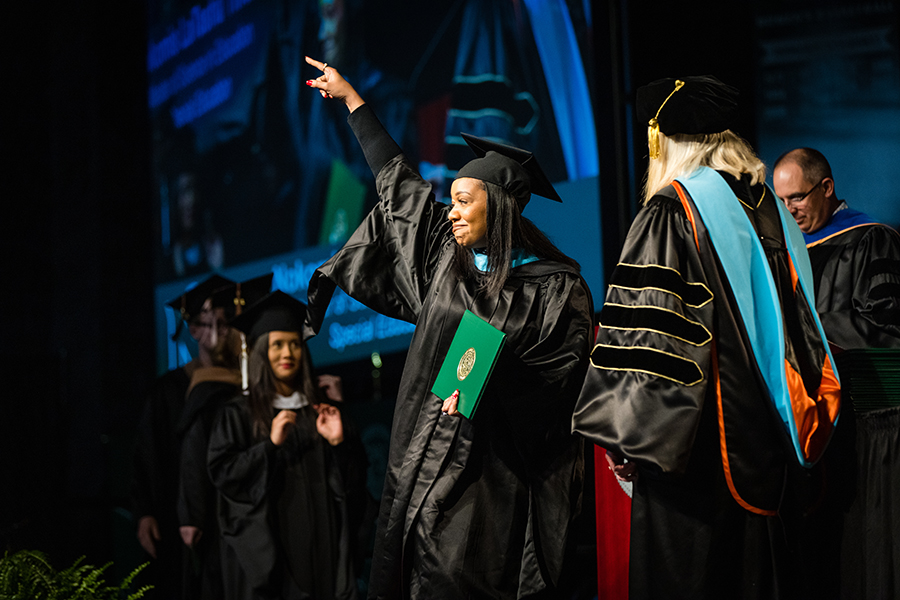 A Northwest graduate acknowledges people in the crowd as she crosses the University's commencement stage.
Further, Jasinski commended graduates for the connections they established inside and outside of the University's classrooms and for the ways they celebrate and respect differences.
"You have contributed to Northwest's ongoing excellence through your degree completion," Jasinski told graduates. "We here at Northwest are very proud of our mission of 'focusing on student success – every student, every day.' We're proud of being a Bearcat, and we're proud of all that we put forward – record enrollments, high retention rates, high graduation rates, and so much more, championships on and off the field. But our placement rate – individuals who leave the institution, go on to further education, receive jobs and so on – is No. 1 in the state of Missouri."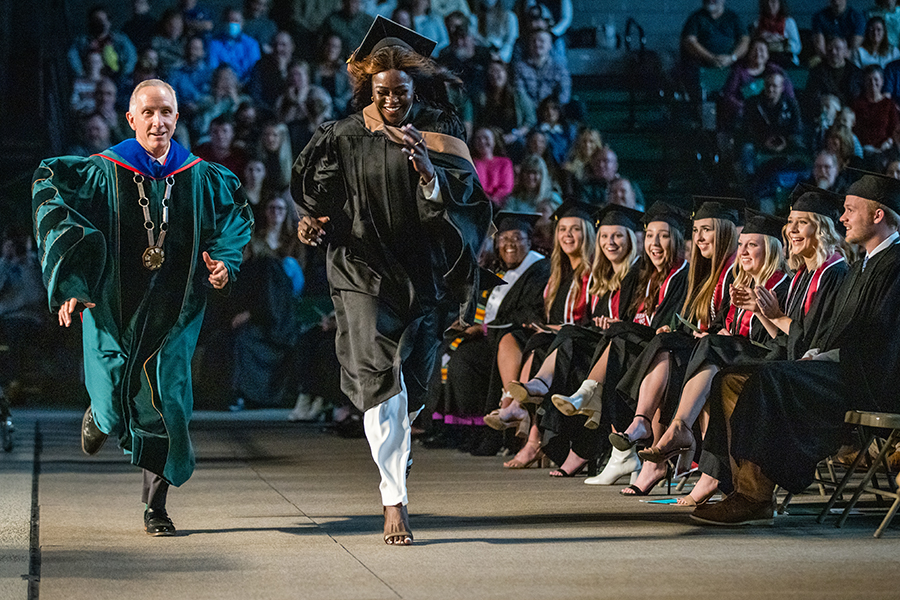 President Jasinski races Hiba Mahgoub in front of the commencement stage.
Each of the day's three ceremonies provided lighthearted and crowd-pleasing moments that included Jasinski calling on Jan Corley to walk the commencement stage because she didn't get the opportunity when she earned her degree from Northwest in 1970. During the afternoon ceremony, Jasinski challenged Hiba Mahgoub – who graduated with a Master of Business Administration degree and last spring became Northwest's first-ever women's outdoor track national champion with a win in the 200-meter dash – to a race in front of the commencement stage; both claimed victory afterward.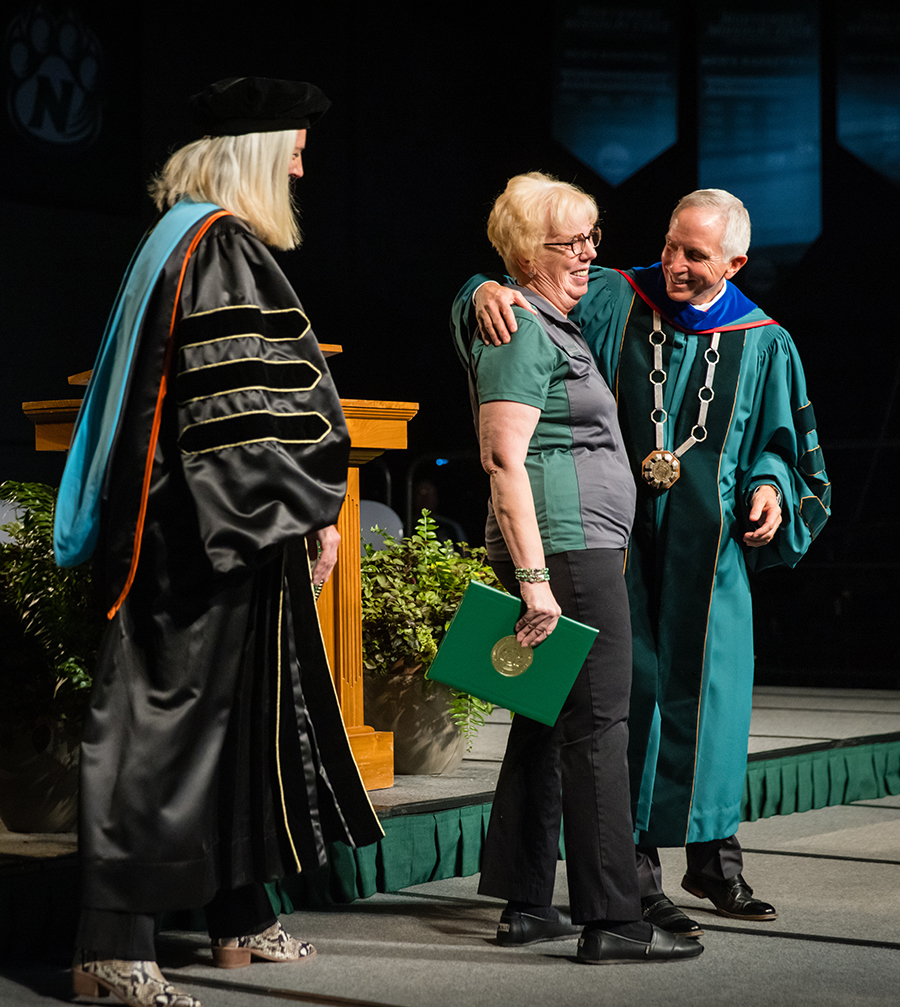 Provost Dr. Jamie Hooyman and President Jasinski greet Northwest alumna Jan Corley after inviting her to cross the commencement stage.
Jasinski also called out individual graduates for achievements during their time at Northwest and their post-graduate plans, including Mason Arnold and Camilo Castelblanco Riveros.
During concluding remarks, Jasinski encouraged the graduates to celebrate their past experiences at Northwest but be future-focused. He urged graduates to be solution-oriented, active citizens and collaborative.
"Your diploma is testament to your decision to move forward as an educated person," Jasinski said. "Our society needs you now more than ever. Go forth, make Northwest proud as you contribute to the societal good."
More than 670 students, ranging in age from 20 to 60, completed degrees at Northwest at the conclusion of its fall semester Friday with at least 338 receiving bachelor's degrees, 254 receiving master's degrees and 78 earning education specialist degrees. Business management is the most common bachelor's degree among our winter graduates, and education leadership in K-12 is the most common master's degree.
Geographically, the graduates represented 25 states with 66 percent of the graduates hailing from locations throughout Missouri; another 11 percent were from Iowa, 8 percent are from Nebraska and 4 percent are from Kansas. Nineteen of the graduates represented countries other than the United States.
Additionally, Friday's commencement ceremonies celebrated 495 graduates who completed degrees last summer, comprising 137 bachelor's degrees, 290 master's degrees and 68 specialist degrees.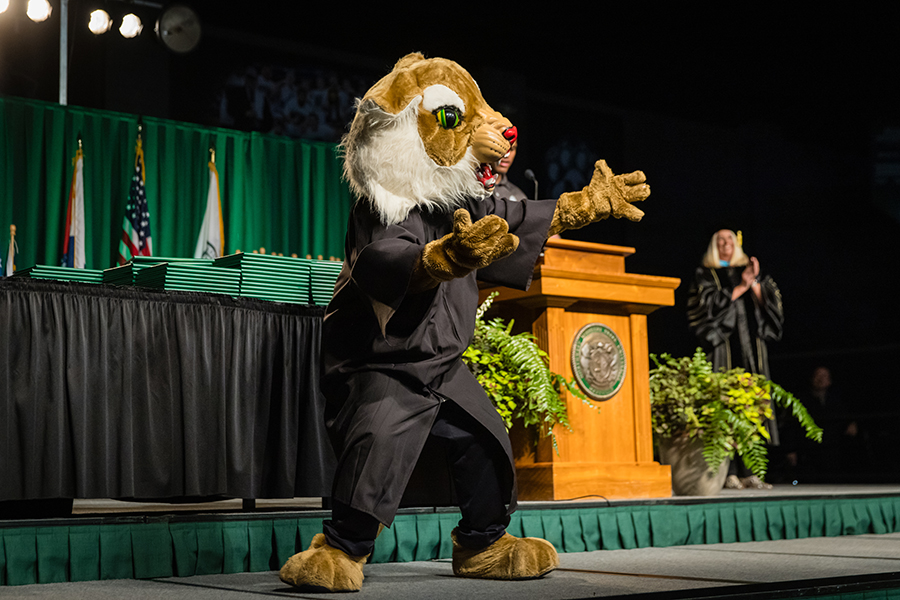 Northwest mascot Bobby Bearcat leads the crowd in the playing of the Bearcat fight song.
About Northwest
With an enrollment of more than 7,800 students, Northwest is a coeducational, primarily residential four-year university that offers a broad range of undergraduate and selected graduate programs on its Maryville campus as well as its Northwest-Kansas City location and through Northwest Online.
The University places emphasis on profession-based learning to help graduates get a jumpstart on their careers. Students have opportunities to build their résumés with experiences on campus in nearly every area of study, including the Horace Mann Laboratory School, National Public Radio affiliate KXCV, the R.T. Wright Farm, Mozingo Outdoor Education Recreation Area or Knacktive, a student-driven integrated digital marketing communication agency.
Northwest's graduation rate is in the 90th percentile among its peers, and 96 percent of Northwest bachelor's degree earners and 99 percent of master's degree earners secure employment or continue their education within six months of graduation. Zippia, a career website, names Northwest the best college in Missouri for getting a job.
Furthermore, Northwest's vibrant and diverse learning community offers more than 150 student organizations, and textbooks and a laptop are included in tuition, which is among the lowest in the nation, saving students an estimated $6,800 over four years. Northwest also offers 1,200 student employment positions, allowing students to build professional skills through its internationally benchmarked student employment program. 
For more information about Northwest and its performance, visit www.nwmissouri.edu/facts/.