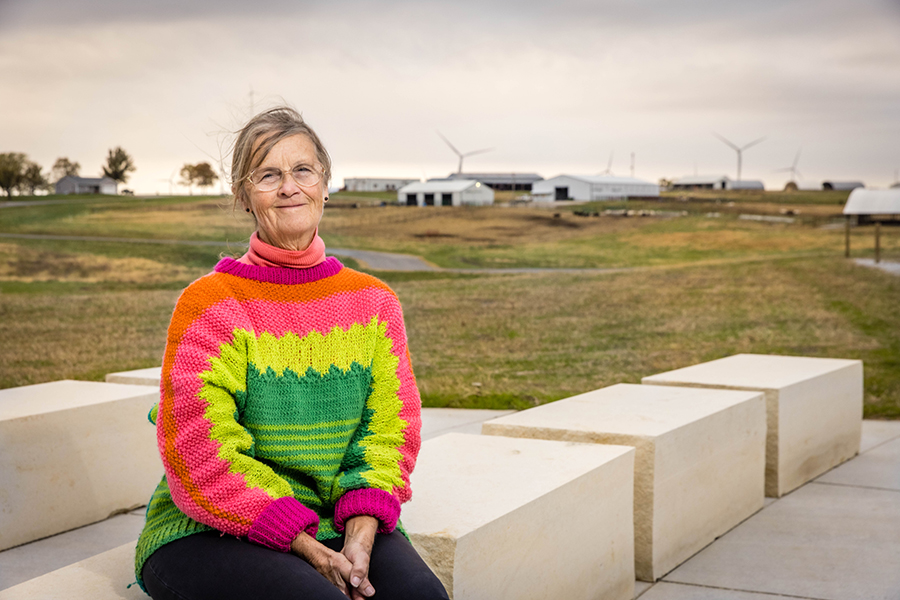 Nell Cowden, pictured at Northwest's R.T. Wright Farm, recently joined the University's Homesteader society in support of the Agricultural Learning Center. In addition to her family's roots in teaching and agriculture, Cowden's family heritage is connected to the University's earliest days. (Photo by Todd Weddle/Northwest Missouri State University)
Nov. 18, 2021
Nell Cowden had watched the construction of Northwest Missouri State University's Agricultural Learning Center (ALC) with interest as she traveled Highway 71. So when the University celebrated the facility's grand opening July 30, the lifelong resident of Nodaway County with deep farming roots and strong ties to Northwest was eager to see it up close.
"I was sitting in there and thinking, 'This is really a huge contribution to the area, to education and to my great-grandparents' vision. I should be contributing,'' Cowden said, recounting her thoughts as she took in that day's remarks and watched the ribbon-cutting.
As a result, Cowden recently joined Northwest's Homesteaders society, a group of lead donors partnering with the University to give $25,000 or more in support of the ALC. A lynchpin addition to the University's R.T. Wright Farm, the new 29,500-square-foot multipurpose facility enhances the School of Agricultural Sciences and its curriculum with laboratories, a kitchen, classrooms, and study spaces as well as a large exposition space and an outdoor education plaza.
A varied career
Cowden graduated from Northwest in 1969 with a bachelor's degree in sociology and then added master's degrees from the University in history in 1971 and agricultural economics in 1979. She earned her master's degrees while she was employed as a staff member at Northwest, first as an academic advisor and then as assistant registrar.
After completing her second master's degree, Cowden tried teaching at what is now Truman State University in Kirksville, Missouri, but she stayed only a year after concluding she wasn't cut out for teaching. "The students taught me more than I taught them," she said.
After working toward a Ph.D. in agricultural economics at the University of Missouri-Columbia, she took a position at Boehringer Ingelheim Vetmedica Inc. in St. Joseph in 1984. She worked in the marketing department in a variety of roles, including as a technical writer, a market research analyst, a forecast analyst and finally as an advertising liaison for the cattle division, before retiring in 2004.
"Retirement is my best thing," Cowden said. "I love travel. I love being on the farm. I love gardening … Life is just so rewarding."
In addition to following Bearcat sports, Cowden is a dedicated listener and generous supporter of KXCV-KRNW, Northwest's award-winning NPR affiliate. The radio station celebrated its 50th birthday this year and, while Cowden fondly remembers its launch in 1971, she regularly finds herself absorbed in its varied local and syndicated programming. 
"I love NPR," Cowden said. "I love listening to KXCV-KRNW. I start every day with 'Morning Edition.' When 'All Things Considered' signs off, I know it is time to start dinner. I garden while listening to 'Here and Now' and 'Fresh Air.' Public radio is an integral part of my life, and I particularly enjoy the new media app and hope to listen to Northwest basketball win another championship while I wander some international location."
Northwest roots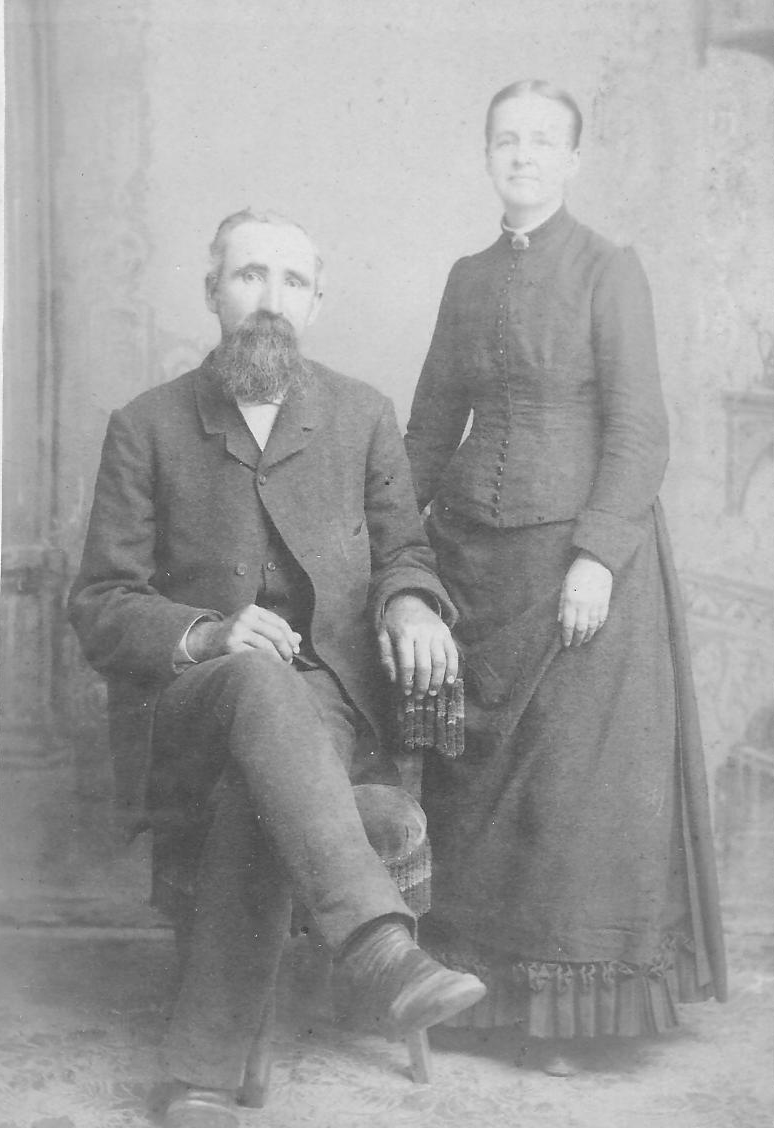 Cowden's great-grandparents, James H. and Emily Lemon, played integral roles in setting up a college in Maryville. James was a member of the Missouri House of Representatives and introduced House Bill No. 311, which led to the establishment of the Fifth District Normal School, as Northwest was originally known. (Photo courtesy of Nell Cowden)
Cowden's connection to Northwest runs much deeper, however, than her residency in Nodaway County and her status as an alumna. Her family ties extend to the University's earliest days.
Her great-grandfather, James H. Lemon, was a member of the Missouri House of Representatives and introduced House Bill No. 311, which led to the establishment of the Fifth District Normal School, as Northwest was originally known, in 1905. Lemon's efforts culminated a 30-year struggle to bring higher education to the region.
Lemon, who fought and was injured in the Civil War, homesteaded a farm between Burlington Junction and Clearmont with his wife, Emily Kautz Lemon, after arriving from Good Hope, Illinois, in the 1870s. Both were teachers before they married and raised six children, four of whom – including three daughters – graduated from Missouri State Normal School of the First District in Kirksville.
"Sending daughters to college in that time was extremely unusual," said Cowden, who has learned the family's history through letters kept by her grandparents and her own genealogy research. "I am certain Emily played an important role in their education. They followed in her footsteps." 
One of those daughters was Cowden's grandmother, Nell Lemon Jones, for whom she is named. Nell Jones also became a teacher and, once widowed, operated the family farm. Both of Jones' daughters earned degrees from Northwest, including Cowden's mother, Emily Jones Cowden, who graduated in 1933 with a degree in agricultural education.
Cowden's father, Bernard Cowden, came to Northwest from Oklahoma and played basketball with the Bearcats under legendary coach Henry "Hank" Iba from 1931 through 1933. In 1933, he was named to the All-MIAA Second Team.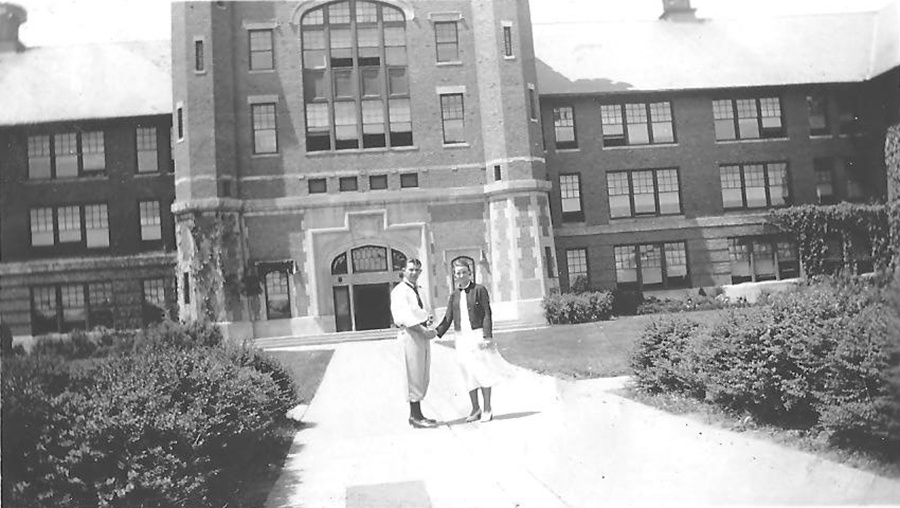 Nell Cowden's parents, Emily Jones and Bernard Cowden, are pictured in front of Northwest's Administration Building. Both attended Northwest during the early 1930s, and Emily graduated in 1933 with a degree in agricultural education. (Photo courtesy of Nell Cowden)
William Cowden, Nell's younger brother and a 1972 Northwest graduate, started his farming career on the Lemon farm at age 16 with the encouragement of his family. Now in his 70s, William continues to farm where James H. and Emily Lemon built their home.
In honor of Emily Cowden and her passion for farming, an "Autumn Brilliance" serviceberry is planted at the main entrance to Northwest's Agricultural Learning Center.
From attending Homecoming parades, football games and Variety Shows as child to growing up with Northwest icons Ryland Milner and Dr. Robert Foster as family friends, and walking among the impressive American Elms that once lined the Long Walk between the Gaunt House and the Administration Building, Northwest's grand history is engrained in Cowden.
When the time came for her to consider a college education, Cowden says she never considered going anywhere but Northwest.
"We were baby boomers, so we had pretty significant goals," Cowden says of her generation. "I think our parents wanted us to do better than they did, and they saw education as a viable way to accomplish that. So we were pretty intense about getting an education, going into the world and having a career."
Cowden says she carries a special sense of pride because of her family's connection to Northwest, and that is why she contributes to support the University and its programs.
"Many people, in addition to my family, provided opportunities for me," she said. "I have loved going to school. I enjoyed the places I worked and the things I did. I enjoy my retirement. I've been a huge recipient of what came before. Hopefully my contribution helps fulfil the vision of James H. and Emily K. Lemon."
Cowden's story and unique connection to Northwest is different than most, noted Sam Mason, a major gift officer in Northwest's Office of University Advancement who facilitated Cowden's contribution to the ALC. 
"I'm always amazed how deeply the Northwest roots run with many people in Nodaway County, but none run deeper than Nell's," Mason said. "The generosity Nell has shown to KXCV-KRNW has certainly been a game-changer for the entire region and especially for those students who are working to become better communicators. Her recent gift to the Agricultural Learning Center will not only benefit current and future generations of ag professionals, but it will serve to advance the agriculture industry in all of northwest Missouri. We can't thank Nell enough for her kindness and generosity to Northwest Missouri State."
For more information about the Agricultural Learning Center and making a gift to support Northwest, contact the Office of University Advancement at 660.562.1248 or visit www.nwmissouri.edu/ForeverGreen/.