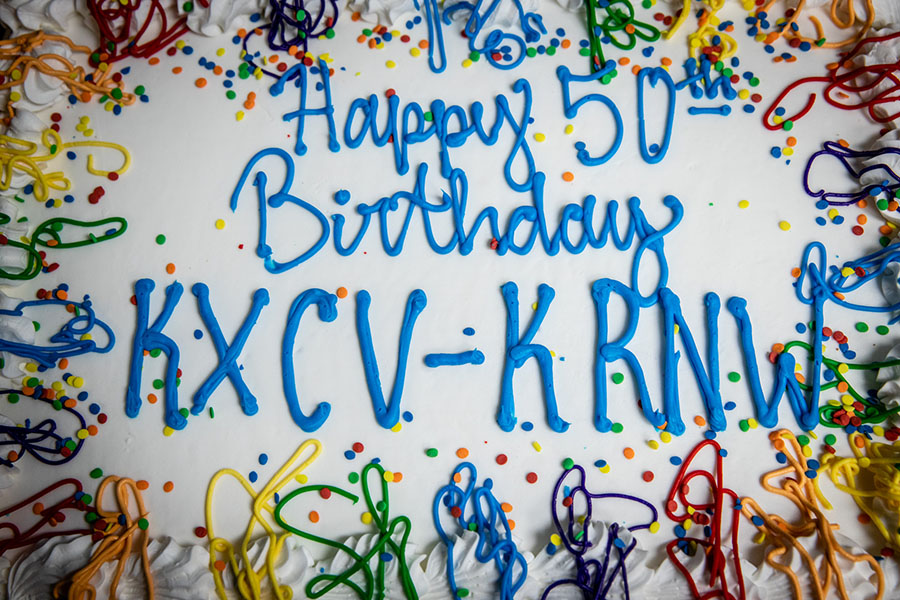 KXCV-KRNW, Northwest's award-winning NPR station is celebrating its 50th anniversary this year. (Northwest Missouri State University photos)
July 9, 2021
Updated: Sept. 8, 2021
At 7 a.m. on Jan. 14, 1971, Rollie Stadlman leaned into a microphone inside a new broadcasting studio on the Administration Building's third floor and spoke the words "KXCV begins broadcasting." Those words 50 years ago launched an enduring platform that has informed and entertained generations of radio listeners while preparing hundreds of Northwest Missouri State University students for their careers.
KXCV-KRNW, Northwest's award-winning National Public Radio affiliate, continued its celebration of that milestone with a live broadcast featuring alumni of the radio station on Saturday, July 24, from the parking lot of the Dean L. Hubbard Center for Innovation. The location is the former site of the station's first signal tower, and the date marks the anniversary of the 1979 Administration Building fire that destroyed the radio station's original studio.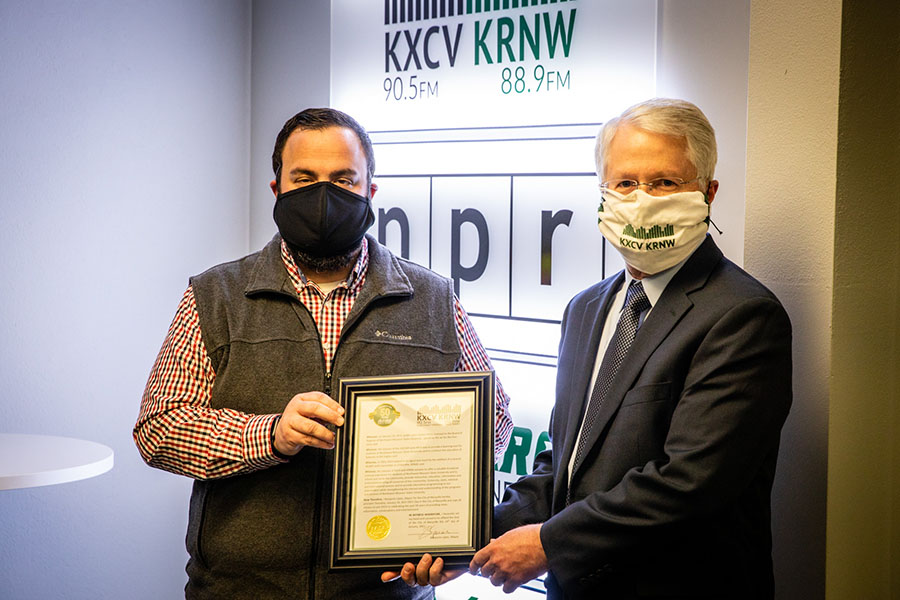 Maryville Mayor Ben Lipiec presented KXCV-KRNW Station Manager John Coffey with a proclamation in January to commemorate the anniversary of the radio station signing on the air.
To mark the radio station's birthday in January, Maryville Mayor Ben Lipiec, a 2007 Northwest alumnus, presented Station Manager John Coffey with a proclamation celebrating its mission as a training ground for students and a resource for entertainment and information in the region.
"It's a pleasure of mine just to be a small part of what KXCV is all about," said Coffey, a 1982 Northwest alumnus who worked with the station as a student, returned to it as a staff member in 1999 and became station manager in 2019, succeeding the late Rodney Harris.
In addition to Coffey and Harris, KXCV-KRNW's longevity and growth are a tribute to the leadership of Sharon Bonnett, station manager from 1985 to 2006; Stadlman, the station manager from 1975 to 1985; and its founder, the late Cathran Cushman.
When it signed on the air, KXCV was the first full-power public radio service in Missouri, providing in-depth news and information with an alternative music format. In 1993, KRNW went on the air in Chillicothe, extending programming across most of the northern 25 percent of Missouri. Additionally, in 1999, KXCV-KRNW and Northwest launched the Bearcat Radio Network, which broadcasts all Bearcat football and basketball games to listeners across the country through its regional affiliates and online.
Today, all of the 100,000-watt radio station's programming emanates from the Northwest campus and its Wells Hall studio.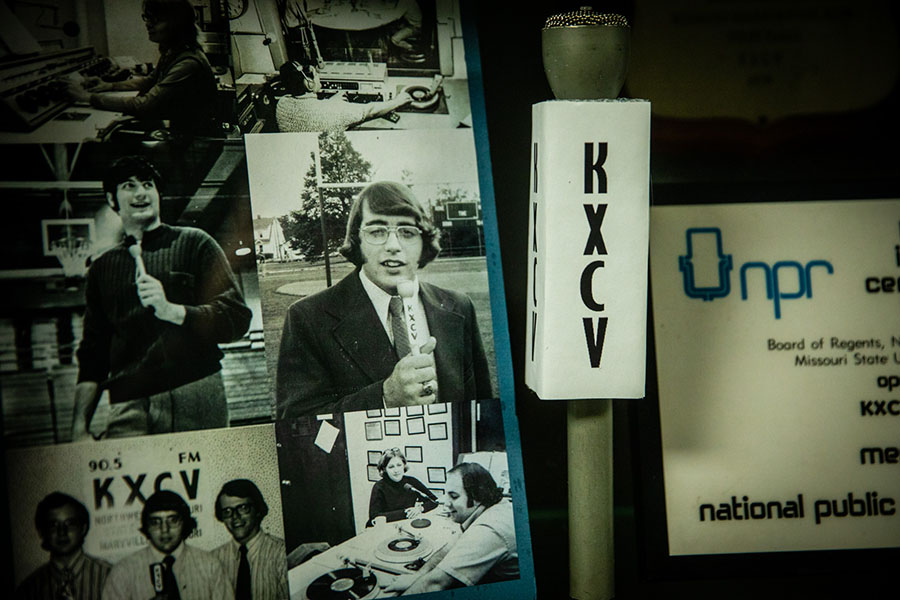 Photos and other items on display in the Warren Stucki Museum of Broadcasting in Wells Hall depict KXCV's early days.
From amateur club to professional broadcast
KXCV's foundation can be traced back to the early 1960s when a group of enterprising students organized an amateur ham radio club and broadcast through campus electrical wiring to the men's residence halls. Their station, KDLX, went on the air April 1, 1960.
Stadlman, a native of Des Moines, Iowa, initially had no aspirations of getting into radio when he arrived at Northwest as a student, but a friend who was involved with the radio club prompted him to consider it. He joined the club as a freshman in early 1966 and became its program director within weeks. He was president of KDLX during the 1968-69 academic year.
"I'd been in speech and theater and that sort of thing in high school and thought, 'Well, you know, the radio would be kind of fun,'" Stadlman said. "And so I went down and joined the radio club, and that night they put me on the air."
Bonnett, a 1965 Northwest alumna, was a student on campus during the radio club's heyday. Upon her graduation from Northwest, she headed to Connecticut, spending six years as a teacher there, and returned to northwest Missouri in 1971. Looking for a career change, she joined the KXCV staff in the spring of 1972 and served in various roles.
"As a student, I just knew that was a bunch of fun-loving guys that liked to play with a bunch of equipment, and nobody who wasn't a part of that aspect of their program kind of thought they were just having fun," Bonnett said. "None of us took them very seriously."
The radio club evolved and grew into what is KZLX, Northwest's student-led, low-power FM station today. But Dr. Robert Foster, Northwest's president from 1964 to 1977, envisioned something bigger. He desired an expansive radio program that could set the college apart from its peers and hired Cathran Cushman to be Northwest's director of broadcasting and programming. Additionally, Cushman would coordinate the broadcast curriculum as a full-time instructor.
Stadlman remembers walking to Cushman's office on the fourth floor of the Administration Building to meet her and extend a welcome on behalf of the radio club.
"I sat down and she told me that we were going to have all new equipment and we were going to have a 100-watt radio station and all this stuff, and I went back to the group and they wanted to know what she was like. I said, 'Well, she seems very nice, but she's crazy.'"
Cushman didn't waver and developed the KXCV programming model that remains in place today, using Northwest students as on-air announcers, news and sports anchors. She also was instrumental in writing grants to secure funding from the Corporation for Public Broadcasting for equipment and to assist with operational costs.
In 1968, with momentum for the new radio station building, 21 broadcasting majors traveled to the Federal Communications Commission offices in Kansas City to complete radio license testing. In late 1969, KDLX moved into the southwest wing on the third floor of the Administration Building, taking residence in a new broadcast center with 3,000 square feet of space that the chemistry department vacated for the new Garrett-Strong Science Building. The radio station broadcast from a signal emitting from a tower located in a cornfield north of the Administration Building, approximately where the Dean L. Hubbard Center for Innovation stands today.
After the National Public Radio network was established in 1970, Cushman made sure the newly established KXCV was an early member, making the Northwest station one of NPR's first 90 affiliates. Foster's vision and Cushman's promise to Stadlman had come to fruition.
"It was unbelievable," Stadlman said. "The equipment we had in the radio club – the control board literally was made out of a breadboard, and the electronics were borrowed from the ham radio club. And we had just regular turntables like the kind you have in your home. The microphone was something that you would use for ham radio, and so all of a sudden when Cathran got there and we started getting this new equipment, we were just gobsmacked because we just couldn't believe it."
During KXCV's early days, all of the announcers were students except for Stadlman. After signing on at 7 a.m. each day, he turned operations over to students – who also ran all of the programming – until the radio station signed off at midnight.
"That's something where we were kind of unique," Stadlman said. "We wanted to use student announcers because we wanted them to be part of the broadcast program and to give them some actual hands-on, real-life experience. I had a lot of my colleagues in public radio saying, 'Well, that's a mistake. You need to have professional announcers,' and I said, 'Well, look, there's a point where you people are hiring our graduates, and there's a point while they're here at Northwest where they're just as good as they're going to be and why shouldn't we use them while they're here before you hire them?' We pay our student announcers and it was a wonderful part-time job for them to help pay for their college expenses."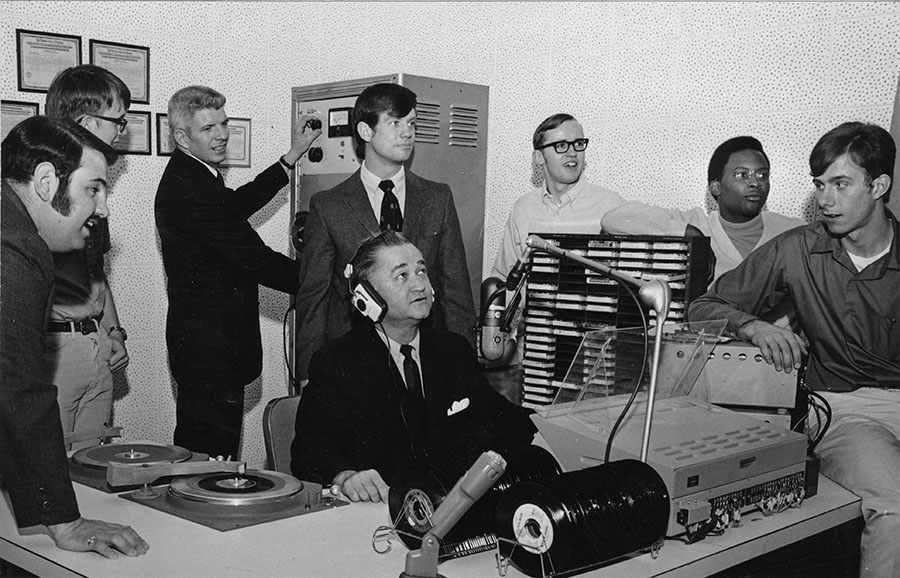 Northwest President Dr. Robert Foster (sitting at the center) joined Vinnie Vaccaro (far left) and other students and staff in the Administration Building's new radio studio for a demonstration.
Said Vinnie Vaccaro, a 1973 alumnus who had been a member of the radio club and was among KXCV's first student broadcasters, "All of a sudden, it was a brand new ball game. There was a professionalism that had to be taken with it because we were going from broadcasting just for the campus to my mother lived in Kansas City and she listened to my radio show every morning. We were in a situation where Dr. Foster put his reputation and his name on the line, and all of us felt an obligation not to let him down."
Cushman retired in 1976, and by the end of that decade Northwest had 130 broadcasting majors studying under three full-time and several part-time instructors, who also filled key roles at KXCV.
The radio station had begun earning its share of awards, too, receiving an honorable mention in 1975 from the Armstrong Memorial Research Foundation at Columbia University for excellence and originality in radio broadcasting. In May 1979, KXCV received the Corporation for Public Broadcasting's first-place award for a magazine program, "Alive and Living … Evening Edition," co-produced by Bonnett and Operations Manager Perry Echelberger.
"The whole environment was quite honestly one that was totally intriguing and totally captivating," Bonnett said. "Cathran Cushman was a woman like none that I had ever met before. She was very gracious, very charming, very driven, and she believed so strongly in what she was doing that she just kind of pulled me in, and she did that with the students."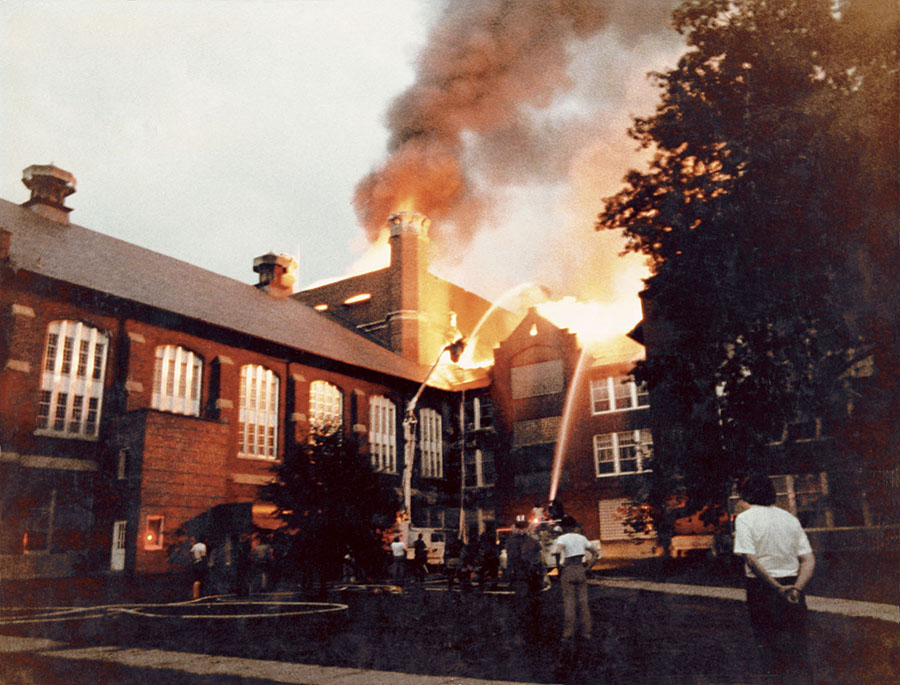 Flames shoot through the roof of the Administration Building's west wing on the night of July 24, 1979.
The Administration Building fire
On the evening of July 24, 1979, the future of KXCV – as well as the University – was in doubt as flames tore through the upper floors of the Administration Building. 
Stadlman was at his home a few blocks from the campus when he received a phone call from a friend about the fire.
"I went on my front porch and looked up and I could see the smoke coming, and I ran back in the house and flipped the radio on," he said. "I hadn't been listening at the moment and the radio station was still on so I got in my car and went zipping over to campus."
Stadlman arrived as fire trucks had pulled up to the building and smoke wafted from the structure.
Related links
Watch a look back on the Administration Building fire, produced by The Northwest Missourian for the fire's 30th anniversary:
Part I & Part II.
"I couldn't find the student announcers, so I was going to go into the building, and a very nice police officer stopped me and said no, I was not going into the building," Stadlman recalled. Moments later, though, he spotted a broadcast student who assured him that their group had escaped the studio safely and the emergency tape for situations when the studio needed to be abandoned had been turned on. At about 8:40 p.m. that night, KXCV went off the air, marking the time the fire overtook the station's studios.
"I stood there for hours, watching the flames lapping out of my office and watched the roof collapse on the theater building, and a billowing fireball went hundreds of feet in the air," Stadlman said. "When that happened actually is when I turned around and I looked at our tower, and it was still blinking. The lights on it were still going, and I thought, 'Well, wait a minute. We still have a transmitter.' So I started passing the word to the crowd, to students to tell them to meet at my house at 10 o'clock that night and that we were going to get the radio station back on the air."
A handful of students gathered at Stadlman's home along with Warren Stucki, the radio station's engineer. Stadlman sent some of the students to cover the fire, saying "I didn't want to be the only radio station in the country that didn't know what was going on." Around the same time, alumni of the radio station had started to call about loaning equipment to KXCV. Stadlman dispatched a couple students to pick up a portable control board from staffers with KKJO radio in St. Joseph. KNIM in Maryville also offered a construction trailer it acquired a couple years earlier. Stucki and other campus staff members pulled the trailer up to the tower north of the Administration Building and set it up for KXCV to return to the airwaves at 6:30 the next morning.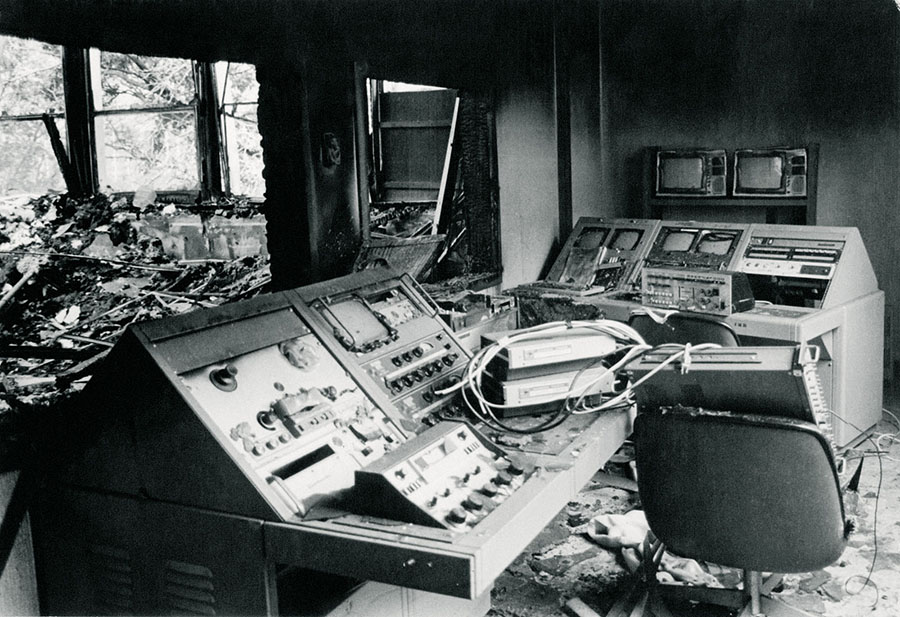 Little remained of the broadcast studios after the Administration Building fire.
"I never doubted that Warren Stucki could get us back on the air," Stadlman said. "I didn't know exactly how it was going to happen. I had in my mind that we were going to be in my garage until we figured out something else. The trailer ended up working out better."
Bonnett, who then was KXCV's program director, was among those who took charge of collecting salvageable items from the gutted radio studios. Staff and students collected a fair number of LPs, which were the radio station's sole music source, and made several trips to carry them down the three flights of the stairs in the Administration Building. The albums were then cleaned and carried through the cornfield to the trailer beneath the tower.  
Much of KXCV's equipment could not be saved, but some pieces were recovered anyway and can be viewed today in the Warren Stucki Museum of Broadcasting in Wells Hall.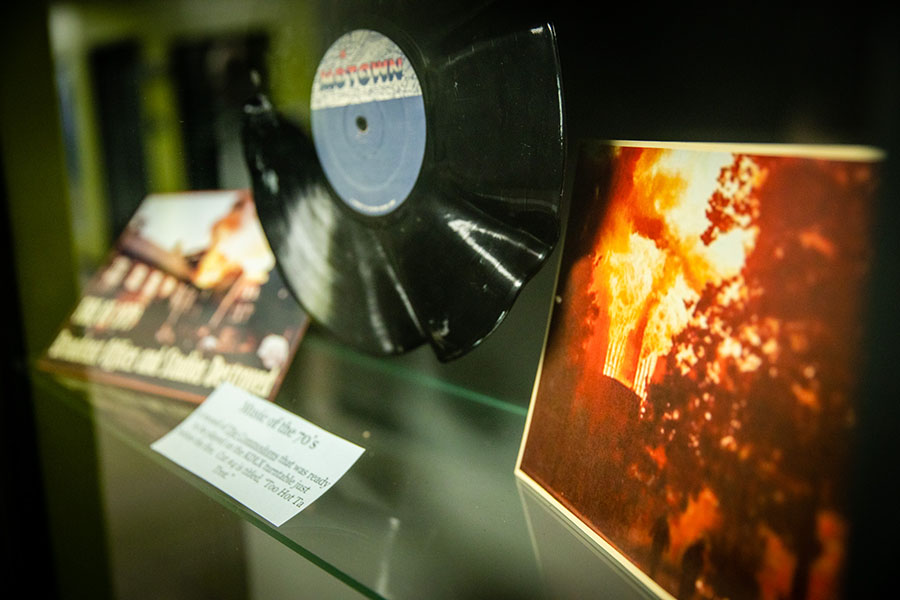 Melted records and other paraphernalia recovered from the ruins of KXCV's studios in the wake of the Administration Building fire are displayed in the Warren Stucki Museum of Broadcasting in Wells Hall.
"We knew what had been there, but the fire transformed things into something totally different," Bonnett said. "A portable tape recording machine almost became a work of art because it was melted in different formations."
Within days of the fire, as the University formulated plans for its recovery from the fire, KXCV reestablished itself on campus in Wilson Hall, an unused residence hall. The determination of KXCV staff and students to get the radio station back on the air helped set a tone for the rest of the University, along with then-President B.D. Owens' dictum the morning after the fire that it would be "business as usual" at Northwest.  
"The radio station, I think, can't be ignored in that history because I think it was a symbol at that time," said Vaccaro, who was serving as Northwest's director of alumni relations at the time of the fire. "It was a symbol at that time, sort of like, 'You might have kicked us in the face, Mr. Fire, but you're not going to beat us.'"
Adapting for the future
During the fall of 1979, KXCV relocated again from Wilson Hall to, for several years, what was fondly called "the Comm Barn." The metal building east of the Administration Building on Ninth Street was constructed in the aftermath of the fire and houses Facility Services operations today. It served as temporary headquarters for communication programs while Wells Hall was converted from a library to a classroom building for communication and mass media programming.
Patty Holley, who joined KXCV as a professional staff member in 1990 and now serves as its programming director, was a student broadcaster in the years after the fire, graduating in 1983 with a bachelor's degree in broadcast business. Interestingly, she visited the Northwest campus as an incoming freshman on the day of the fire and even toured the broadcast facility in the hours before its destruction. Once on campus that fall, she assisted with the move from Wilson Hall.
"Rollie said, 'Anybody who doesn't help us move to the Comm Barn, you'll never get on the air,' and it scared me," Holley said with a laugh. "So I went over there while they were moving out and I picked up a broom and I swept a little bit."
Soon after, Holley gained her first on-air experience and remembers fondly the tight-knit relationships of the broadcast team.  
"We hung out there a lot," Holley said before recalling the attempted assassination of President Ronald Reagan in 1981. "There were a lot of us in the lounge area watching the coverage of that. Of course, we had people who were on the air at the time and people who were running back and forth to do the newscasts. There was a real sense of camaraderie and everybody was pitching in. We all loved radio and loved what we were doing there."
Such camaraderie has remained a constant at KXCV throughout its history, Bonnett said.  
"It's interesting because in each one of those environments we found ourselves in after leaving the beautiful new facility that we had in the Administration Building, each one of them kind of pulled us together," she said. "I think the students, the alumni of the program, have very fond memories of their time with KXCV because it was kind of like a professional fraternity."
In 1985, after 15 years with KXCV, Stadlman left the radio station to work in Northwest's alumni office, and Bonnett succeeded him as station manager to usher in the next era of KXCV in Wells Hall.
"Technology had really taken off," Bonnett said. "We were able during that time in Wells Hall to become a 24/7 station. Before that, we actually had to have someone in the station all of the time, but then with technology we were able to, as long as someone was monitoring the station, have it actually go in an automated mode. That was one of the accomplishments that really changed our ability to serve."
When Holley returned to the radio station in 1990 after launching her professional career at a television station, she had her first experience editing programs on a computer. As a student, she cut tape with razor blades, and she used a typewriter to write copy as a television reporter.
"The computers were a big deal for us, although we were still using reel-to-reel tape for local production work," Holley said. "Then digital comes along and computers make it so easy to edit that you want to get it so precise. Sometimes I think it takes more time now to edit because you know you can get it better. We moved from Beta tapes to little DAT (Digital Audio Tape) tapes, and now we're all computerized and everything's stored on the servers."
In 1993, KXCV, with assistance from NPR, identified unserved areas east of Nodaway County. As a result, the station acquired federal grants to expand its reach, built a transmitter in Chillicothe and established KRNW.
Then, in 1999, Northwest and KXCV launched the Bearcat Radio Network, coinciding with Coffey, the longtime "Voice of the Bearcats" on KNIM, rejoining KXCV as a professional staff member. KXCV serves as the flagship of the network, producing all Northwest football and basketball broadcasts and game feeds to commercial radio affiliates throughout the four-state region.
"I don't think there's any campus that has a better setup for the broadcast of their programs than we do at Northwest," Bonnett said.
When Bonnett retired during the summer of 2006 after 34 years with KXCV, she also had overseen the installation of a larger tower at the R.T. Wright Farm that increased the station's signal strength, the implementation of audio reader services for the visually impaired and the radio station's conversion to digital broadcasting. But she remains most proud watching the success of student broadcasters who graduated from the program.  
"The communication skills that they can develop while working at KXCV and the decision making and strategic thinking are traits that they might not have the opportunity at their ages to develop if they weren't involved in a program like ours," Bonnett said. "And they made it fun. They made it tremendously fun."
In 2008, Rodney Harris, another alumnus of KXCV and a 1978 graduate of Northwest, took management of the radio station. During his tenure, the affiliate saw additional technology advancements, including the launch of a mobile app that provides listeners another way to access the station's programming. In 2016, the University completed a full-scale remodel of KXCV's studios in Wells Hall that included equipment upgrades, new furniture, and the additions of amenities such as larger soundboards, sound-absorbing walls and a conference room – creating a more open state-of-the-art space to prepare the next generation of broadcasting students for their careers.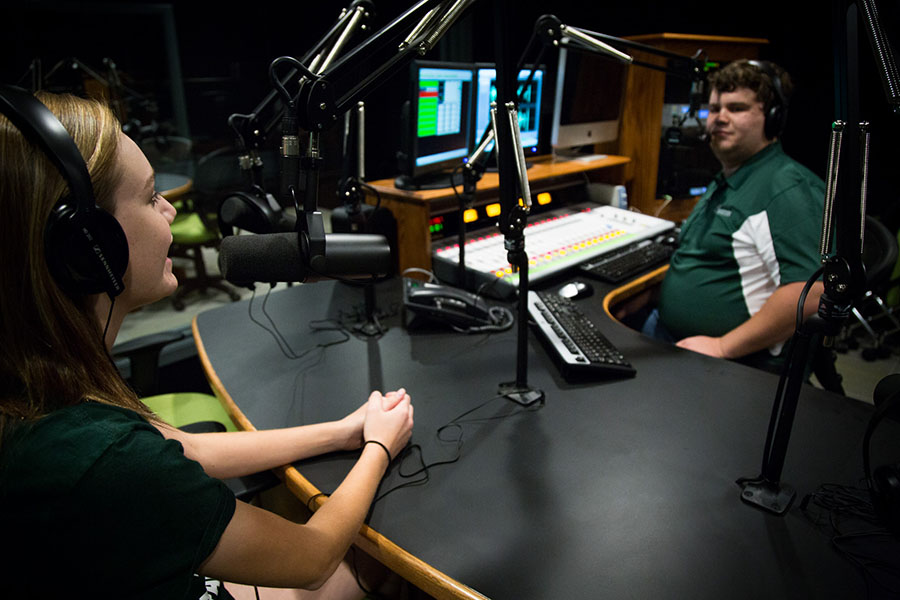 A pair of Northwest students produce a program after KXCV studios were remodeled in 2016.
In 2019, Harris died unexpectedly and Coffey was named his successor. Coffey remains committed to KXCV-KRNW's two-fold mission of providing unique programming for listeners and a training ground for Northwest students. 
"It's an honor for my staff and me to continue the vision set forth for KXCV by Dr. Foster, Mrs. Cushman, Rollie, Sharon and Rodney," Coffey said. "Their foresight has positioned KXCV to be important to the region and the University for another 50 years. One of the most fulfilling parts of the job is seeing the progress our students make while they are with KXCV and the success they have in their careers."
In the meantime, Stadlman left Northwest in 1991 to work in banking but stayed connected with the University as a member of its Board of Regents from 2001 to 2007. Retired since 2008, he remains an active KXCV listener.
"I am always proud when I flip the radio on and just – it was an amazing feeling because I signed that radio on hundreds and hundreds of times, thousands of times, I guess, and every time I flip the transmitter on, it just gave you a rush."