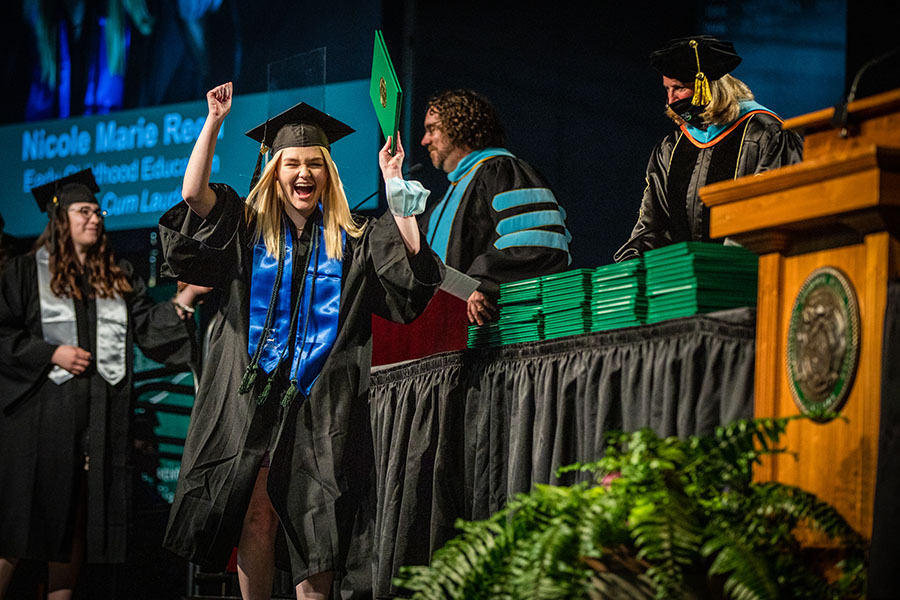 A Northwest graduate celebrates the completion of her degree as she crosses the stage during one of Northwest's spring commencement ceremonies Friday. (Photo by Todd Weddle/Northwest Missouri State University)
May 8, 2021
Northwest Missouri State University celebrated its spring graduates – as well as those who completed degrees during the last year but were unable to participate in previous ceremonies postponed or canceled during the COVID-19 pandemic – during eight commencement ceremonies May 6-8.
"We've all adjusted due to the pandemic, yet we are happy all of us can be here today, sharing our pride in Bearcat Nation," Northwest President Dr. John Jasinski said during his opening remarks at each of the ceremonies.
About 100 graduates representing the classes of 2020 and 2021 participated in each of the ceremonies in Bearcat Arena and were seated further apart than usual, among other elements that differed from Northwest's traditional commencement ceremonies as the University implemented COVID-19 mitigation measures. Each participating graduate was allowed up to four guests to maintain social distancing inside the arena, and face coverings were required.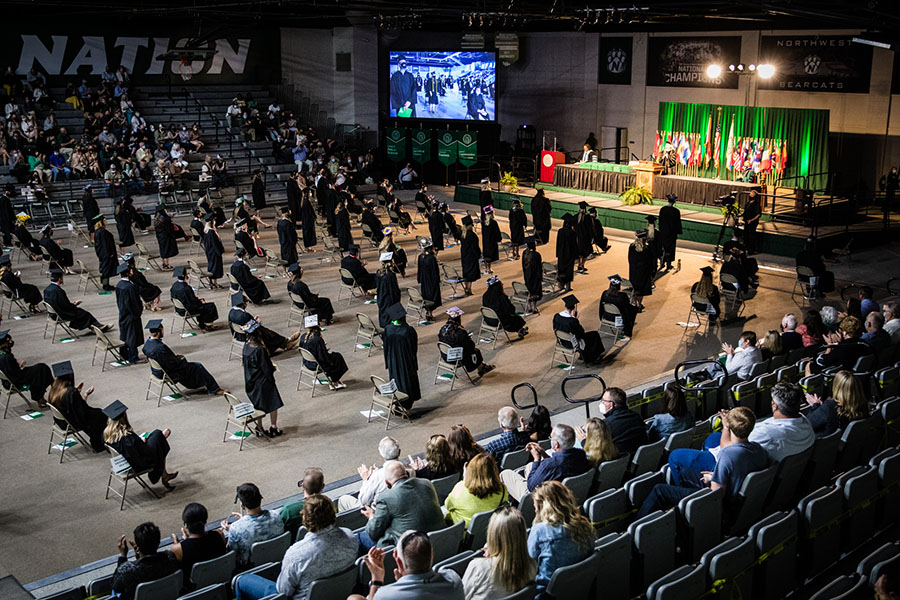 Northwest hosted eight socially distanced commencement ceremonies May 6-8 in Bearcat Arena with COVID-19 mitigation measures in place. (Photo by Brandon Bland/Northwest Missouri State University)
Each ceremony provided a number of lighthearted and poignant moments that included Jasinski calling out individual graduates for achievements during their time at Northwest and their post-graduate plans, including Zerryn Gines, Nolan Harless, Savannah Baker, Erin Fleharty and Cayla Vetreese. In commemoration of World Binturong Day on Saturday, the conclusion of all eight ceremonies also included a surprise video featuring Popcorn the Bearcat and his handler at Belleville, Michigan-based Animal Magic congratulating the graduates.
In a Friday ceremony, five sets of siblings graduated together, and a Saturday morning ceremony included Michaelene Mays and her mother, Janean, graduating together. Philon Barr crossed the stage Saturday afternoon with his young daughter to receive his Master of Business Administration degree.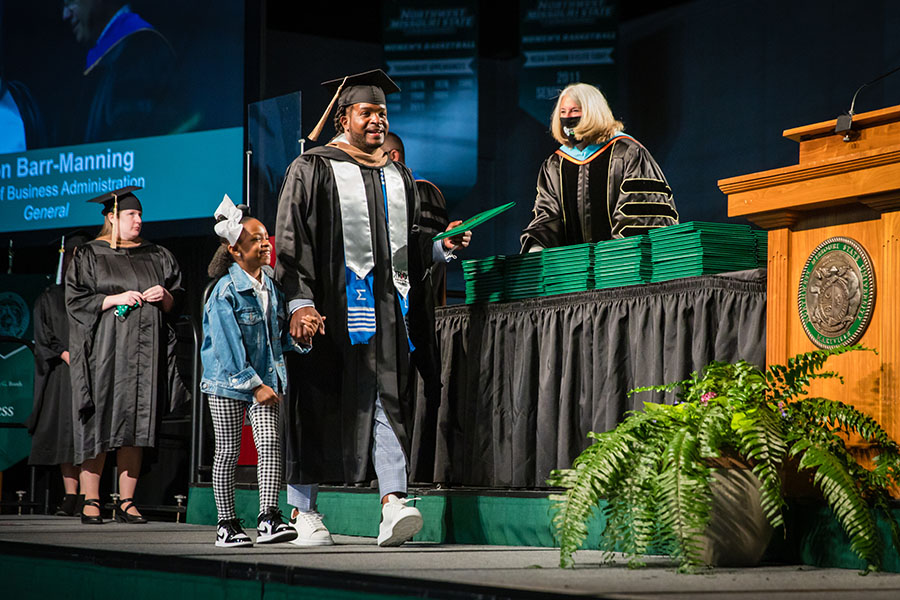 Philon Barr crossed Northwest's commencement stage Saturday afternoon with his daughter. (Photo by Todd Weddle/Northwest Missouri State University)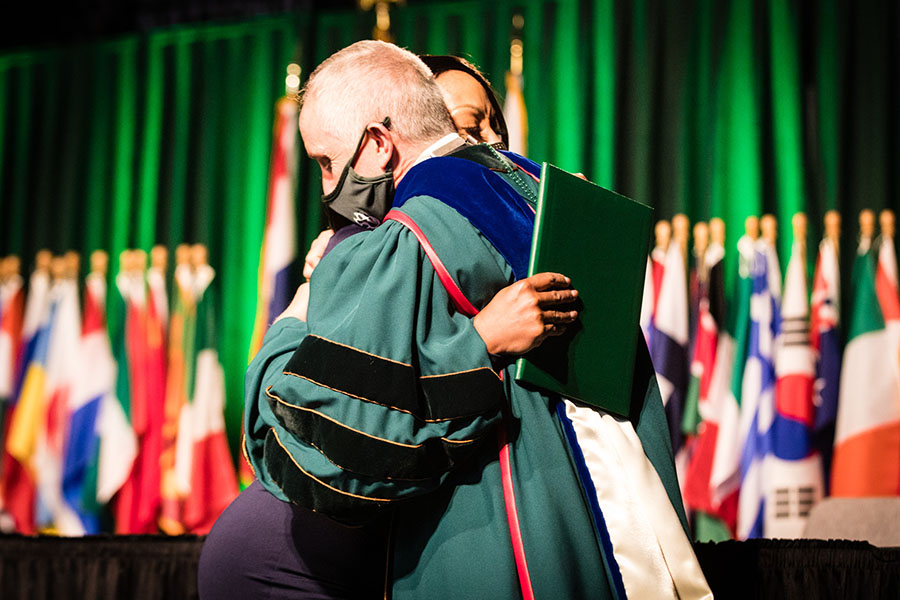 Northwest President Dr. John Jasinski embraces Kwanda Harrell during Northwest's commencement ceremony Saturday afternoon after she accepted a posthumous Bachelor of Science degree on her son's behalf, (Photo by Brandon Bland/Northwest Missouri State University)
Saturday's afternoon ceremony also included a remembrance of Kylan Harrell, who was a junior organizational communication major at Northwest and St. Louis native when he died in May 2020. At the University, Harrell had served as president of the Alpha Phi Alpha chapter, as a member of the Men's Minority Organization, as a student employee in campus recreation, and as a student representative for the Black Alumni Chapter of the Northwest Alumni Association. His mother, Kwanda, accepted a posthumous Bachelor of Science degree on her son's behalf during the ceremony.
Jasinski commended graduates during the ceremonies for the ways they engaged inside and out of classrooms at Northwest and formed valuable connections along the way. He praised the University's faculty and staff, too, for their part in helping the graduates succeed and connect.
"We see it every day," Jasinski said. "Bearcats connect, and it allows for success. Faculty connect with students. Students connect with alumni. Alumni connect with Bearcat interns and job applicants. Bearcats connect with other Bearcats. I'm confident that each of you have found a variety of meaningful connections during your time at Northwest Missouri State University – and I encourage you to keep connecting even as you walk out the doors of Bearcat Arena."
Northwest President Dr. John Jasinski addresses graduates and their families during Northwest's spring commencement ceremonies. (Photo by Todd Weddle/Northwest Missouri State University)
Jasinski noted only four in 10 Americans hold a post-secondary degree or credential of any sort as he congratulated the graduates on their achievements and touted Northwest's place as a leader among its peer institutions. Northwest's graduation rate is in the 90th percentile among its peers, and its career placement rate – which indicates that 97 percent of Northwest bachelor's degree earners and 99 percent of master's degree earners secure employment or continue their education within six months of graduation – is the best in the state.
In concluding remarks, Jasinski encouraged the graduates to celebrate their past experiences and time at Northwest but be future-focused. He urged graduates to be solution-oriented, active citizens and collaborative while expanding their networks and respecting differences.
"Your diploma is testament to your decision to live and work as an educated person," Jasinski told graduates. "Our society needs you now more than ever. We need communicators of truth, business experts for a strong economy, ag specialists, scientific entrepreneurs, computer science leaders, health science practitioners, education ambassadors, counselors and so much more. Above all, we need learners, connectors, caring voices, diversity and inclusion agents, and alumni spreading Bearcat pride worldwide."
Northwest's spring graduating class totaled 1,275 students with 761 receiving bachelor's degrees, 452 receiving master's degrees and 62 earning education specialist degrees. The graduates ranged in age from 20 to 59, and they represented 33 states and 12 countries with 65 percent of all graduates coming from within the state of Missouri.
About Northwest
With an enrollment of more than 7,200 students, Northwest is a coeducational, primarily residential four-year university that offers a broad range of undergraduate and selected graduate programs on its Maryville campus as well as its Northwest-Kansas City location at the Northland Innovation Center and through Northwest Online.
The University places a high emphasis on profession-based learning to help graduates get a jumpstart on their careers. Students have opportunities to build their résumés with experiences on campus in nearly every area of study, including the Horace Mann Laboratory School, National Public Radio affiliate KXCV, the R.T. Wright Farm, Mozingo Outdoor Education Recreation Area or Knacktive, a student-driven integrated digital marketing communications agency.
Furthermore, its vibrant and diverse learning community offers more than 150 student organizations, and textbooks and a laptop are included in tuition, which is among the lowest in the nation, saving students an estimated $7,200 over four years. Northwest also offers 1,200 student employment positions, allowing students to build professional skills through its internationally benchmarked student employment program. 
For more information about Northwest and its performance, visit www.nwmissouri.edu/facts/.