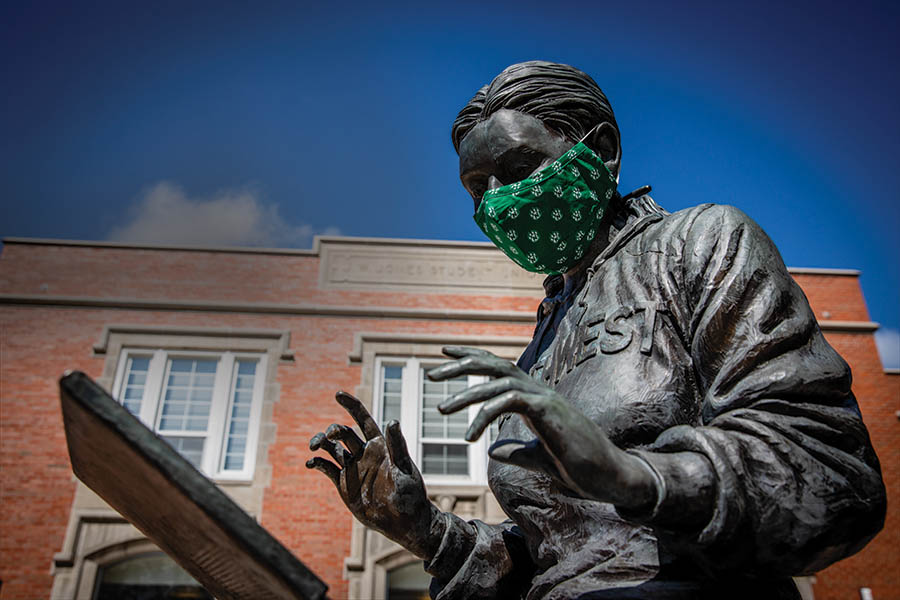 Even Northwest's centennial sculpture outside the J.W. Jones Student Union was outfitted with a face covering this fall as the University community adhered to mitigation measures to keep the campus open with in-person classes. (Photos by Todd Weddle/Northwest Missouri State University)
Dec. 18, 2020
When the calendar flipped to 2020 and Northwest began its spring semester last January, the University was riding another successful academic year with few barriers in sight.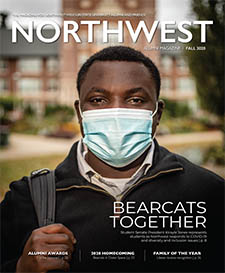 This content appears in the 2020 fall edition of the Northwest Alumni Magazine. To view the print version of the magazine in its entirety, click here.
Related links:
Then a mysterious virus began sweeping across the United States.
"My initial thought was, 'Ok, maybe we can get this all figured out within the two weeks and get an extra week of spring break,'" said Kirayle Jones, a senior education major from Omaha, Nebraska, elected Northwest's 2020-21 Student Senate president in April. "Little did we know that was going to be the last time that we were going to see each other face to face and that our semester as we knew it was abruptly ending."
On March 11, while Northwest students were away for their spring break, a team of Northwest leaders convened in the Ballroom of the J.W. Jones Student Union, devising strategies for confronting COVID-19 on the campus and maintaining a productive learning environment. Like dominoes falling against each other, the nation's colleges and universities had begun announcing their plans as COVID-19 spread. By the end of that day Northwest would join them – first deciding to delay the resumption of classes, then announcing two days later that all classes were moving online temporarily and eventually announcing the next week that all classes would continue online for the remainder of the spring.
By the end of March, most employees transitioned to remote work and campus facilities were closed to the public, leaving hallways from Colden Hall to the Garret-Strong Science Building eerily empty.
Northwest entered the pandemic intent on maintaining its focus on student success and prioritized protecting its employees. Adopting the slogan "Bearcats Together," the University  followed a guiding philosophy and framework consisting of four themes – learning and success, health and safety, agility, and viability.
"We will deliver curricular and co-curricular learning in a flexible manner with a continued focus on profession-based principles and a keen eye on student success," Northwest President Dr. John Jasinski wrote to employees in May as he outlined the University's plan to resume in-person classes in the fall. "As an organization, Northwest will continue enacting an uninterrupted learning cycle as it continues to address health and safety, agility, and viability."
University teams worked overtime to address the needs of students, employees and the institution. Phrases like "incremental decision-making" and a "tolerance for ambiguity" became as common in Bearcats' vernacular as "maintaining social distance."
"We all came together and said, 'This is something that we want to do,'" said Jones, who was part of the University's Recovery Phasing Team, a group of faculty, staff and students representing all areas of campus that spent the summer ensuring Northwest was ready to welcome back students in the fall. "Everybody wants to be on campus, to see their friends, to live in the houses. Everybody wants that feeling, and the only way that we can actually have that happen is by following the rules."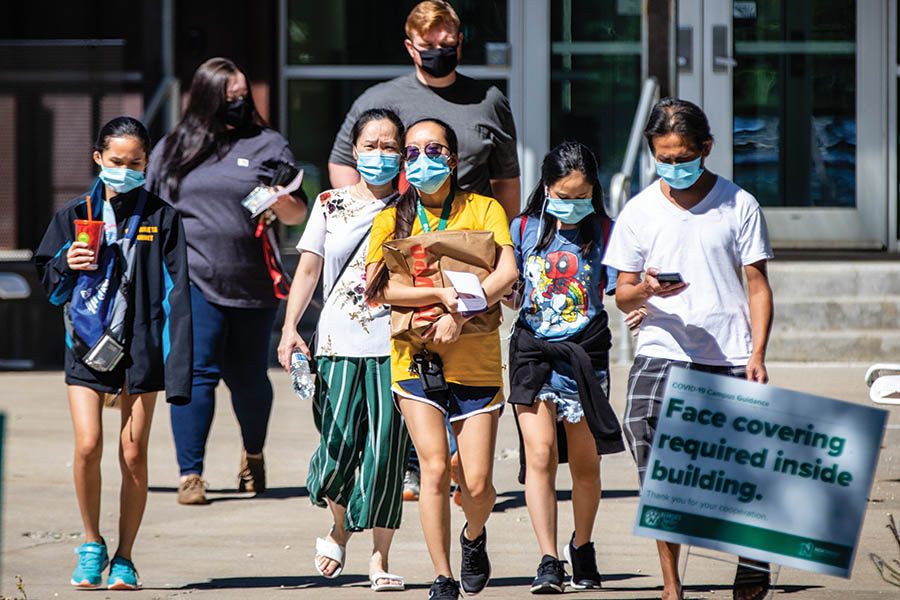 Signs dotted the campus landscape and inside buildings this fall with reminders to wear face coverings and maintain social distance.
When a record number of students arrived on the campus for the fall semester, Northwest was different. Signs on doors and walls designated entrances and exits while signs in hallways and stairwells instructed building occupants to "stay to the right." Face coverings were required. Hand sanitizer stations stood outside office doors. "Zoom Zones" were set up to help students participate in class sessions when they couldn't be in their classroom.
Sheets of Plexiglas were mounted on service desks in high-traffic areas and offices. Facilities teams spent most of the summer shifting and removing furnishings to create socially distanced spaces where students and employees could study, work and gather safely.
As courses were delivered in a variety of modes, some faculty moved their classes and office hours outdoors. Music ensembles as well as comedians sponsored by the Student Activities Council performed to audiences on Zoom. The 30th annual Freshman/Transfer Showcase, which gives first-year theatre students their first opportunity to perform on a Northwest stage, was streamed live online as the performers wore clear plastic masks and maintained a social distance on the stage. The annual fall Career Day included opportunities for students to network with employers during virtual sessions on Zoom. 
"Northwest's response to the COVID-19 situation has been very proactive, engaged, broad-based and inclusive," Dr. Dave Shadinger, an associate professor of communication who is president of the Faculty Senate, said. "While it is a whole new, mitigated, teaching experience with masks, face shields, split classes with Zoom sessions, hand sanitizer at every entrance and disinfectant classroom spray, everyone's efforts have kept the spread of infection to a minimum, and we have all worked hard to keep the institution open and fulfilling our educational mission."
A timeline: How Northwest responded to COVID-19 in 2020
Jan. 30
With five cases of COVID-19 identified in the United States, Northwest notifies its campus community via an email alert that it is monitoring the virus and asks students and employees to take precautions.
Feb. 28
Northwest reminds its students and employees to take precautions against COVID-19 and announces its activation of a website with resources and answers to questions related to the institution's COVID-19 response.
March 2
Northwest suspends its study abroad programs and advises its 13 students studying in Finland, Greece, Italy, Ireland, Netherlands, Spain and the United Kingdom to make arrangements to return to the United States.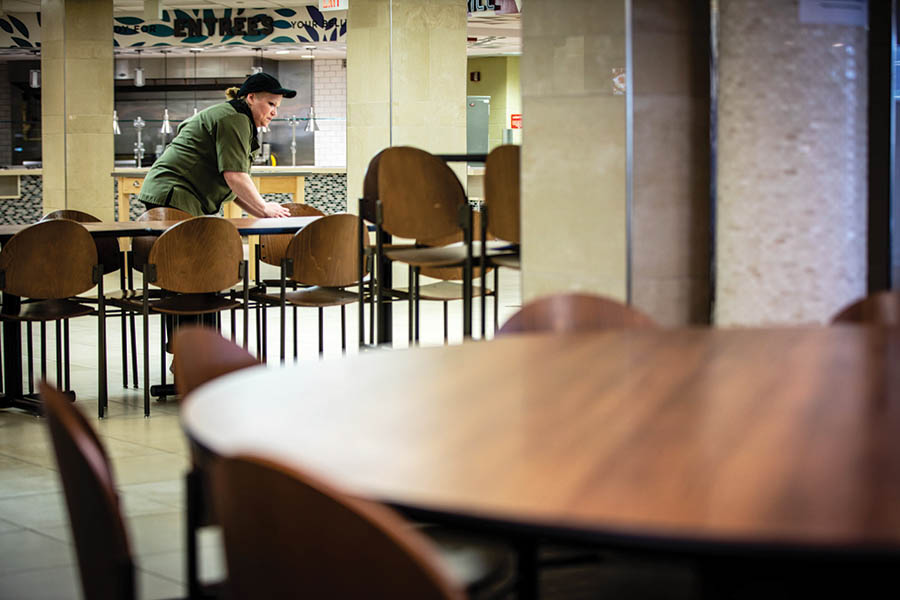 Campus Dining staff increased cleaning in March.
March 11
While students are on spring break, and with the number of confirmed cases and media attention to the outbreak escalating rapidly, President Jasinski announces Northwest is postponing the resumption of all in-person classes until March 23 to allow students and employees who traveled during the break to assess their level of exposure and take precautions.
March 13
As the federal government and state of Missouri declare states of emergency, Northwest announces all courses will move online, starting March 23, for a minimum of two weeks. Additionally, all student organization and external events are canceled through April 5.
March 18
One day after gathering faculty and staff leaders from across the campus for a meeting to discuss the institution's response and direction during the pandemic, Northwest announces it is moving courses online for the remainder of the semester to help minimize the spread of COVID-19 and limit academic disruptions.
March 20
As confirmed reports of COVID-19 spread across the United States, Northwest begins its transition to restricted operations – keeping a limited number of employees working on the campus while all other employees begin transitioning to remote work – and campus facilities are closed to the public. All activities that are not critical to Northwest's mission or operations are canceled, and students living on campus are directed to check out of their residence halls by March 25.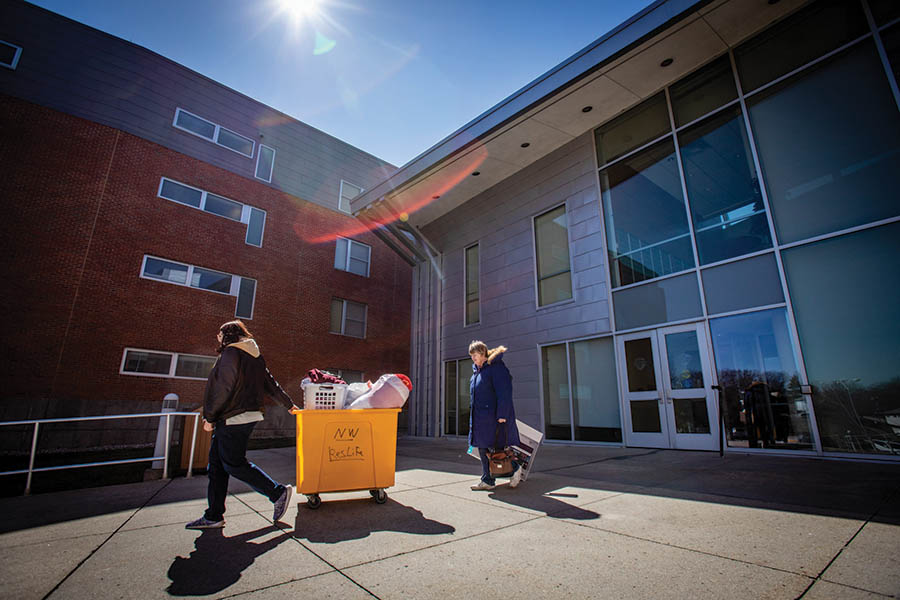 Students moved out of residence halls in March.
April 5
Three days after the Nodaway County Health Department confirmed the first positive case locally, Northwest reports its first positive case affecting an employee. The next day, Northwest announces all courses will remain online through the summer term.
April 24
Northwest celebrates the groundbreaking of its Agricultural Learning Center with a virtual presentation. That same day, the Missouri National Guard, assisting on behalf of the Second Harvest food bank in St. Joseph, delivers 50 boxes of food to the Northwest campus to distribute to students in need during the pandemic.
May 18
Northwest begins transitioning out of its shelter-in-place and back to restricted operations, allowing select employees to return to campus from remote work modes as a part of the first phase of its "phased recovery strategy."
June 8
Northwest transitions to phase two of its recovery, limited operations, which includes a limited number of employees returning to work on campus while keeping facilities closed to the public until June 22.
July 15
Northwest enters the third and final phase of its recovery and returns to full operations with COVID-19 mitigation measures in place. The mitigation measures, which remain in place through the fall, urge all students, employees and visitors to wear face coverings on campus and maintain at least 6 feet of social distance, in addition to practicing good hygiene. As students and employees return to campus, they receive Northwest branded face coverings and bottles of hand sanitizer.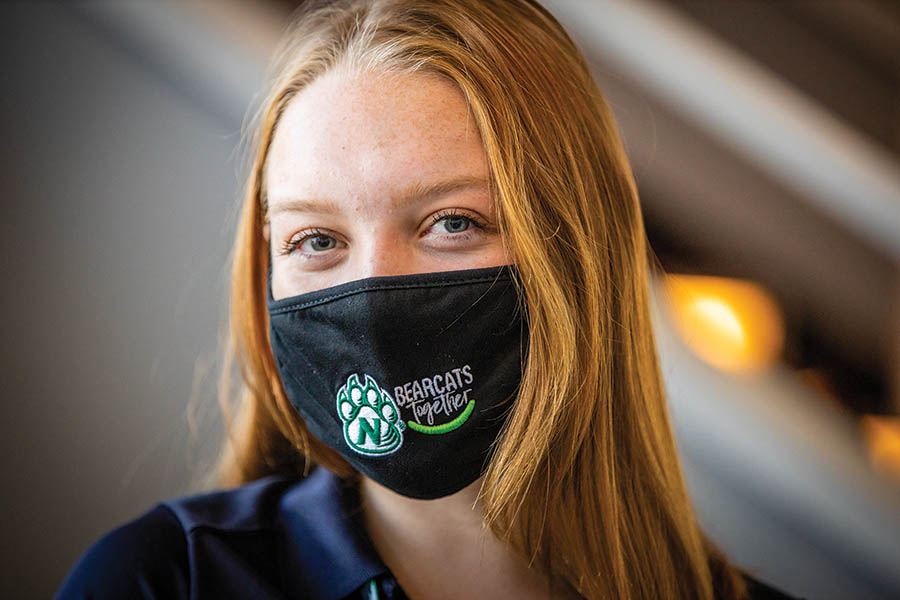 Northwest provided students and employees with face coverings as they returned to campus.
July 21
Northwest takes its first step toward bringing students back to campus by hosting first-year students and their parents for the first of eight mitigated annual Summer Orientation Advisement and Registration dates through Aug. 1.
Aug. 9
After announcing its postponement in March, Northwest hosts its rescheduled spring commencement ceremony as an outdoor evening program at Bearcat Stadium. Plexiglas shields podiums on the stage, and graduates are seated in chairs spaced apart on the field turf.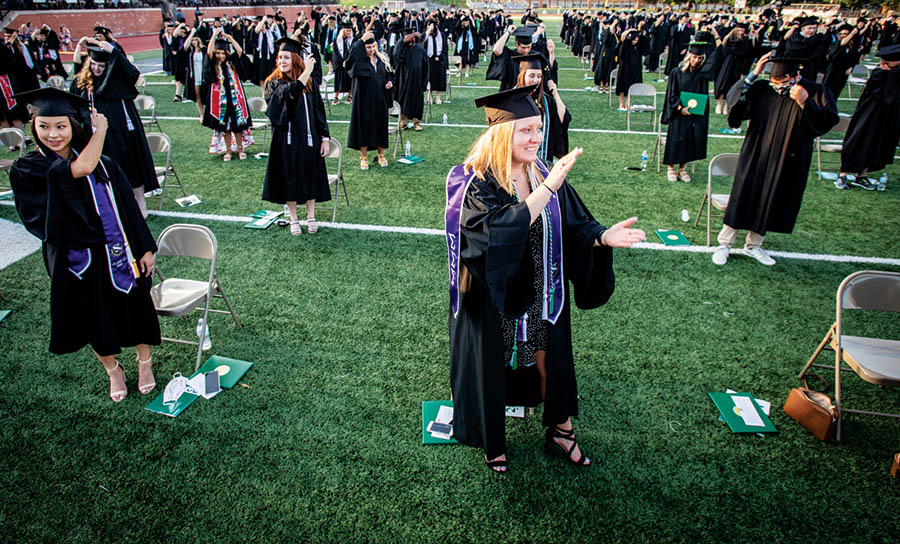 Graduates were spaced on the Bearcat Stadium turf in August.
Aug. 19
After four days of move-in and Advantage activities, the fall semester officially begins and Northwest resumes in-person classes on the campus.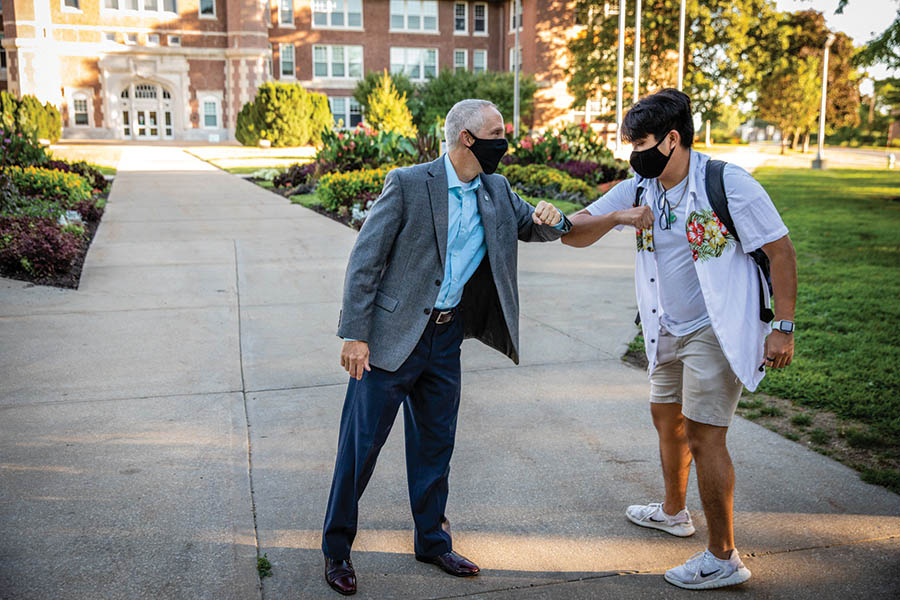 President Jasinski greeted students with elbow bumps as they walked to their first day of classes.
Aug. 21
Three days into fall classes, like other universities throughout the country, Northwest reports a concerning increase in students with COVID-19 symptoms after attending off-campus gatherings during the previous weekend without social distancing or face coverings. In a message to students, President Jasinski urges students "to take seriously not only your health and safety but that of those around you" and that "Northwest will soon be sending our students home" if the campus community does not follow mitigation measures.
Aug. 31
The number of active cases involving Northwest students and employees peaks at 189.
Sept. 8
The University comes out of the Labor Day weekend with 58 active cases and the number of students or employees testing positive trending downward. Family Weekend is canceled, sorority bid day is postponed and other activities are altered to limit the spread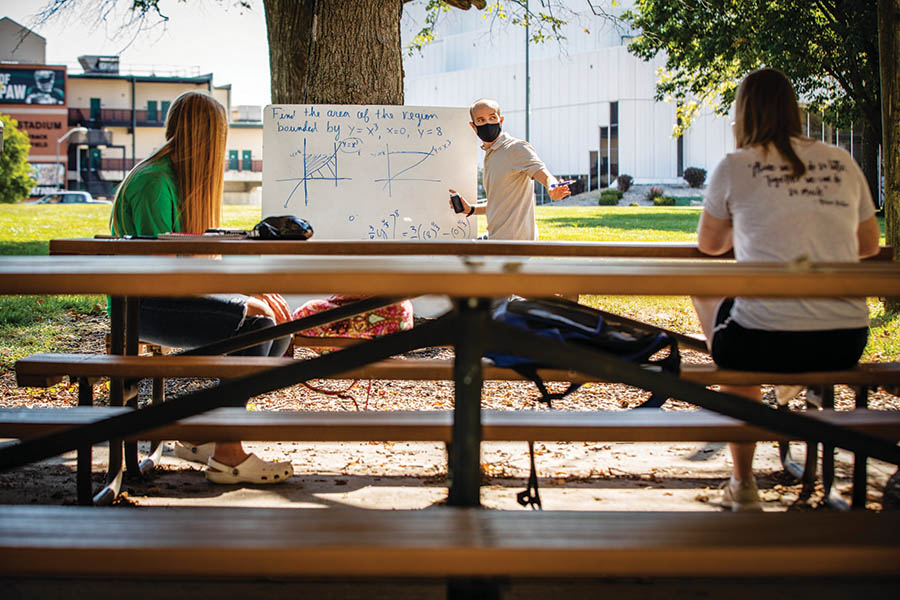 Some faculty hosted classes and office hours outdoors.
Oct. 4
The number of active COVID-19 cases at Northwest drops to nine, the lowest number of the fall semester.
Oct. 30
Northwest ends the month with 92 active cases and rising. President Jasinski writes to students, "While we celebrate our ability to stay on ground this fall, we all must remain vigilant. We cannot assume everything is okay and need to continue to do what we're supposed to be doing" as he again urges the campus community to make responsible choices and follow mitigation measures.
Nov. 6
Northwest's second wave peaks at 119 active cases involving students and employees.
Nov. 24
As approved by the Board of Regents in June, Northwest ends in-person classes for the fall and dismisses students for the Thanksgiving break. Remaining courses, including final exams, are conducted online with the semester ending Dec. 11