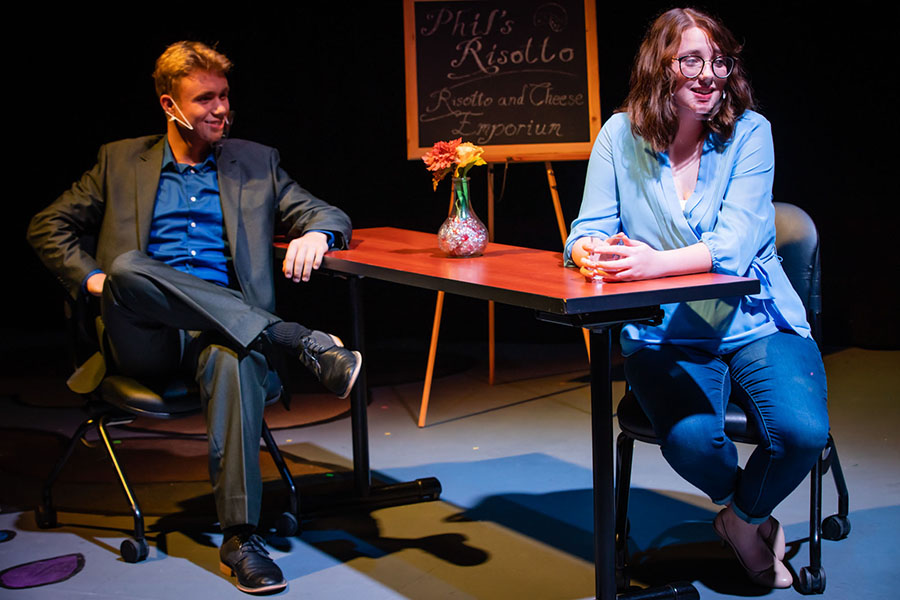 First-year Northwest students Nate Brown and Bri Clemons appear as a New York couple in "Boy Meets Girl," one of five one-act plays comprising this fall's Freshman/Transfer Showcase. The show went on with mitigation measures in place, including the actors wearing clear masks. (Photos by Todd Weddle/Northwest Missouri State University)
Oct. 9, 2020
By Edidiong Idong-Bassey, communication assistant
With socially distanced spacing on the stage, actors wearing clear masks and audience members watching online, among other measures, COVID-19 forced changes to Northwest Missouri State University's Freshman/Transfer Showcase this fall, but it didn't stop the tradition that – now 30 years old – familiarizes new students with the theatre program.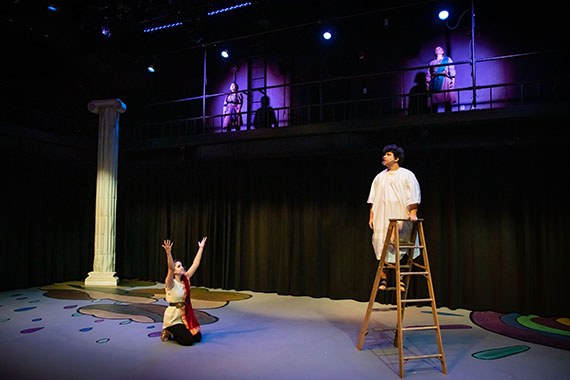 Shannon Kennedy and Jake Prater (on floor) with Vivian Nguyen and Miranda Mason (on balcony) in "Medea."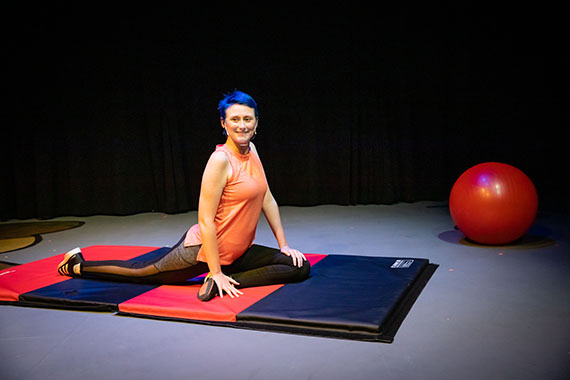 Jade Jameson in "Workout."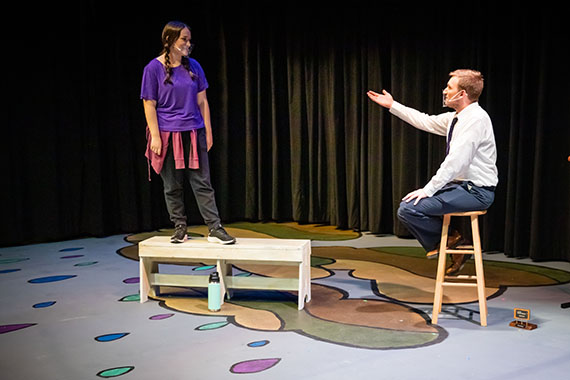 Meghan Feeney and Matt Nash played a daughter and father in "Tender Offer."
In each of the Department of Fine and Performing Arts' four performances last month of "An Uncommon Evening: One Acts of Wendy Wasserstein," the Studio Theatre in the Ron Houston Center for the Performing Arts contained no more than 10 audience members who were invitees of the first-year students, and the final performance on Sept. 26 was livestreamed in collaboration with the School of Communication and Mass Media.
The Freshman/Transfer Showcase introduces audiences to Theatre Northwest's new performing arts majors, who are cast in the roles, take on technical positions and gain a complete mainstage experience that begins their first week on the Northwest campus.
"I really wanted to be able to perform my first year in college and the fact that I got the opportunity is exciting, and I am thankful," said Shannon Kennedy, a freshmen theatre performance major from Duarte, California, who played an actress portraying Greek goddess Medea in the opening one-act. "It was very different to what I'm used to. There was a lot of nervousness, thinking if the show would actually happen because of COVID, but I feel like it didn't change the play that much. It was a very interesting and fun experience."
The Freshman/Transfer Showcase also gives students like Ryan Anderson, a junior theatre performance major from Kearney, Missouri, leadership experience related to running a production. Anderson worked the production as an assistant director and collaborated with Dr. Joe Kreizinger, this year's Showcase director and a professor of theatre, to make decisions about casting and other pieces of the show.
"For the most part we had not been in the theatre since February, so people were dedicated and eager to get back in the swing of things," Anderson said. "For our actors, this was their first production. We promised them a college level experience, and I think we followed through."
The five one-act plays featured in the production were adapted from the works of American playwright Wendy Wasserstein with the title inspired by her 1977 play, "Uncommon Women and Others," as well as the uncommon circumstances shaped by current events. Wasserstein's work pushed boundaries and championed causes of feminism, sexual orientation, and ethnicity and race, while creating roles about strong women with strong voices.
The one-act plays comprised a Greek show-within-a-show performed by a subpar theatre company with a diva-ish actress playing Medea; an exercise instructor, who – in the course of a single workout – writes a novel, opens a chain of department stores, learns to unravel the double helix and announces her husband's candidacy for governor; a couple of successful 30-ish New Yorkers afraid of making a commitment; a distant father trying to connect with his 12-year-old daughter after arriving late to pick her up from a dance rehearsal; and a Russian couple exploring gender, class roles, expectations, communication and love, or lack thereof.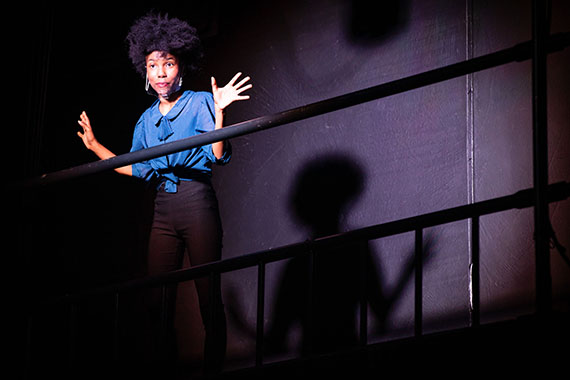 Christina Short as the narrator in "Boy Meets Girl."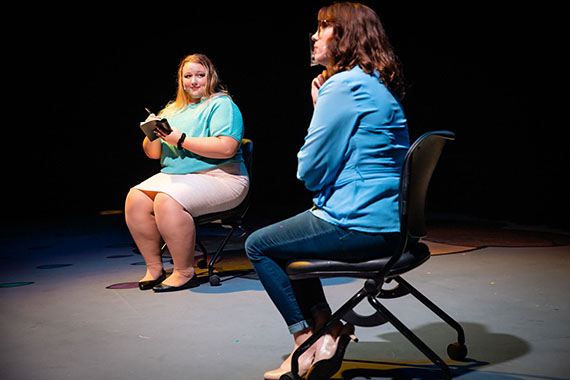 Larissa Crawford as a psychologist with Bri Clemons in "Boy Meets Girl."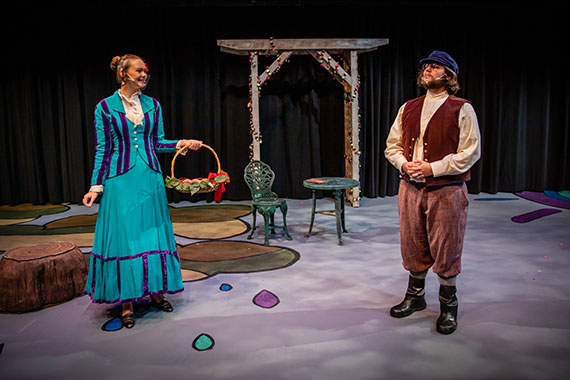 Amanda Pieper and Matt Danner in "The Man in a Case."
"The plays had odd scenes and expressionistic juxtapositions with a bit of absurdism which is uncommon, and I thought it fit in well with the uncommon times we are in," Kreizinger said.
Due to COVID-19 concerns, Kreizinger changed the production schedule, conducting all auditions and callbacks online via Zoom. He selected a small cast of 20 actors and organized socially distanced rehearsals. All actors, technicians and audience members wore face coverings during all rehearsals and performances. Cast members wore clear masks that were barely noticeable to their audience but still helped protect the actors against potential transmission of the virus.
Additionally, the format of this year's showcase prompted the theatre department to collaborate with KNWT, Northwest's student-led television station, which produced and livestreamed the play. By employing multiple camera angles and fundamentals of television production, media students took advantage of the opportunity to flex their production skills.
Will Murphy, a mass communication instructor and television and video engineer for KNWT, said streaming the performance for a live audience was an interesting and challenging experience for students because the production had to be perfect from the beginning.
"I think that all that has been taken away from us in the midst of a pandemic has also opened a few more doors to some of our students on campus," Murphy said. "The flexibility that students and student media have to create their products has been wonderfully showcased in rising to meet some of these challenges in a way that the world at large has found difficult."