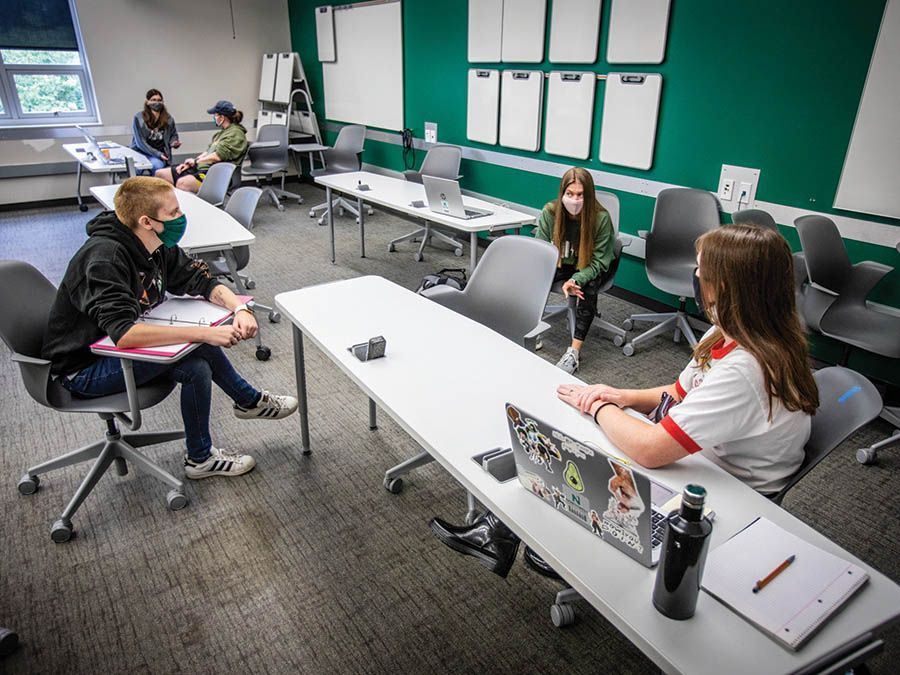 Northwest students in a classroom this fall for face coverings and kept their distance from each other. Things were different in 1918-19 when the influenza pandemic forced the institution to close from Oct. 11 through Nov. 26, and students made up for the lost time by attending classes on Saturdays. (Photo by Todd Weddle/Northwest Missouri State University)
Dec. 18, 2020
As Northwest navigates the COVID-19 pandemic, it's easy to think the circumstances are like none the institution has seen during its history. But a look into the Northwest Archives shows the Northwest community endured another pandemic more than a century ago.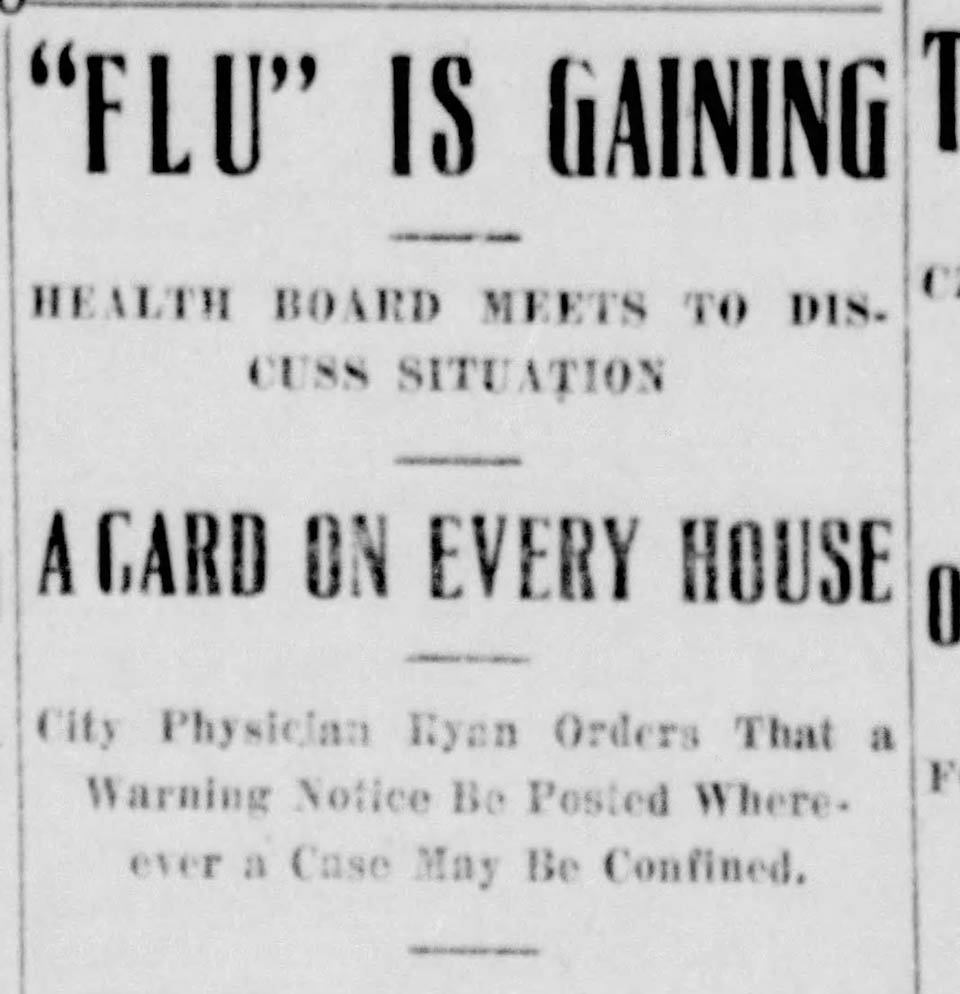 A news article in the fall of 1918 proclaimed the " 'flu' is gaining." (Northwest Archives)
With Americans focused on World War I efforts abroad in 1918, an influenza pandemic broke out, infecting an estimated 500 million people worldwide and killing about 675,000 people in the United States, according to the CDC.
Maryville was mostly unaffected by that pandemic's "first wave" that ran into the summer, but northwest Missouri was not so lucky when a "second wave" arrived in August 1918.
Northwest closed from Oct. 11 through Nov. 26, and the city of Maryville announced an "influenza ban" on Oct. 12. Schools, churches and theaters were ordered closed. Buildings in town were restricted to 20 people at once. Large funerals and other indoor gatherings were banned. 
By late October, Maryville mandated that homes with positive cases display identification cards so delivery drivers were aware of infections and could limit their exposure.
When the Northwest campus reopened, the returning stu­dents attended classes on Saturdays to make up for lost class time and finished the fall term on Christmas Eve of 1918.
The Bearcat football team played just two games in the fall of 1918. A Tower yearbook was not produced in 1918 or 1919. Teacher association and alumni meetings were rescheduled for 1919.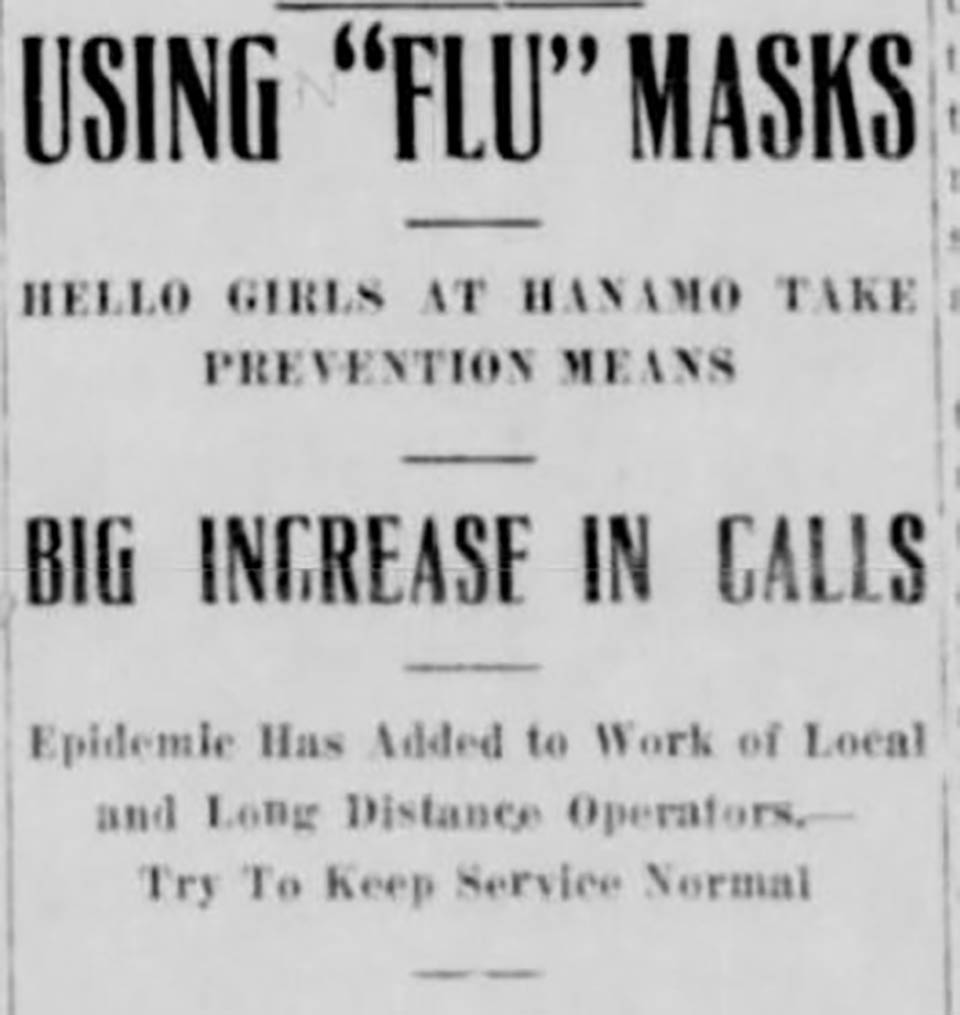 A local newspaper reported the use of "flu" masks during the 1918-1919 influenza pandemic. (Northwest Archives)
Issues of the Green and White Courier student newspaper during the 1918-19 academic year featured stories about the influenza outbreak with solemn notices of former students being ill and dying with the flu. The newspaper reported a physician's presence in the Administration Building to help with flu prevention and care for "indisposed" students. Another article reported alumni in El Reno, Oklahoma, had found that teaching outdoors for one hour each morning helped mitigate the flu.
The anonymous Stroller column, which had begun appearing in the newspaper that year and lives on in The Northwest Missourian today, wrote in the Dec. 18, 1918, issue that he was "wobbly and fluey." In the Jan. 22, 1919, edition, The Stroller called the face mask "the most efficient nose warmer possible."
"Nothing's really unprecedented," said Northwest archivist Jessica Schmidt Vest, who oversaw a history project to compile the University's artifacts detailing the 1918 pandemic. "We often think of these things as no one in our immediate generation dealt with it, but clearly some of us probably have connections to people that were alive at that point."