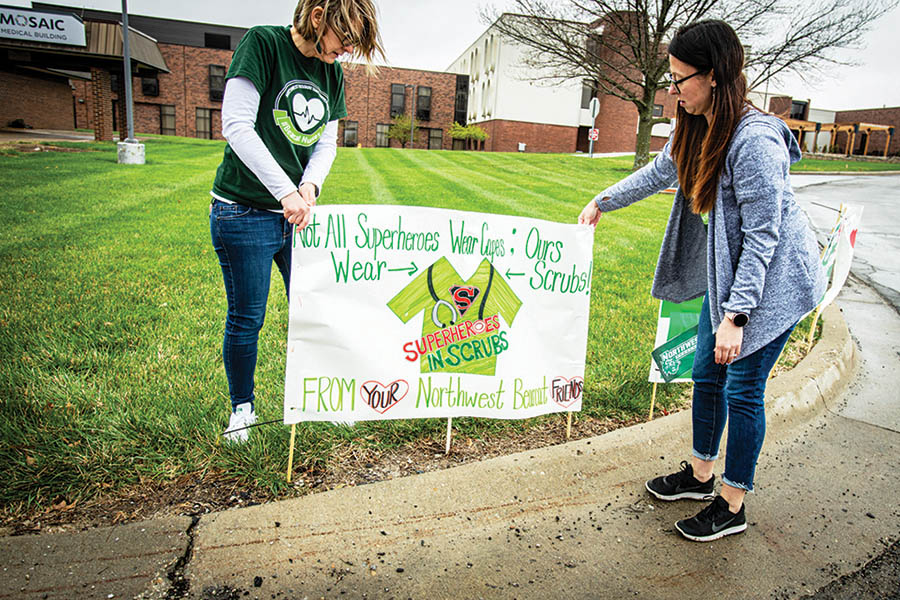 Northwest nursing faculty showed their support for local health care workers by posting a series of signs outside Mosaic Medical Center in Maryville. (Photo by Todd Weddle/Northwest Missouri State University)
Dec. 18, 2020
Several Northwest alumni are pitching into help their communities in the fight against COVID-19, both as volunteers and in their professional roles. The stories below highlight the examples of three Northwest alumni.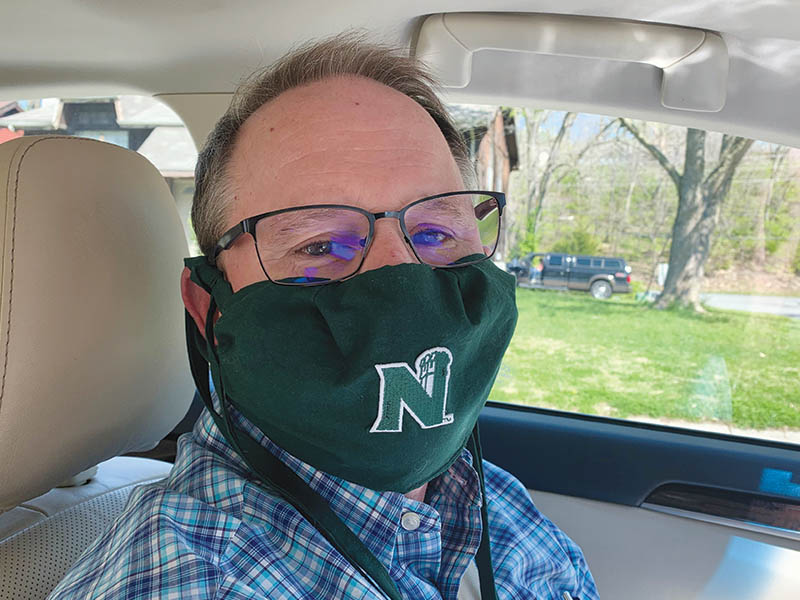 Jeff Cook
Jeff Cook '80
Cook and his fiancé, Jana Frye, raised about $9,000 for two Northwest funds through the creation of face masks that spread Bearcat pride.
The project began in April after Frye created a green mask with a Northwest logo for Cook. He posted a photo of himself wearing the mask to a Bearcat fans Facebook group and quickly received requests from people who wanted masks of their own.
So Cook, who resides in Gladstone, Missouri, and Frye made plans to accept 50 orders while partnering with the Northwest Foundation to collect donations for the Pay It Forward Fund, which provides assistance to Northwest students who are struggling financially. The couple suggested donations of $10 for a green Northwest logo mask and $15 for a red Northwest logo mask paying tribute to the late Bearcat football coach, Scott Bostwick, in addition to $8 to cover shipping costs.
As interest grew, Cook and Frye agreed to make additional masks and, with their last shipment Oct. 29, crafted a total of 837 masks. Cook estimates he and Frye invested more than $4,000 in supplies for the project – including several sets of green king-sized sheets they used for the cloth – and nearly 1,400 hours in assembling the masks.
They donated all their proceeds, providing about $4,000 to the Pay It Forward Fund and another $5,000 toward a project to update the Bearcat football program's locker room.
In July, Cook's employer, Schenck Process Group, where he is an information technology project manager, awarded him its monthly Global Social Hero award. The German-based company also awarded Cook with a donation of 500 Euros to an organization of his choice. He elected to have those funds converted to dollars and gave it to the locker room project. 
"From the time we started this on April 20 to the time that we started actually mask building, we already had so many orders that we were always struggling to keep up," Cook said. "The passion was there to help students. This is unprecedented times, and it was a labor of love."
Holly Murphy-Barstow
Holly Murphy-Barstow '81
Murphy-Barstow and her husband Bruce Barstow '78, '82, of Omaha, Nebraska, spearheaded an effort that started with an idea to supply health care workers with face masks and grew to something much more.
After reading about the health care industry's dwindling supply of N95 masks last spring, Murphy-Barstow, who is the owner and president of Barstow and Company, a wealth management company, enlisted family and neighbors to assemble kits with instructions, fabric, elastic and other materials to assemble face masks large enough to fit over N95 masks. The oversized masks, she thought, would allow health care works to preserve and wear their N95s for longer periods of time. 
In a short time, Murphy-Barstow and a neighbor met with staff at Nebraska Methodist Health System to share their prototypes, and the hospital submitted a request for 10,000 masks the next day. The day after that, Murphy-Barstow created a Facebook group – they called their project Nebraska Masks for Medicine – that quickly gained attention and eventually drew about 2,000 volunteers who contributed to the project as sewers as well as suppliers and delivery personnel.  
Murphy-Barstow, functioning as the chief executive officer for the project, worked the phone to solicit donations. She also fielded calls from people in 12 other states, including hard-hit New York and even a couple other countries, who wanted to duplicate the volunteer effort.
"I am not a stranger to organization, nor to volunteering, but to me it seemed like the thing to do was to just get these volunteers," she said. "You're going to have the best success if you can provide everybody with the same stuff and a simple set of directions."
When they concluded the project in August, the group had made about 160,000 masks, 500 face shields and about 3,000 surgical caps. Their creations were delivered to police and fire departments, in addition to many hospitals, clinics and nursing homes – and even to Omaha public schools, which received about 45,000 masks for children attending the free lunch program through the summer.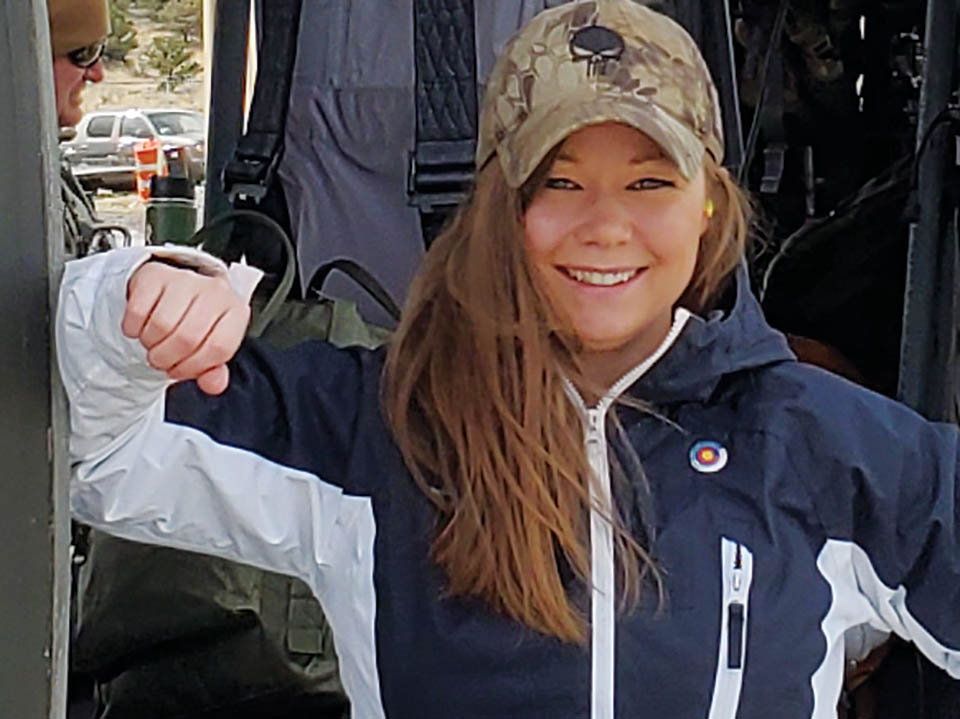 Kathleen Wilmes
Kathleen Wilmes '13
Wilmes is applying the profession-based experiences she gained at Northwest as a planning coordinator with the Colorado Division of Homeland Security and Emergency Management.
Wilmes, who earned bachelor's degrees in political science and comprehensive crisis response, is involved with the state of Colorado's day-to-day planning as well as its longer term strategic and operational planning related to the pandemic. She works in the state emergency operations center in collaboration with the state public health department.
Wilmes' team is monitoring supply chain issues involving items such as personal protective equipment as well as identifying gaps in the supply of products needed to address the pandemic.
"Nationwide as well as globally this has been all about supply chain," Wilmes said. "Take, for example, the obvious one of PPE, but there's also cascading impacts of supply chains. If your restaurant is closed or your school is closed, now you've got a supply chain issue with food."
More recently, Wilmes and her team have begun planning for vaccine distribution in coordination with the Colorado Department of Public Health and Environment.
"When people think of emergency management, they think of natural disasters, but really it's all hazards," she said. "It's all types of incidents that emergency management has a role, and this has really solidified the overall coordination piece and how important that is."