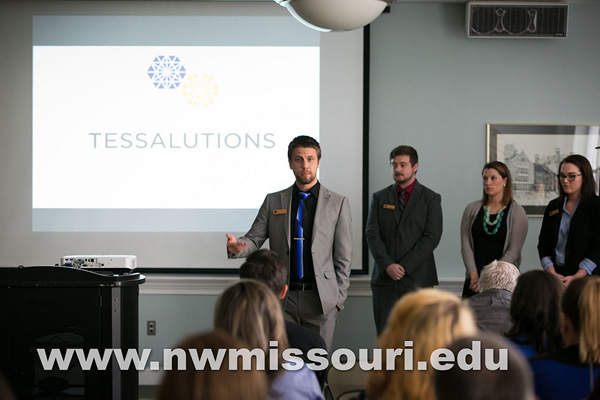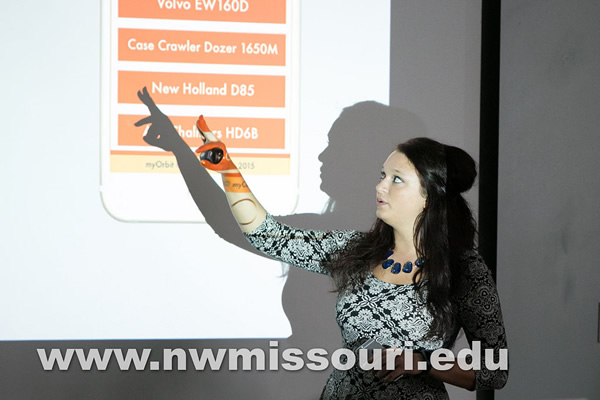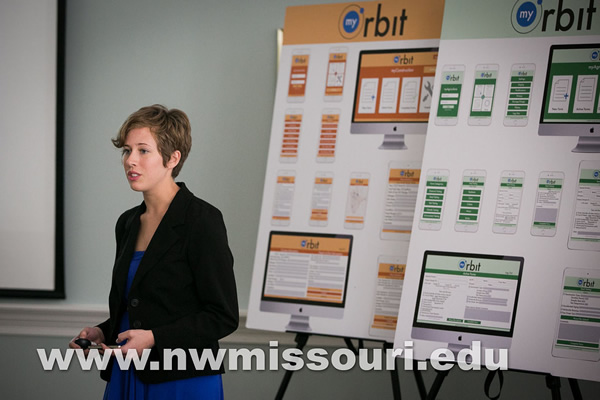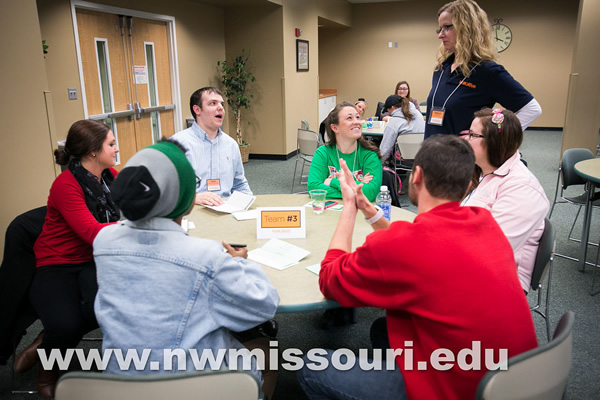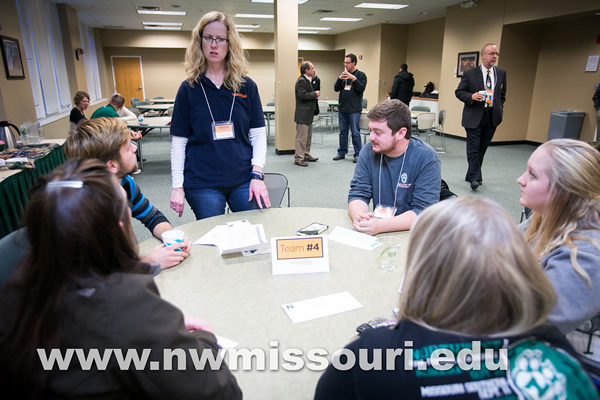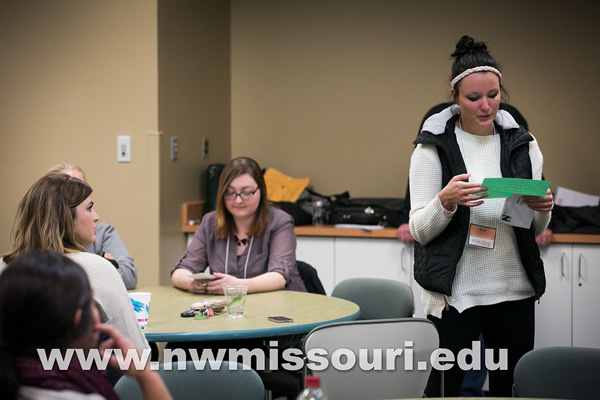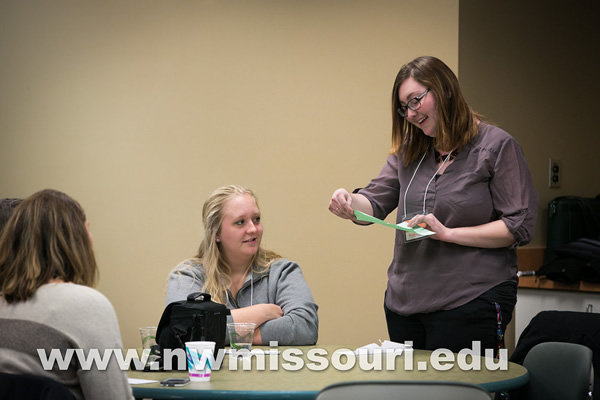 Knacktive students make campaign pitches to Engage Mobile Solutions
Mark
Hornickel
Thirty-two of Northwest Missouri State University's most creative-minded students, spanning multiple disciplines, engaged again this spring with a real-world client to create marketing strategies and develop its brand of products.
Representing the fifth Knacktive cohort at Northwest, the students concluded their work April 29 with Engage Mobile Solutions, an award-winning mobile app and mobile software development company based in Kansas City, Mo.
Engage Mobile charged Knacktive students, who were divided into four teams, with creating concepts and campaigns for mobile apps that could be useful in the construction field. In addition, each team was asked to create a concept for a second mobile app to benefit an industry of their choice. Teams designed their construction-related apps to serve workers in areas that included heating and cooling, equipment management, and data collection in addition to apps for zoos, agriculture industries and high school athletics.
In the end, one team was declared a winner, and Engage Mobile selected Ghost Hawks, which pitched marketing campaigns for trucking and surveying mobile apps. The team consisted of Carsen Berry, project manager; Caitlyn Burkemper, art director; Megan Hazelrigg, graphic designer; Kenzie Hoyle, public relations manager; Jake Mlnarik, copywriter; Kim Porter, media manager; Logan Shields, interactive/digital manager; and Carlton Wilcoxson, strategic planner.
Engage Mobile's Matthew Barksdale said his company was impressed with Ghost Hawks' in-depth market research and innovative approach.
"I was so happy with the work, and so amazed by the passion and creativity," Barksdale said. "It was difficult to choose a winner because I can see the blood, sweat and tears that went into these pitches."
Knacktive teams conducted extensive research and built comprehensive marketing plans – all detailed in elaborate plan books with logos and screenshots of their mobile apps – to support the their pitches to Engage Mobile.
"A tremendous amount of work went into this," Barksdale told team members at the April 29 event that showcased their work. "There was a lot creative energy from every team, and it was really impressive to see what was a generated and the uniqueness of the ideas. There are definitely things from every single pitch that we'll be able to bring into the company."
About Knacktive
Piloted at Northwest during the spring 2011 semester, Knacktive is a selective educational experience for advanced undergraduate students that incorporates, through actual client interaction, the creative demands and intensive teamwork environment of a technology-oriented, professional marketing communications agency. The course provides students with an invaluable opportunity, unique to other universities, to build their portfolios with real-world experience while learning to work with others in a fast-paced team setting.
"Knacktive was a great experience," said Berry, a St. Joseph, Mo., native who served as Ghost Hawks' project manager and received his bachelor's degree this spring in advertising. "I think we all got something out of it and it really provided us with that real-world experience that is super important when you're applying for jobs. It was very much like a real agency."
Students selected for Knacktive annually work with a professional client to create practical solutions for their marketplace challenge and earn three hours of academic credit by successfully completing the course. The course culminates with Knacktive teams giving a formal, professional pitch to the client.
While the course incorporates principles, strategies and tactics of design, marketing and public relations, it is a melting pot of majors from the departments and schools of Communication and Mass Media, Language, Literature and Writing, Fine and Performing Arts, Business, and Computer Science and Information Systems.
Knacktive members are divided into four teams with each consisting of a project manager, public relations director, media manager, strategic planner, art director, graphic designer, copywriter and interactive/digital director. Students earn three hours of academic credit by successfully completing the course.
The inaugural Knacktive class in 2011 was charged with designing a comprehensive marketing campaign for Cincinnati-based LasikPlus Vision. The client ultimately chose one team's approach of marketing its vision correction procedure to individuals in protective services, and the "Eyes Save Lives" campaign was spun off nationally within three months. Key elements of other two teams' proposals were implemented in campaigns targeting the college market, among others.
Subsequent Knacktive classes have tackled rebranding projects and marketing campaigns for clients such as Science City at Kansas City's Union Station, Tri State Ford auto dealership in Maryville and Northwest's Horace Mann Laboratory School.
During the same time, alumni of the program have gone on to obtain jobs at some of the region's top advertising and marketing agencies, including Bozell, VML and Plattform Advertising.
Business owners interested in learning more about working with Knacktive should contact the Northwest Foundation at 660.562.1248. To learn more about Knacktive, visit www.knacktive.com.
About Engage Mobile Solutions
Engage Mobile Solutions is an award-winning mobile app and mobile software development company with a focus on mobile strategy and mobile deployment. Based in Kansas City, Mo., the firm helps companies leverage mobile technology and drive profitability through increasing revenue, decreasing costs and managing risk. The company was named one of the "Most Promising Enterprise Mobility Companies in the United States" by CIO Review, chosen as one of the "Top Companies in Kansas City With Under 25 Employees" by Thinking Bigger Business Media, and has been selected a finalist for the 2014 Appy Awards by MediaPost Communications.