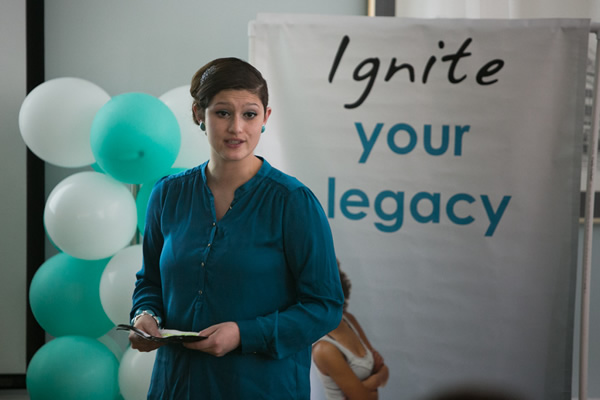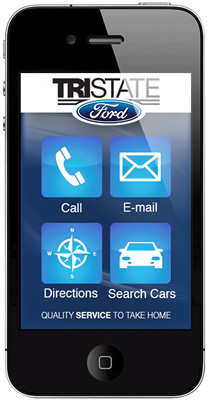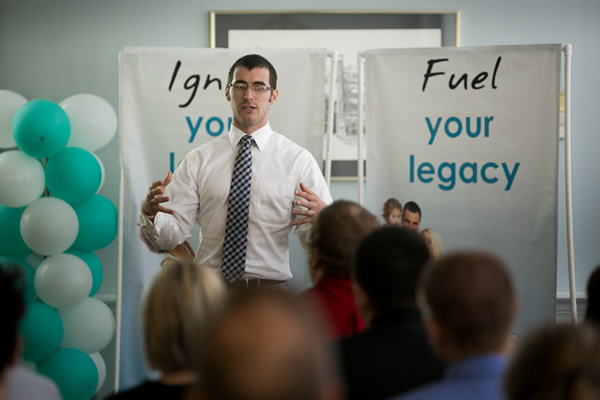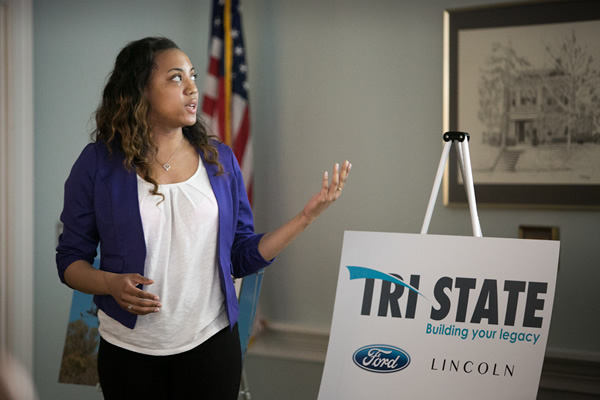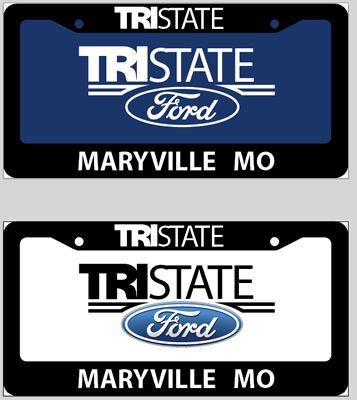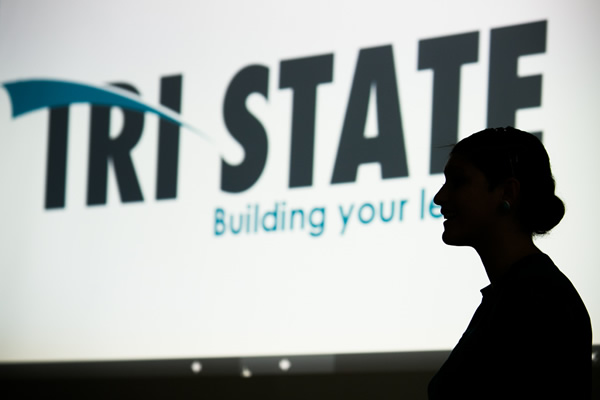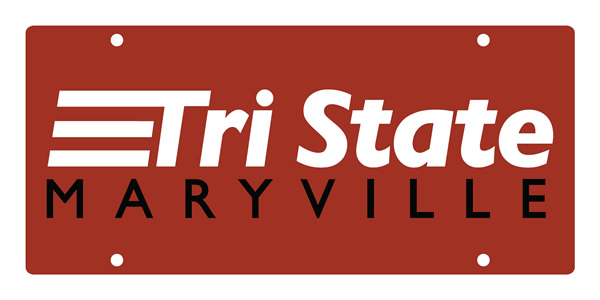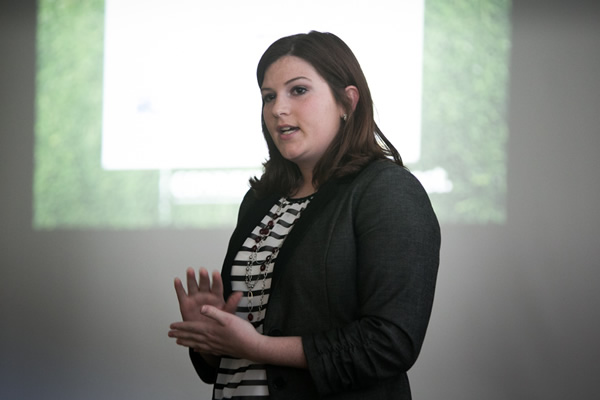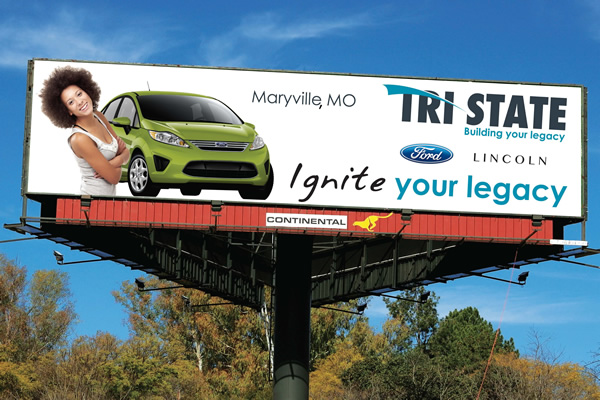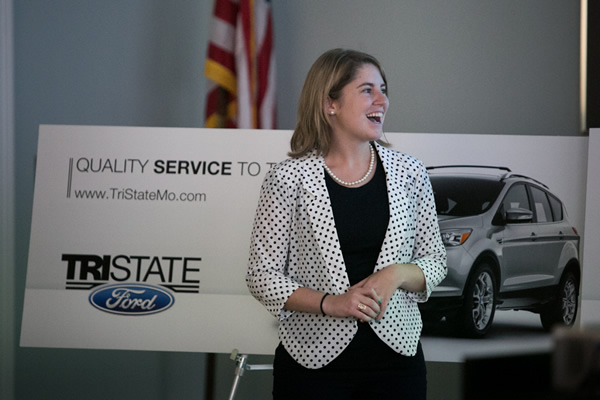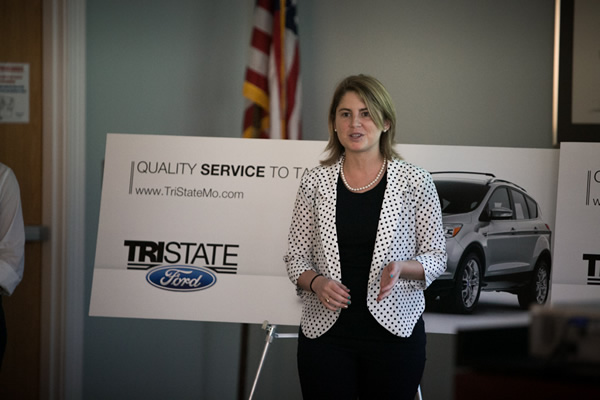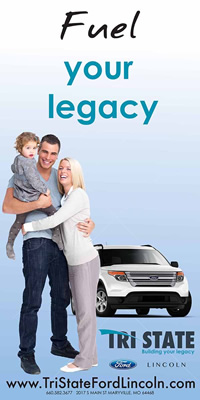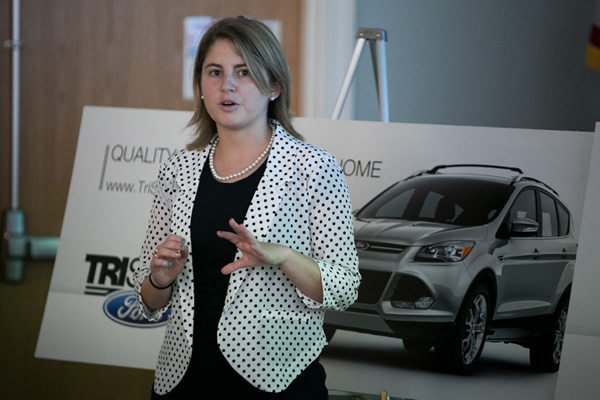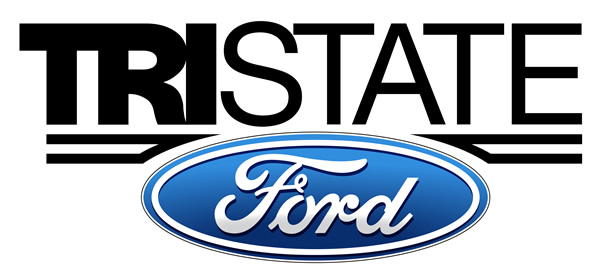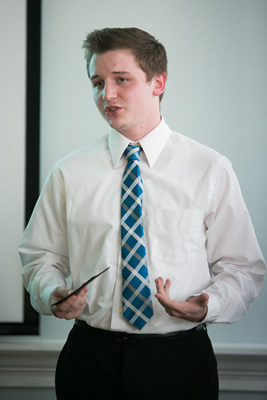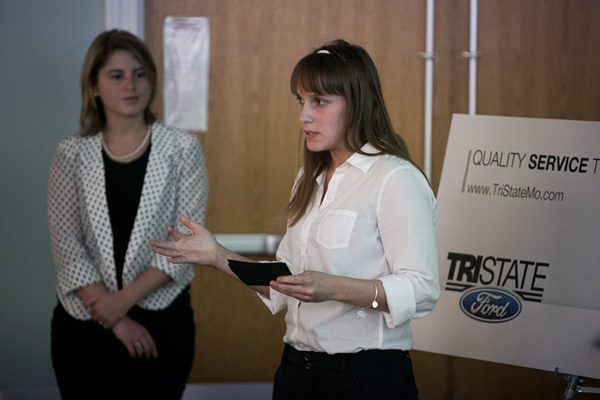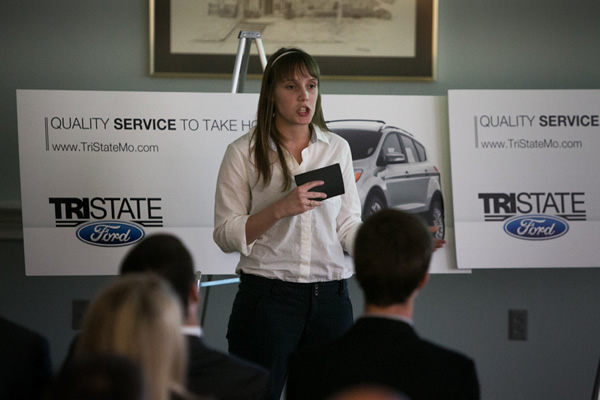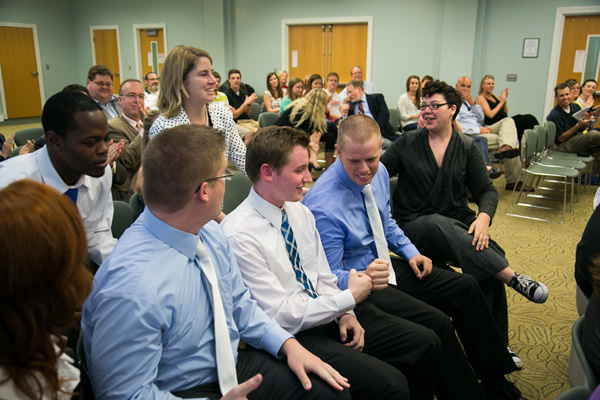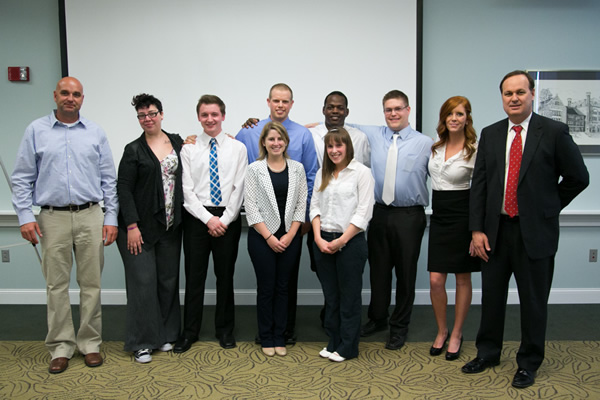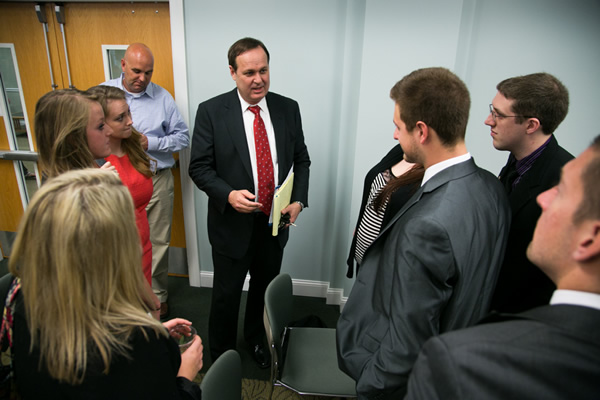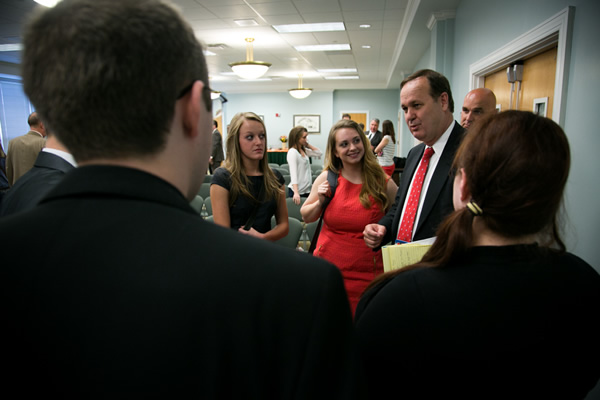 Knacktive students fuel rebranding efforts for auto dealership
Mark
Hornickel
A regional auto dealership is remolding its branding and marketing efforts this summer with the help of research conducted by teams of Northwest Missouri State University students who make up the University's integrated digital marketing communications agency.
Todd Hill, president of Tri State Ford in Maryville, challenged the students in Knacktive this spring with rebranding his dealership and its associated profit centers, including new and used car sales, service, parts, detailing and vehicle rental. Knacktive teams created an integrated marketing communication plan for the dealership to encourage sales growth beyond its Maryville and regional market area.
Based on their recommendations, Hill already is making upgrades to the Tri State's website;  enhancing its social media presence on Facebook, Twitter and Instagram; refreshing its mobile application; and building Facebook and Google ads. Hill also hired two Northwest students as interns to help him implement the strategies.
"Each team offered a little bit of insight that I think we can use, and they did a good job of addressing my objectives," Hill said. "I've already put some of the things in place and we've been working on other things."
Students are recruited, interviewed and selected annually for positions within Knacktive. Thirty-two students were accepted to the agency's 2013 class and received three academic credit hours for successfully completing the program. The students were divided into four teams of eight students, with each fulfilling a specific role – or knack – on the team.
The four teams – AutoActive, Clutch, Fusion and #TeamVerge – conducted research for Tri State, assembled detailed client books and built their marketing campaigns throughout the spring semester. The teams then gave professional pitches to Hill on April 27. The proposals included recommendations for promotional materials, social media, marketing plans, mobile applications, website redesigns and logos.
"Teams had an enormous amount of research to use," said Dr. Dave Shadinger, one of Knacktive's faculty advisors and an assistant professor in the School of Communication and Mass Media. "Each team analyzed the data and identified specific target markets that Tri State wants to reach. The creative challenge included incorporating the existing Ford logo into a new branding identity for the dealership and then applying it to everything from facility signs to billboard, print ads, website, Facebook and phone app revisions." 
The teams' campaigns incorporated tools such as QR codes on car stickers to help consumers access additional information about a vehicle after the dealership's regular business hours. Proposals also included search engine optimization to push fresh content about Tri State to the tops of web page searches. The teams pitched redesigned logos and suggested employing an individual to manage social media accounts and other marketing activities.
After viewing each team's presentation, Hill declared #TeamVerge, which built its campaign around the slogan "Quality Service to Take Home," as the overall winner. #TeamVerge prepared a campaign that successfully blended traditional and digital marketing techniques while focusing on Tri State's quality services and its family and community values.
"Todd Hill and Tri State are really involved in the community and we wanted to focus on the high quality of service they provide," said Denise Dibben, a senior marketing management and business major from Kansas City who acted as #TeamVerge's Project Manager. "We actually sent in a mystery shopper – someone who was really skeptical about used cars – and he came out saying he would buy his next car from Todd Hill and Tri State."
Piloted at Northwest during the spring 2011 semester, Knacktive is a capstone course that places students within an interdisciplinary, team-driven agency. The course provides students with an invaluable opportunity to build their portfolios with real-world experience while learning to work with others in a fast-paced team setting. Students annually work with a professional client to create practical solutions for their marketplace challenge and earn three hours of credit by successfully completing the course.
While the course incorporates principles, strategies and tactics of design, marketing and public relations, it is a melting pot of majors from the departments and schools of Communication and Mass Media, Language, Literature and Writing, Fine and Performing Arts, Business, and Computer Science and Information Systems. The interdisciplinary approach is a key component that enhances the students' experiences.
"Being a business major, I'm used to working with just business-minded people, so it was really cool to work with somebody from basically every end of campus," said Mel Peitzmeier, a senior business management and marketing major from Omaha, Neb., who was the project manager for Team Fusion. "It was neat to get to know the different personalities and see how different people could bring their ideas together to bring something awesome to the table."
In 2011, Knacktive designed a comprehensive marketing campaign for Cincinnati-based LasikPlus Vision, which selected one team's approach to marketing its vision correction procedure to individuals in public safety and protective services. The "Eyes Save Lives" campaign was spun off nationally, while key elements of the other teams' proposals were implemented in campaigns targeting the college market, among others. Knacktive's 2012 class was tasked with rebranding Science City, a museum located inside Kansas City's Union Station, and the facility's staff plans to incorporate various pieces of the Knacktive-designed campaigns into the museum's marketing efforts during the next few years.