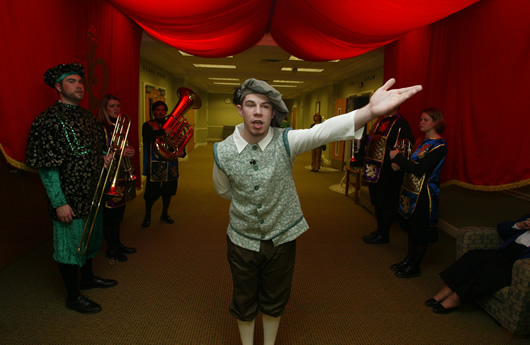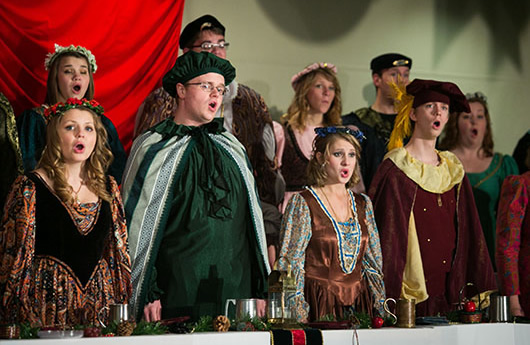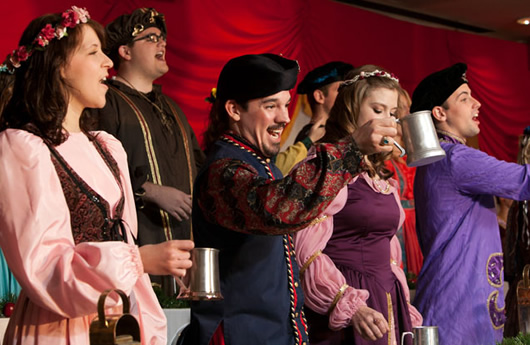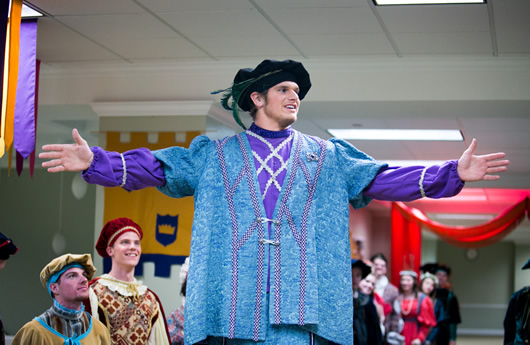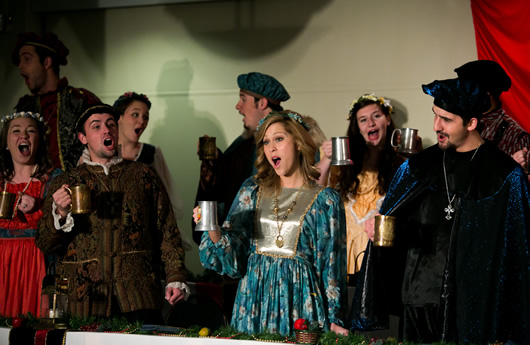 45th Annual Yuletide Feaste
6:30 p.m. Friday and Saturday
Dec. 7 and 8
Journey back in time to the days of merrie olde England the songs, dances and entertainment magic of the day. With the sound of each fanfare, you will discover Christmas as celebrated in the ancient traditions of Tudor England. Partake of the delicacies that graced the tables of the Lords and Ladies of the 16th century.
Join the cast of more than 60 students and faculty as they celebrate the true meaning of Christmas with an elegant royal banquet, highlighted by command performances of the Northwest Madraliers, the Recorder Consort and the Royale Brass Quintet.
Each evening's festivities begin promptly at 6:30 p.m. in the Ballroom of the J.W. Jones Student Union on the campus of Northwest Missouri State University in Maryville.
Come and enjoy this blessed event to renew your holiday spirit. The Lord and Lady of the manor await your arrival with entertainment and a hearty meal.
Yuletide Greetings,
Dr. Brian Lanier, Yuletide Feaste Director
Menu

Bacon, Bleu Cheese and Cranberry
Cheeseball with Pecans 

Carved Steamship of Beef with Au Jus
and Horseradish Cream Sauce

Slow Roasted Pork Loin with Winter Fruit
and Port Wine Sauce

Green Beans with Mushroom and Bacon

Roasted Parsnips and Sweet Potatoes
with Honey-Pecan Drizzle

Rolls with Cranberry Butter

Pumpkin Mousse with Bittersweet
Chocolate Sauce and Ginger Caramel Crunch

Iced Tea, Coffee

PRICE: $32.00

Ticket sales have ended.
Ticket Information
Ticket reservations can be made by mail, in person or online (online orders must be by credit/debit card only) and must be accompanied by full payment before your order can be processed.
Seating is limited to 320 guests per evening, so make your reservations early. All tickets are reserved. No tickets will be sold at the door.
If you wish to make a large group reservation, please arrange for all tickets at one time.
Tickets are $32.00. Please make all checks payable to NORTHWEST MISSOURI STATE UNIVERSITY.
All reservations are final upon confirmation. No refunds or exchanges are available. Call 660.562.1315 for more information.