Northwest Alumni Association
A message from the President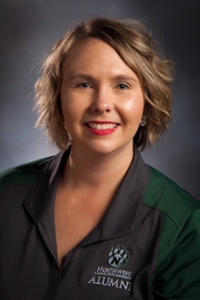 Dear Northwest Alumni and Friends,
On behalf of the Northwest Alumni Association, its Board of Directors and more than 80,000 alumni and friends, I am honored to welcome you here as you explore the many opportunities to engage with Northwest Missouri State University and your fellow alumni and friends. I invite you to use our website and learn how you can connect, mentor and promote Northwest Missouri State University. I am confident that the information here will provide you with everything you need to know about what it means to be a Bearcat alum.
The first way to be a great Bearcat alum is to get involved in your local Northwest Alumni Chapter. It's easy to stay connected with the alumni and friends chapters across the United States and Japan. Local chapters give an opportunity for alumni and friends to connect through various social and professional events each year. I invite you to attend a chapter event to connect with your fellow Bearcats.
Another way to be a Bearcat alum is to come visit campus. Whether you graduated in 2015 or 1955, the Northwest campus continues to evolve and change to meet the needs of students while still continuing to be a truly beautiful setting to explore. Take some time and return to campus and enjoy a sporting or cultural event. When you are back on campus, please stop by the Michael L. Faust Center for Alumni and Friends to say hello and find out what is happening within the Alumni Association and how you can get involved. 
Finally, be a great Bearcat alum by contributing to the University with your time, talents, and treasures. Whether it is through completing an application for one of our Alumni Association Awards, serving in a leadership role in your local alumni chapter, or mentoring a new Bearcat alum, the actions of the Northwest family are truly an inspiration and vital to our continued success.  
As you look through the website today, the Northwest magazine, or one of our social media news feeds, if you should have any questions please contact the alumni staff at 660-562-1248 or alumni@nwmissouri.edu.
I look forward to seeing you on campus or at a chapter event soon.
OABAAB!
Dr. Allison Kahre Atkinson '06, '11, '19, '22 
President, Northwest Alumni Association