Tourin' Bearcats Travel Program
Join us for one of our upcoming trips!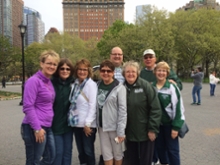 The Tourin' Bearcats travel program for Northwest Missouri State University alumni and friends has recently expanded its travel offerings. For more information about the Tourin' Bearcats travel program, please contact the Office of University Advancement at 660.562.1248 or alumni@nwmissouri.edu.
Colors of New England
Be charmed by the colors of New England on this 8-day tour that brings you from the heart of historic Boston to the farms, coast and mountains of the north. Tour historic Boston during a 2-night stay in the heart of the city. Explore Woodstock, Vermont, a quintessential New England village. Tour Ben & Jerry's Ice Cream Factory and sample some of its delicious creations. Watch apples transform into cider before your eyes at Cold Hollow Cider Mill. Learn about the maple sugaring industry of New England on a farm tour of the Rocks Estate. Relax as you cruise along Lake Winnipesaukee, admiring the splendid views. Dig in at a traditional New England lobster dinner. Admire Maine's dramatic coast and discover the seaside communities of Boothbay Harbor and Kennebunkport. This is New England at its finest.
Spotlight on Tuscany
The rolling hills of Tuscany are home to sprawling vineyards, charming medieval hill towns and enchanting cities steeped in history, culture and legend. Discover them for yourself on this relaxing sojourn into the Italian countryside. Visit Florence, Siena, Pisa and San Gimignano. Savor a 7-night stay in Montecatini Terme, the famous resort and spa town. Enjoy free time to explore the cultural treasures of Florence, including Michelangelo's "David." Discover the charming town of Lucca, Italy's best-kept secret. Learn about the heroic deeds of WWII at remains of the Gothic Line and visit the Museum of Liberation. Enjoy fabulous local wines and the region's famous cuisine. This is Tuscany as you always imagined it.