Recycling at Northwest
Northwest proudly supports community recycling efforts. We invite the public to participate by recycling plastic containers, aluminum cans, mixed paper, cardboard and glass at the Recycling Center. 
Located in the 1100 block of North Country Club Drive (Icon Road).
Northwest Recycling Center hours

Monday through Friday: 7 a.m. to 6 p.m.
Saturday: 8 a.m. to noon
Staff will be on hand to assist residents as they drive through the facility and discard recyclable materials.
The drop-off hours and process are aimed at helping Northwest improve its recycling operations while reducing landfill costs resulting from non-recyclable materials being discarded in outside bins.
What Can I Recycle?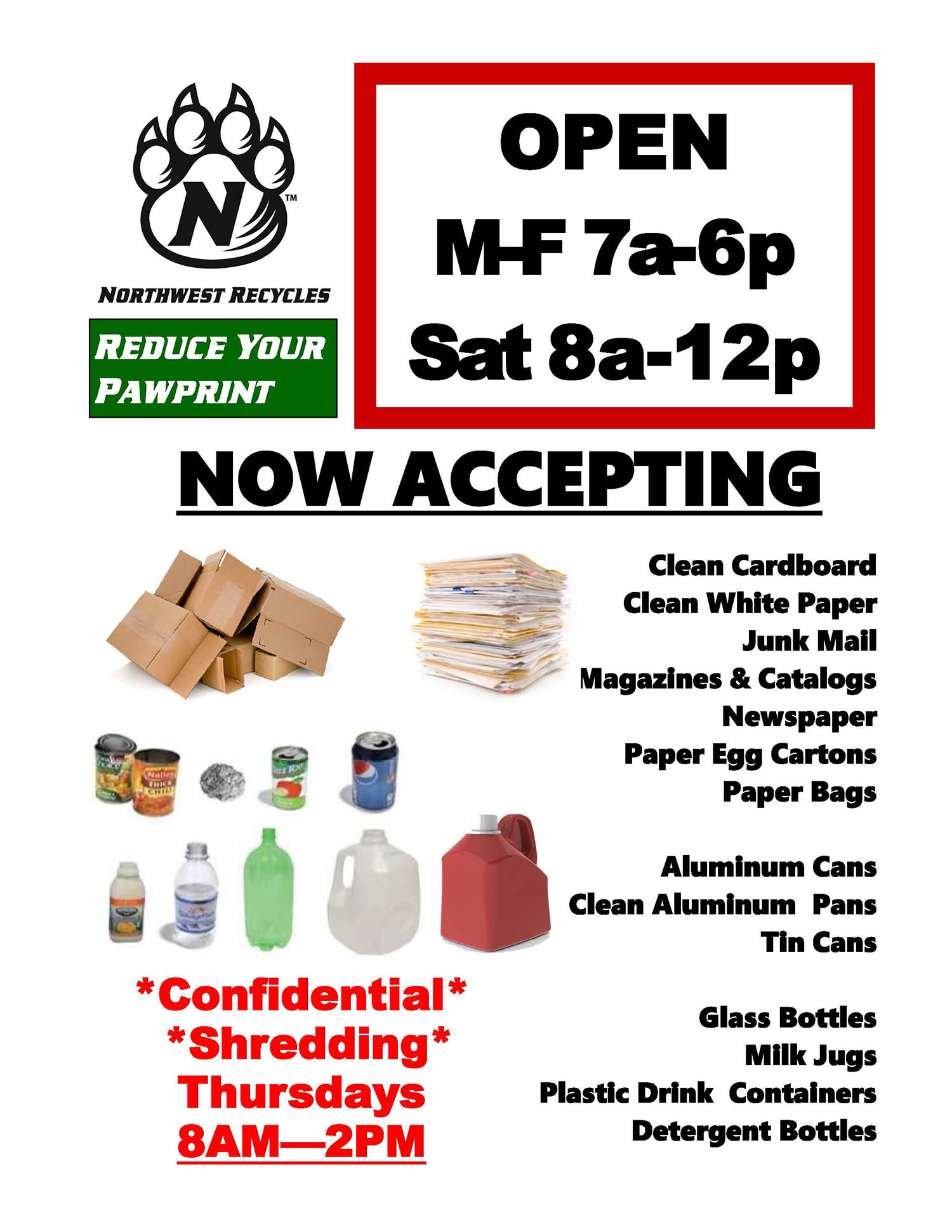 Cardboard, mixed paper and boxes: Paper and cardboard products are sorted into three categories. Break down large boxes. Remove and discard metal binding from spiral notebooks.
Clean white paper
Clean corrugated cardboard
Mixed Cardboard and paper

Junk mail
Magazines and catalogs
Newspaper
Paper egg cartons
Paper bags
Plastics: Several plastics are accepted. Accepted plastics are sorted into three categories. Check the plastic type and sort accordingly. Empty and remove lids. 
#1 Plastic (PET or PETE)

Most common use: plastic drink containers, many food containers 

#2 Plastic (HDPE)

Most common use: milk jugs

#2 Colored Plastic (HDPE)

Most common use: Soap and cleaner bottles, detergent bottles

Not accepted at this time: Plastics classified as #3, #4, #5, #6, #7 or other
Glass: Bottles and jars only. Rinse containers and remove and discard lids. 
Aluminum and tin
Aluminum cans
Clean aluminum pans
Tin cans
Confidential Shredding: Thursdays from 8:00 am to 2:00 pm.
Where can I recycle?
There are more than 150 recycling stations at Northwest. They may be found in every academic building on campus.
Most campus offices are equipped with bins for collecting recyclables. Each office is responsible for bringing its paper to outdoor dumpsters.
Paper and cardboard recycling dumpsters are located throughout campus.
Mixed recycling dumpsters are located outside all residence halls.
Campus and community members are invited to use recycling facilities at the University Recycling Center, located in the 1100 block of North Country Club Drive (Icon Road).