July 13, 2023
Spencer Engelman is transitioning this summer from Northwest Missouri State University student to business owner after he was awarded a franchise through a partnership with the University.
In May, DocuLock LLC – a service-based business that specializes in document scanning, archiving, management, retention and shredding – announced it was awarding its newest franchise to Engelman. The $43,500 franchise fee was waived for him, and he chose Blue Springs, Missouri, for its location. Further, he is receiving no-cost assistance to start the business through the Small Business Development Center at Northwest.
Engelman, a native of Independence, Missouri, graduated from the University in May with a bachelor's degree in business management.
Since opening the franchise, Engelman has spent significant time shadowing other franchise owners and learning about the business, in addition to networking with local organizations and building his client base.
"Everybody's been super helpful, incredibly kind, just explaining things to us as we are learning and going forward," said Engelman, who is operating his DocuLock franchise with his fiancée, Ariana Napier.
Engelman won the franchise after a lengthy application and selection process that included a full day of face-to-face interactions and discussing his business aspirations with DocuLock staff at their main office in St. Joseph, Missouri.
"I thought it was super interesting and a lot of fun," he said. "I think I stayed a little bit later than I was supposed to, just because I did enjoy it so much."
Engelman said the opportunity to work with a wide range of clients is one of the aspects that appeals to him most about operating a DocuLock franchise. Paul Janicek, the company's chief executive officer, founded DocuLock in 2017, and Engelman's Blue Springs location is the company's fourth franchise. DocuLock clients range from small businesses to government agencies.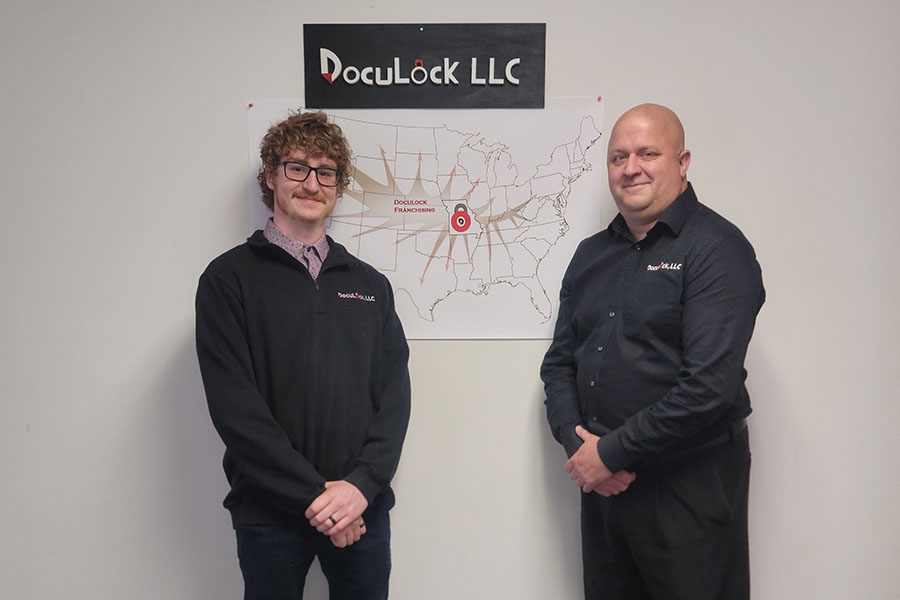 Recent Northwest graduate Spencer Engelman (left) is a new franchisee of DocuLock LLC, which Paul Janicek (right) founded in 2017. (Submitted photo)
"It was just really exciting to me, especially right out of college, to try and use some of the things that I was able to learn from the classes that I was taking – everything that I've been studying for years and actually see if I could make it work for myself," he said.
Engelman chose to pursue his bachelor's degree at Northwest, based on the recommendation of his older sister, who also had a positive experience attending the University. A campus tour and interactions with faculty confirmed his decision.
"Everybody that I talked to was super welcoming and friendly and just very patient with me," he said. "It just felt like, out of all the places I toured, that (Northwest) was the place that was the best fit for me."
Although Engelman entered Northwest as a deciding major, he eventually realized his aspirations to operate a business and feels fortunate to have received the opportunity with DocuLock.
"I have obviously been learning a lot even since graduation, but I was able to take a lot of the skills and theory (from Northwest)," he said. "The things that you think when you're in college, 'Oh, I'll never use this,' I'm actually having to use quite a bit of it. It has been incredibly helpful."
Engelman's business knowledge and positive attitude were two reasons he was awarded the franchise, Janicek said. Throughout his decision-making process, the business owner was looking for an academically strong student who also is a go-getter and could bring ideas to help DocuLock grow.
"What's great about Spencer and his fiancée is that they have youth on their side," Janicek said. "They've got that enthusiasm that I wish I could bottle it up. They're fresh and they're ready to just make this their own deal, and I couldn't be happier for them. That's huge."
DocuLock formed the partnership with Northwest and its Small Business Development Center last year to offer the franchise opportunity to an entrepreneurial-minded student enrolled in the University's business strategy and decision-making course. Janicek, a military veteran who had a 20-year career in corporate information technology sales before launching DocuLock, says he hopes to continue the partnership and award franchises to Northwest students on an annual basis.
"Spencer, being the youngest of all of our franchisees, brings the newest and greatest methodologies that are being taught in the University," Janicek said. "I look forward to learning from him. I've told him multiple times that 'there's a knowledge gap that you have that I need to fill, and there's a knowledge gap that I need you to fill.' Every one of our franchisees brings a unique tool set."
For more information about the partnership, visit www.nwmissouri.edu/services/sbdc/student-franchise.htm or contact Rebecca Lobina, regional director of the Missouri Small Business Development Center at Northwest, at 816.364.4105 or lobina@nwmissouri.edu.