Aug. 25, 2022
Northwest Missouri State University and its Small Business Development Center this week announced their partnership with DocuLock LLC to offer an opportunity for entrepreneurial-minded students.
DocuLock LLC, a service-based business specializing in digitizing and preserving documents, will donate a franchise each semester to one graduating student enrolled in Northwest's strategy and decision-making course. The franchisee will be announced at the end of the semester.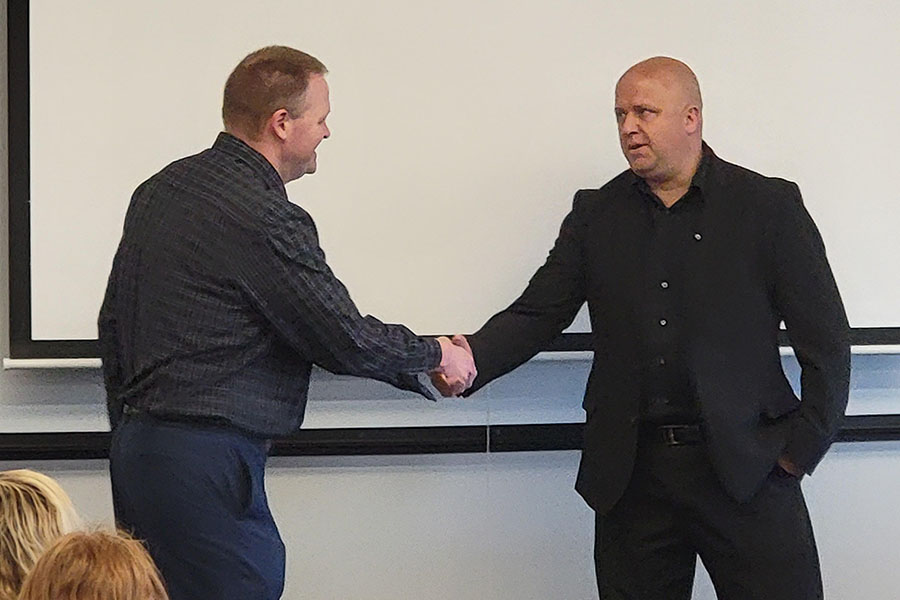 Dr. Ben Blackford, director of the Melvin D. and Valorie G. Booth School of Business (left), and Paul Janicek, owner of the DocuLock franchise, shake hands Wednesday as Northwest announced its partnership with DocuLock to offer franchise opportunities to students. (Submitted photo)
"Students in the course will have the opportunity to opt-in to the competition and will be scored based on a variety of criteria identified by DocuLock as important factors for potential future success," said Dr. Ben Blackford, director of the Melvin D. and Valorie G. Booth School of Business. "The winner of the franchise will be able to go back to their hometown or wherever they choose and open their franchise, giving them further control over their new career and business."
The $43,500 franchise fee will be waived for the student franchisee. The student also will be allowed to choose any location for their new start-up, provided the franchise territory is available. Further, the student will receive no-cost assistance to start their business through the Small Business Development Center.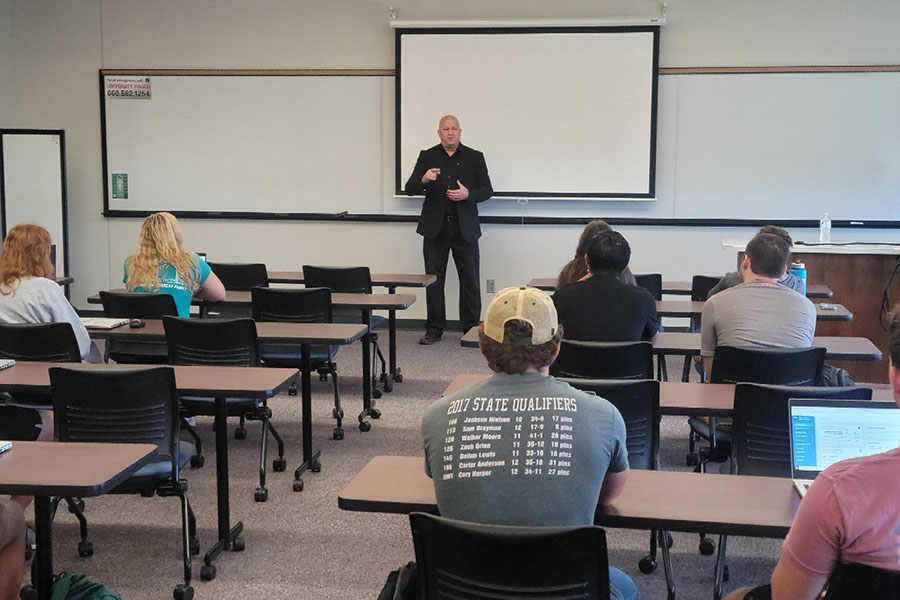 Paul Janicek discussed the opportunity to compete for a DocuLock franchise with students Wednesday in Colden Hall. (Submitted photo)
"I want the students to be successful in business and life, so I'm completely waiving that fee forever for the student," Paul Janicek, owner of the DocuLock franchise, said.
Franchise owners have access to a format or system developed by the franchisor for a specific number of years and assistance. A franchise has an advantage of an already proven concept and footprint to follow, according to the Federal Trade Commission.
Rebecca Lobina, the director of Northwest's Small Business Development Center and director of continuing professional education, will work with each student franchisee to ensure they have the resources necessary to start their new start-up no matter where they plan to open their franchise.
"In an era when student loan debt is both a point of contention but still remains something most want minimized, our students will have the exceptional possibility to graduate with a franchise that doesn't also strap them with additional debt," Lobina said.
For more information, visit www.nwmissouri.edu/services/sbdc/student-franchise.htm or contact Lobina at 816.364.4105 or lobina@nwmissouri.edu.