June 21, 2023
State representatives joined Northwest Missouri State University Tuesday for a celebration of their partnership to foster a remodel of the University's McKemy Center for Lifelong Learning and enhance workforce and economic development.
Representatives of the Missouri Department of Economic Development (DED) visited Northwest as part of the DED's "Helping Missourians Prosper" tour. Earlier this year, the department awarded $988,211 to Northwest through the American Rescue Plan Act (ARPA) Workforce Training Grant Program. The grant program, which focused on helping companies address workforce shortages, assisted the University with the remodel to accommodate Northwest's systems management for manufacturing and agribusiness program in the School of Agricultural Sciences.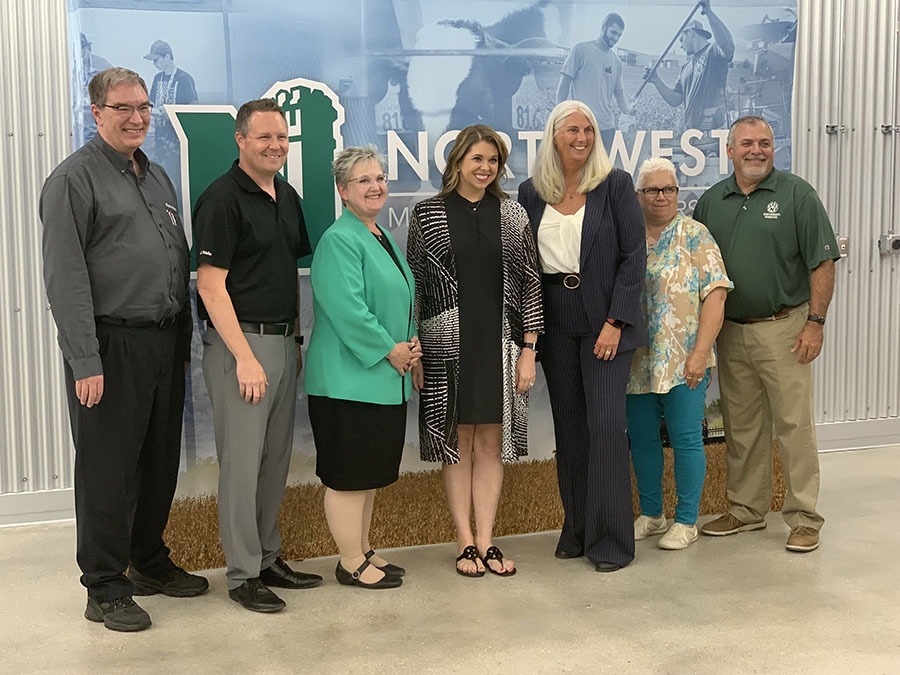 Left to right are Tim Melvin, human resources manager at Kawasaki Motors Manufacturing Corporation; Shad Burner, director of federal initiatives with the Missouri Dept. of Economic Development; Lisa Marshall, project manager with the Missouri Dept. of Economic Development; Michelle Hataway, acting director of the Missouri Dept. of Economic Development; Dr. Jamie Hooyman, provost at Northwest; Deborah Roach, a member of the Northwest Board of Regents; and Dr. Rod Barr, director of Northwest's School of Agricultural Sciences. (Northwest Missouri State University photos)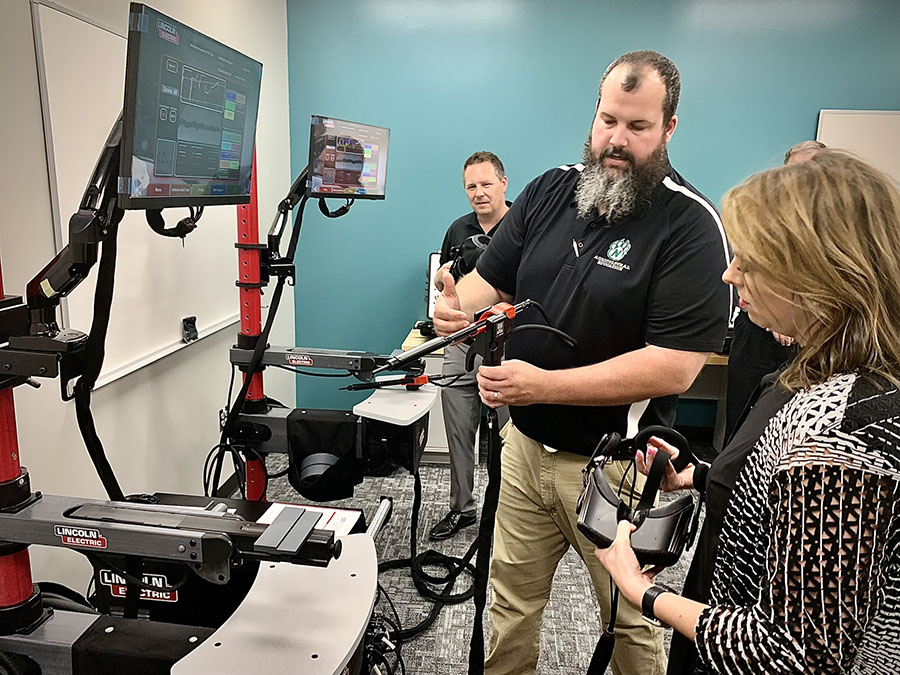 Matthew Bax, an agricultural sciences instructor at Northwest, demonstrates how to use a welding simulator in the remodeled McKemy Center with Shad Burner, director of federal initiatives with the Missouri Dept. of Economic Development, and Michelle Hataway, acting director of the Missouri Dept. of Economic Development.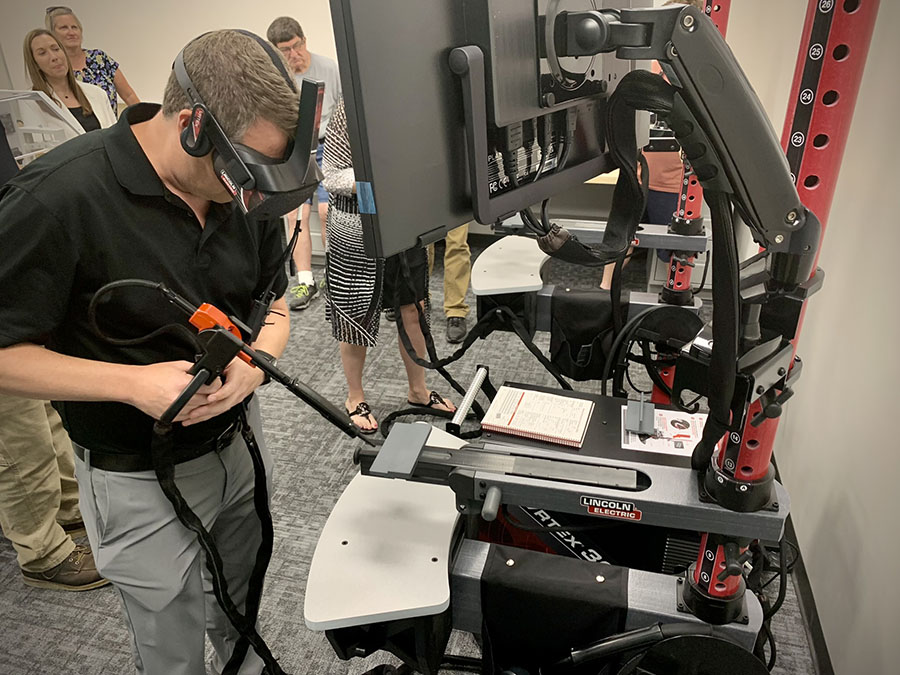 Shad Burner, director of federal initiatives with the Missouri Dept. of Economic Development, practices welding with a simulator in the McKemy Center.
DED received 138 applications for the workforce grant, and Northwest was one of 19 recipients.
"Our team is excited to be here today to celebrate the impact that DED's ARPA programs are having for everyday Missourians and communities and businesses across the state," Michelle Hataway, the acting director of the Missouri Department of Economic Development, said. "When DED received more than $500 million in federal dollars to invest in Missouri's economy, we went to work right away to make sure that we made the most of the truly historic opportunity. Over the last year and a half, our federal initiatives team has worked hard to design and deploy programs that will make a meaningful impact for Missourians for years to come."
With the funding support, the McKemy Center is becoming home to revised and expanded programming with welding booths, laboratory space, and safety and infrastructure upgrades. The University is developing coursework in the areas of welding, precision measuring, electronics and electricity, mechatronics, personal protective equipment and safety, robotics and other industry-standard certifications.
Additionally, Northwest plans to implement a Systems Management Academy for high school students and teachers. The reimagined McKemy Center features Power Wave C300 portable multi-process wire feeder welders with high-end functionality capable of Stick, DC TIG, MIG, Pulsed MIG and Flux-Cored welding. It also features a VRTEX virtual reality welding training simulator that promotes the transfer of welding skills and body positioning while reducing waste associated with traditional welding training.
Core agricultural mechanics competencies have been taught at Northwest for decades, but renovations at the McKemy Center will help the University focus on systems management and better address labor needs in the agriculture and manufacturing industries.
During Tuesday's celebration, Dr. Rod Barr, the director of Northwest's School of Agricultural Sciences and an alumnus of the University, provided thanks to the state and other supporters of the project while reflecting on the facility's history of supporting agricultural sciences programs. Opened in 1977, the facility at one time supported agricultural mechanics programming before a renovation in the 1990s reconfigured its spaces into classrooms and training rooms for a variety of other uses.
"We have returned and we're changing this into the home for systems management, for agribusiness and manufacturing to provide the needed skills for tomorrow's workforce," Barr said. "This facility provided me the opportunity to gain those hands-on skills that made me successful in my educational career as a high school agricultural educator, and now we want to pass that on and have a facility that allows students to come in and get certifications in a variety of areas."
By offering comprehensive systems management training and skill development, as well as certifying those skills with industry-recognized stackable credentials, Northwest will help increase the labor force for manufacturing and agribusiness industry clusters.
"We need to strengthen the skills of our secondary educators and the technical skills so they can provide those to high school students so they see the opportunities in today's manufacturing world," Barr said.
He added, "Our objective is to provide educational opportunities to prepare tomorrow's workforce, and this facility is one that will allow us to do it in this ever-changing world. There's little doubt in my mind that this facility is going to help us to accomplish that goal and really make an impact in our region for our industry."
In addition to grant funding awarded through the DED, the project received support from the CHS Foundation, the Missouri Department of Higher Education and Workforce Development, Don and Jody Athen, and Kawasaki Motors Manufacturing Corporation.
Northwest is planning a ribbon-cutting ceremony at the McKemy Center this fall to celebrate the completion of the renovation and the donors who supported the project.
To make a gift to support Northwest and its programs, contact the Northwest Foundation at 660.562.1248 or visit www.nwmissouri.edu/GiveOnline.