Feb. 2, 2023
Northwest Missouri State University is the recipient of a grant of nearly $1 million to support a renovation of the McKemy Center for Lifelong Learning that will help the University train students and workers in agribusiness systems management and welding and precision measurement.
The Missouri Department of Economic Development announced Jan. 24 that Northwest is receiving $988,211 through the American Rescue Plan Act (ARPA) Workforce Training Grant Program. The grant program is focused on helping companies address workforce shortages by recruiting and training thousands of Missourians.
"The funding we are receiving for the McKemy project is transformational for our entire region," Dr. Clarence Green, the interim president at Northwest, said. "Our School of Agricultural Sciences will have the opportunity to fill a shortfall in the labor market with skilled welders, offer an array of additional trainings in manufacturing and agribusiness, and provide profession-based learning experiences for our students."
The renderings above and below show how spaces in the McKemy Center may appear after renovations are complete. The above image depicts a metal shop.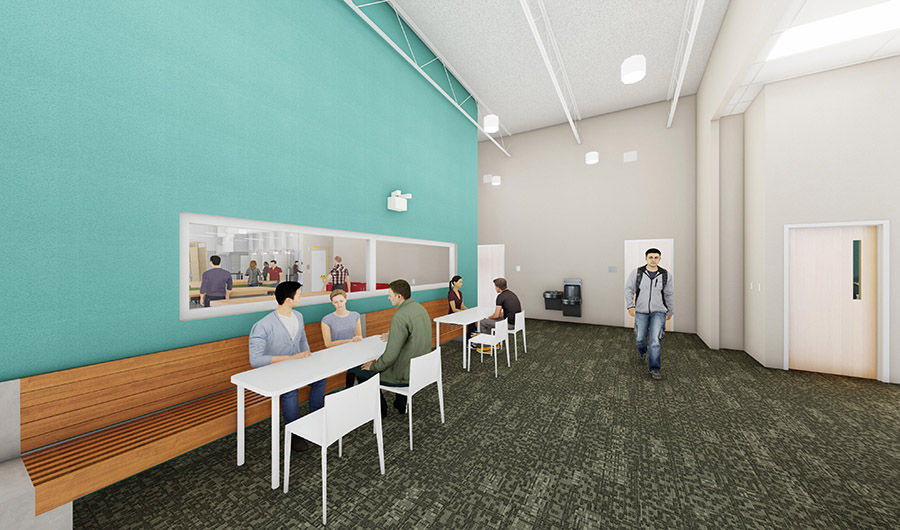 McKemy Center lobby
McKemy Center classroom
McKemy Center wood shop
When complete, the remodeled McKemy Center will become home to revised and expanded programming with welding booths, laboratory space, and safety and infrastructure upgrades. The University is developing coursework in the areas of welding, precision measuring, electronics and electricity, mechatronics, personal protective equipment and safety, robotics and other industry-standard certifications.
Additionally, Northwest is purchasing classroom equipment and plans to implement a Systems Management Academy for high school students and teachers. The reimagined McKemy Center will feature Power Wave C300 portable multi-process wire feeder welders with high-end functionality capable of Stick, DC TIG, MIG, Pulsed MIG and Flux-Cored welding and a VRTEX virtual reality welding training simulator that promotes the transfer of welding skills and body positioning while reducing waste associated with traditional welding training.
Core agricultural mechanics competencies have been taught at Northwest for decades, but renovations at the McKemy Center will help the University focus on systems management and better address today's labor needs in the agriculture and manufacturing industries.
By offering comprehensive systems management training and skill development, as well as certifying those skills with industry-recognized stackable credentials, Northwest will help increase the labor force for manufacturing and agribusiness industry clusters.
The ARPA Workforce Training Grant Program was launched in August 2022. It has awarded competitive grants to a range of applicants to help train workers for a variety of industries, including child care, health care, broadband deployment and manufacturing. The grant program also assists recipients with training at-risk and low-income populations.
"As we continue to invest in our workforce, we're excited to announce the recipients of the Workforce Training Grant Program," Missouri Gov. Mike Parson said. "From day one, our administration has made it a top priority to ensure employers have the workers they need to expand and grow. A stronger workforce means a stronger tomorrow, and this program will go a long way in ensuring Missouri workers can meet the demands of the future."
To make a gift to support Northwest, including for renovations of the McKemy Center, contact the Office of University Advancement and the Northwest Foundation at 660.562.1248 or visit www.nwmissouri.edu/GiveOnline.